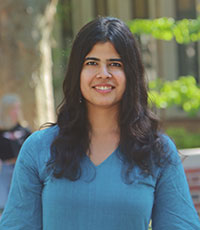 Shweta Chopra, MSSP+DA'19
Alum, MSSP+DA Program
Data Scientist, BlueLabs Analytics
Shweta Chopra is originally from India where her education in Economics and the Liberal Arts helped her make sense of a diverse and unequal world. She comes from a consulting and data analytics background, having engaged in education and smart city related policy work with the Indian government in the past. Her commitment to utilize her analytics skills towards greater social justice brought her to the MS in Social Policy and Data Analytics program at Penn.
During the MSSP+DA program, Shweta worked alongside staff and faculty to improve the program as a student representative on the governance committee. She served as teaching assistant for courses at both SP2 and the School of Engineering. As the Vice President of Education for the Penn Data Science Group (PDSG), Shweta organized speaker sessions and taught mini-workshops to deliver data science education to students on campus. For her summer internship Shweta was selected as part of a selective cohort of 16 students to participate in the Data Science for Social Good program at the University of Washington. Bringing her experience back to Penn, Shweta founded the Data Science for Good community on campus, under the larger umbrella of the PDSG. The group serves governments and non-profits with data science support through student volunteer groups, and brings greater ethical consciousness to the practice of data science at Penn. The community has presently served clients in the criminal justice and education space, and recently organized the first Social Good Datathon on campus.
Post her graduation, Shweta is now working as a Data Scientist at the progressive analytics company BlueLabs Analytics in Washington DC.
"The MSSP+DA program helped me develop proficiency in programming and advanced analytics as well as a more comprehensive understanding of the role data and technology can play in delivering social justice. The opportunity to bring a social justice perspective and leadership to data science at Penn has been a transformational one and is sure to impact the path my career will take going forward."
About
Graduation Year
2019