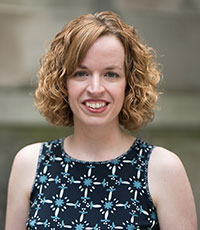 Rosemary Clark-Parsons, PhD
Lecturer, NPL Program
Lecturer, MSSP Program
Rosemary Clark-Parsons received her PhD from the Annenberg School for Communication in 2018, where she currently serves as the Associate Director for the Center on Digital Culture and Society (CDCS). She also holds an appointment as a Postdoctoral Research Fellow at Annenberg and is a Research Affiliate with Penn's Alice Paul Center for Research on Gender, Sexuality & Women. Starting September 1, 2020, Clark-Parsons will join the Center for Social Impact Strategy at SP2 as a Program Manager.
Clark-Parsons is a researcher, teacher, and activist working at the intersection of technology and gender justice. Her research agenda centers on questions of how digital platforms and their users are reconfiguring the face and reach of contemporary feminist social movements in the United States. Her book project, Doing it Ourselves: The Networked Practices of Feminist Media Activism, is based on her dissertation project, which won ICA's Activism, Communication, and Social Justice Interest Group's Outstanding Dissertation Award and focuses on feminists' turn toward the digital. At the same time that emerging media platforms enable activists to quickly reach wide audiences at little or no expense, digitally networked movements face online harassment, commercial cooptation, and activist burnout. Drawing on interviews and ethnographic fieldwork, Clark-Parsons demonstrates how activists are taking up networked media to pursue a do-it-ourselves-style feminism, building movements and communities from the ground up, all while juggling the affordances and limitations of their media tools. Key pieces of her analysis have been published in leading journals, including New Media & Society, Communication, Culture & Critique, and Feminist Media Studies. Her research and commentary have also been featured in Wired, Bitch Media, The Inquirer, Quartz, and on Good Morning America.
In the classroom, Clark-Parsons has worked with a diverse range of students, from high schoolers to undergraduates to continuing adult learners, to develop media and communication strategies for social justice. She has also been involved in a number of activist projects, both inside and outside the academy, always with an eye toward merging communication scholarship and social justice work. Prior to CDCS, she helped found the Media Activism Research Collective at Penn and the ICA's Activism, Communication, and Social Justice Interest Group. In Philadelphia, she has collaborated with grassroots feminist collective Permanent Wave Philly to explore media-based practices of empowerment and has helped organize the city's annual March to End Rape Culture. In addition to her research and teaching, Clark-Parsons offers consulting for social justice and higher education organizations on media strategies for community outreach.
Clark-Parsons is a lifelong resident of the Philadelphia area. Prior to Penn, she attended Ursinus College, where she received her BA in Media and Communication Studies, English, and Gender, Women's, and Sexuality Studies. She currently lives in Wallingford with her partner, Ryan, and their daughter, Robyn.
Contact
Email
About
Department(s)
Faculty | Lecturers | Part-time Lecturers
Program(s)
MSSP | NPL