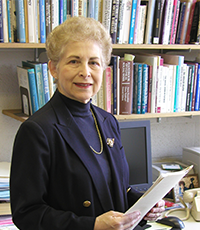 Roberta G. Sands, MSW, PhD
Professor Emerita
Professor Sands is known for her contributions to clinical social work practice in mental health, postmodern feminism, intergenerational family relations, and qualitative research. She was a member of the standing faculty of the School of Social Policy & Practice at the University of Pennsylvania from 1990 until her retirement in 2011 and continues to hold the title of Professor.
Dr. Sands' research has been in the areas of gender, culture, and religion as they relate to family functioning and mental health.
At Penn she has taught courses in clinical social work practice, qualitative research, practice theory, and women's issues; and provided leadership to the practice sequence
Recent qualitative research has been on Jewish women who have become Orthodox, African American women who have converted to Islam, and the impact of religious change on families in various parts of the world
Other research has been on mothers with serious mental illness and grandparents raising grandchildren.
She also participated in the evaluation of a multicultural training program for mental health providers in Pennsylvania.
Dr. Sands is the author of Interprofessional and Family Discourses: Voices, Knowledge, and Practice (co-authored with Marleen I. McClelland, 2002), and three editions of a mental health textbook (Clinical Social Work Practice in Behavioral Mental Health). She has written over 90 articles, book reviews, book chapters, and encyclopedia entries.
Contact
Email
About
Department(s)
Faculty | Emeritus Faculty
Related Links