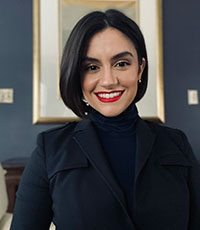 Nicole Sansone Ruiz, MA, PhD
Provost Postdoctoral Fellow
Research Interests
Cultural studies
Aesthetics
Media theory
Nicole Sansone Ruiz, PhD is a Provost Postdoctoral fellow at the School of Social Policy and Practice. She received her masters and doctorate from the Centre for Cultural Studies at Goldsmiths College, University of London. Her research interests are in aesthetics, media theory, and cultural studies. Nicole is currently working on her first book on the emerging aesthetic of computable realism that is exemplified in representations of the sky across art and science. She is also developing new research on the history of e-government and conservative politics in the U.S. since 1970.
Nicole has previously taught at Fairfield University; Goldsmiths College, University of London, University of London; and the Royal Academy of Art, The Hague. She has peer reviewed articles in Information & Culture Journal and a forthcoming article in the open-source journal, Computational Culture. Nicole has been invited to speak on her research at the Centre for Research Architecture at Goldsmiths College, University of London; the Wellcome Collection; and the Düsseldorf Photo Conference by the University of Applied Sciences Düsseldorf.
Alongside her work as an academic, Nicole maintains an active career in the arts. Before entering academia, Nicole was the Assistant Curator for the corporate art collection at General Electric's (GE) global headquarters in Fairfield, CT. During graduate school, Nicole worked in London as a freelance curator and public programmer with organizations such as IMT Gallery and sluice. In her most recent role, Nicole served as the Curatorial and Policy Advisor to the newly-founded museum, The Norwalk Art Space, whose mission is to create opportunities for underserved communities through free arts education. Nicole often writes about art and tech for popular audiences. Examples can be found on The Photographer's Gallery blog, Furtherfield (here and here), Full Stop, and Vice (formerly The Creator's Project).
Nicole is also committed to being active in her community. Before having to leave the UK in 2019, Nicole was a founding member of the steering committee to establish Lewisham Borough and Goldsmiths College as sites of sanctuary. Because of the success of her work as a migrant rights activist and executive union member, Nicole has been invited to speak on the challenges of sanctuary initiatives in higher education by the Lewisham Council. She moved to Philadelphia in 2021 and has been enjoying getting to know this wonderful city and its many inspiring initiatives to uplift communities and promote equity.
Contact
Email
About
Department(s)
Fellows