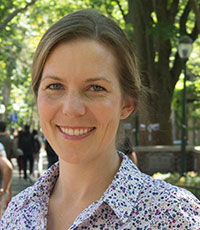 Nicki Grossman, MSW, LCSW
Lecturer, MSW Program
Nicki Grossman is a licensed clinical social worker and psychotherapist who began her career with the New York City Fire Department Counseling Service Unit. At the FDNY, she provided short and long-term individual, couples, and group psychotherapy services to employees of the FDNY and their families and developed a specialization in the treatment of individuals affected by trauma, grief, and loss.
More recently, Nicki worked as a Staff Psychotherapist at the University of Pennsylvania Outpatient Psychiatry Center. In this role, she also served as the Director of the MSW Intern Program where her responsibilities included developing the student curriculum and supervising second year MSW students. Nicki has also worked at the Philadelphia Veteran's Administration where she served as a Case Manager providing supportive services to assist veterans experiencing homelessness to find and sustain permanent housing.
Nicki maintains a private practice in Center City Philadelphia where she works with a broad client population who are dealing with a diverse range of issues. Nicki holds an MSW from Fordham University and is a social work doctoral candidate at the University of Pennsylvania School of Social Policy & Practice.
Contact
Email
About
Department(s)
Faculty | Lecturers | Part-time Lecturers
Program(s)
MSW