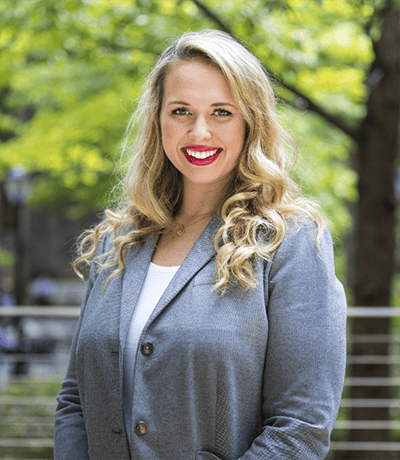 Lauren M. Grow, MS
Lecturer, NPL Program
Lauren is a passionate and results-driven professional with a decade of experience exclusively in the nonprofit sector. She has led and contributed to several multi-million dollar fundraising campaigns and marketing initiatives for causes in green space, public horticulture, higher education, and access to education. Lauren leads the major gift team at the West Chester University Foundation as the Director of Major Gifts and serves as an adjunct faculty member teaching a 300-level marketing course, "Campaign and Event Marketing" to undergraduate students at West Chester University. Prior to WCU, Lauren served in various marketing and fundraising roles at both Longwood Gardens (Kennett Square, PA) and the University of Pennsylvania.
Since 2017, Lauren has owned her own business, Lauren Grow Communications LLC, supporting entrepreneurs, nonprofits, and small businesses, through marketing and the written word. After graduating from the School of Social Policy and Practice in 2019, Lauren became a Teaching Assistant for Eileen Heisman's "Fundraising & Philanthropy" course, Greg Hagin and Christian Talbot's "Major Gifts: Strategy in Practice" course, and Elizabeth Abel and Nadina Deigh's "Fundraising & Philanthropy: The Donor Journey" course. Now, she is a Co-Instructor alongside Greg Hagin and Christian Talbot.
In 2020, Lauren was recognized by Main Line Today (Philadelphia) as one of Philadelphia's "Next Generation of Leaders Under 30". She also serves Hope for Hallie (Swarthmore, PA) and the Nonprofit Leadership Alumni Association Board as a board member.
Lauren holds a Master of Science in Nonprofit Leadership from the University of Pennsylvania and a Bachelor of Arts in Communication Studies and Political Science from West Chester University. She lives with her future husband and her two rescue dogs in West Chester, Pennsylvania.
Contact
Email
About
Department(s)
Faculty | Lecturers | Part-time Lecturers
Program(s)
NPL