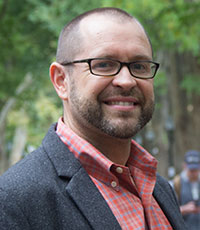 Jason Miller, MSW
Lecturer, MSW Program
Jason Miller brings 17 years experience as a Social Work leader in a variety of nonprofit and community organizations. He received a BSW from Goshen College in 2000 and a MSW in 2006 from the University of Pennsylvania School of Social Policy and Practice.
Since 2006, Jason has had four executive leadership positions. The first position was at a youth focused non-profit called Youth Connections located in Franklin, Indiana. He was the Associate Executive Director at Youth Connections. From 2009-2014, Jason was employed at Bethesda Project as the Associate Director, Clinical Services. In this role Jason provided clinical supervision, agency planning, agency evaluation, and staff training to Bethesda Project's fourteen homeless/housing/social service programs. From 2014-2017 Jason was the Executive Director of Ready, Willing & Able Philadelphia.
In August 2017 Jason was appointed as the CEO of Families Forward Philadelphia. Families Forward Philadelphia provides emergency shelter and housing to families who lack permanant housing in Philadelphia. In this role Jason focuses on fundraising, program development, staff supervision, training, evaluation, board management, public relations, government relations, new business ventures, and strategic planning.
He has taught a section of the Social Work Macro Practice class at The University of Pennsylvania since 2010 as a visiting professor. He has also provided Social Work field instruction to BSW and MSW student interns at the University of Pennsylvania, Temple University, and Indiana University.
Contact
Email
About
Department(s)
Faculty | Lecturers | Part-time Lecturers
Program(s)
MSW