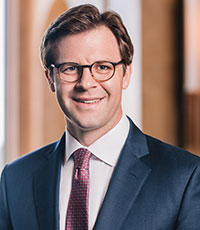 Greg Hagin, MBA
Lecturer, NPL Program
Greg is a Principal & Managing Director at CCS, the leading strategic consulting and fundraising management firm to nonprofit and social impact organizations worldwide. A member of the CCS Board of Directors, Greg co-chairs the Innovation Committee and serves on the Finance & Audit Committee at CCS. He leads CCS's market presence in Philadelphia, Sydney, and Toronto and manages a portfolio of regional, national, and international partnerships. Throughout his career, Greg has designed, advised, and directed more than 100 resource development initiatives and capital campaigns that have raised collectively over $10 billion, positively impacting tens of millions of lives.
An accomplished instructor and facilitator, Greg teaches "Management Communication" and "Advanced Persuasion for Entrepreneurs" at The Wharton School and "Raising Philanthropic Capital" at the School of Social Policy & Practice of the University of Pennsylvania. He also presents regularly on "Data-Driven Strategy" and "Philanthropic Investment." Greg has been invited to speak at inter/national nonprofit organizations, industry conferences, universities, and corporations including Association of Fundraising Professionals, Association of Healthcare Philanthropy, Independent Sector, National Association of Independent Schools, NEXUS, The Woodmark Group, Carnegie Mellon University, Duquesne University, Bank of America, Goldman Sachs, and Morgan Stanley.
In 2020, Greg joined the World Economic Forum in Davos, and in 2021 became a Mentor for Unusual Pioneers, a global program established by Yunus Social Business, the World Economic Forum's Schwab Foundation for Social Entrepreneurs, and Porticus.
Committed to the nonprofit sector, Greg is a former Board member at Fairmount Park Conservancy and a past Board President for Habitat for Humanity of Philadelphia. Currently, Greg is a member of the Union League of Philadelphia, Chairman's Council for the Mann Center, and the Development Council for U.S. Soccer Federation.
After opening CCS's flagship Philadelphia office in 2018, Greg was named to the Philadelphia Business Journal's 40 Under 40. In 2019, 2020, and 2021, CCS was announced as a Top-25 Management Consulting Firm in the Book of Lists. Also, in 2020, Greg was named one of Philadelphia's Most Admired CEOs in his capacity as Managing Partner in Philadelphia.
Greg earned his MBA from The Wharton School and BA from Boston College. He began his career in sports broadcasting with NBC Olympics in Sydney and Salt Lake City, then ABC Sports in Japan and South Korea for the FIFA World Cup. With a passion for global engagement, Greg has visited, studied, and worked in 45+ countries, including all 7 continents.
Contact
Email
About
Department(s)
Faculty | Lecturers | Part-time Lecturers
Program(s)
NPL