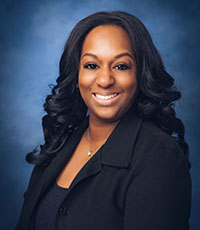 Ginneh Akbar, MSW, DSW
Lecturer, MSW Program
Dr. Akbar's extensive practice experience has reflected her commitment and passion for child welfare and families who have been impacted by trauma. Her work has primarily focused on children and families, providing clinical services in various settings including community mental health and child welfare agencies. She has worked in direct practice, ranging in positions from child welfare investigations to providing evidence-based, trauma-focused interventions like Child Parent Psychotherapy and TF-CBT. Additionally, she has served in administrative positions providing training and reflective supervision to social workers and therapists.
When her oldest daughter, now 13, was diagnosed with a rare genetic disorder at 11 months old, she was inspired to become an advocate for children with developmental delays, and expanded her interests to include early intervention and infant mental health. She continues to work in the field of early intervention as a consultant, supporting families of children with new diagnoses.
Dr. Akbar's research interests include organizational trauma in helping professions, sustainability and environmental racism, social media, and social work ethics in child welfare, which was the focus of her dissertation. She received her BS in Social Work from the University of Maryland Baltimore County, her MSW from Temple University and her Doctorate in Clinical Social Work from the University of Pennsylvania. Dr. Akbar currently teaches classes in advanced social work practice methods, mental health/mental illness, child welfare policy, as well as a few electives she recently developed, one on the intersection of social work, social movements and social media and one on Radical Social Justice.
In 2018 she started Akbar & Associates, a consulting and training firm where she provides workforce support, staff development training, and mentorship.
Contact
Email
About
Department(s)
Faculty | Lecturers | Part-time Lecturers
Program(s)
MSW