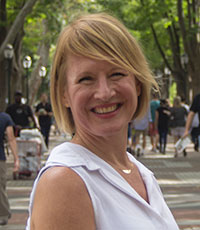 Felicia Greenfield, MSW, LCSW
Lecturer, MSW Program
Field Liaison, MSW Program
Felicia Greenfield, LCSW is the Executive Director of the Penn Memory Center (PMC). Since graduating from the University of Pennsylvania, School of Social Policy and Practice with an MSW in 2008, Greenfield has developed expertise in aging, dementia, caregiving, grief and loss. Greenfield maintains a small clinical practice, trains and supervises Advanced Clinical Year MSW students from SP2, manages the clinical and research operations of the PMC, and leads/raises funds for the PMC's extensive psychosocial support programs.
Greenfield joined SP2 as a Field Liaison in 2015 and became a part-time lecturer teaching Foundations in Social Work Practice in 2018. She is passionate about teaching, supervising and mentoring the next generation of social workers and is thrilled to do this work.
In addition to her work at the PMC and SP2, Greenfield serves on aging-related advisory boards locally and nationally and is a regular presenter and panelist at conferences and workshops related to dementia caregiving.
Contact
Email
About
Department(s)
Faculty | Lecturers | Part-time Lecturers
Program(s)
MSW