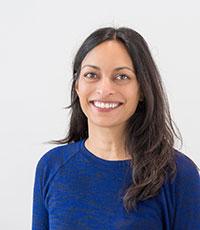 Charu Juneja, MBA
Lecturer, NPL Program
Charu Juneja is the founder of Righteous Design (a social impact design consultancy), the Interim Design Director for Sutter Health's Design and Innovation team, and a City Innovation Coach for Bloomberg Philanthropies.
Charu has spent most of her career leading interdisciplinary teams, conducting research, and designing, prototyping and implementing health care experiences and communications. She was most recently an Assistant Professor in the School of Architecture (teaching design research in the context of physical space) and a Design Director at the Design Institute for Health at the University of Texas at Austin. Previously, at IDEO, she led design teams across the life span – from Planned Parenthood to Zen Hospice Center. She spent four months in Peru, leading an international team in designing and prototyping quality, affordable and scaleable health care services for the emerging middle class.
Charu holds a BA in Mathematics and Economics from Miami University and an MBA from Harvard University. She calls San Francisco home and can often be found singing or on a mountain (sometimes both).
About
Department(s)
Faculty | Lecturers | Part-time Lecturers
Program(s)
NPL