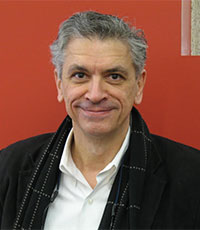 Andrew Lamas, JD
Lecturer, NPL Program
Andrew Lamas joined the faculty in Urban Studies in 1990, and the longstanding focus of his critical pedagogy, research, and writing is poverty, inequality, and alternative economy. He is Core Faculty in Gender, Sexuality & Women's Studies (GSWS) and the Alice Paul Center, he participates in the GSWS Global Gender Group, and he is Faculty Affiliate of the Lesbian Gay Bisexual Transgender Center. His courses are cross-listed with numerous departments, including Africana Studies.
He serves on the board of the Bread & Roses Community Fund (which has distributed more than $11 million to organizations in the Philadelphia area working for access to health care, economic justice, a clean, safe environment, civil and human rights, racial and economic justice, and peace). He is on the editorial board of the Radical Philosophy Review—the journal of the Radical Philosophy Association. He is the website editor and a founding board member of the International Herbert Marcuse Society.
He founded and directed (from 2012-2015) Penn's Social Justice Research Academy. He is the recipient of the Katz Award for Teaching Excellence in Urban Studies (2000), the School of Arts & Science's CGS Distinguished Teaching Award (2005), and the School of Social Policy & Practice's Excellence in Teaching Award (2015).
He received the BA (Humanities / Political Science) from Davidson College (Phi Beta Kappa), the MA (Economic Development/Africa) from the University of London's School of Oriental & African Studies, and the JD from the University of Pennsylvania Law School.
Contact
Email
About
Department(s)
Faculty | Lecturers | Part-time Lecturers
Program(s)
NPL