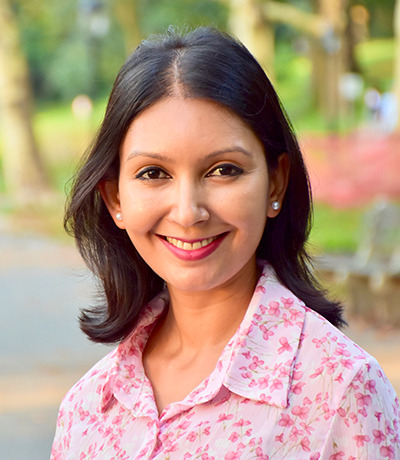 Ajita Singh, MPA, PhD
Postdoctoral Fellow, Center for Guaranteed Income Research
Research Interests
Economic, social, and environmental policy
Health, gender, racial, and climate inequity
Immigration and forced migration
Sustainable development
Ajita is an economist with over ten years of policy analysis, program management, and leadership experience in areas of sustainable development and climate change. She brings international development expertise from various governments, multilateral institutions, and academia including the United Nations Executive Office of the Secretary-General (EOSG), United Nations Development Program (UNDP), and Columbia University in New York, International Organization for Migration (IOM) in Moldova, and SaferWorld UK in Nepal.
Ajita is a Quantitative Postdoctoral Researcher at the Center for Guaranteed Income Research (CGIR) at the University of Pennsylvania's School of Social Policy and Practice (SP2). She is a policy and intervention science researcher focused on human development, economic mobility, and health, gender, and racial inequity. She is working with Drs. Allison Thompson, Stacia West, and Amy Castro on evaluating the impacts of economic policies using longitudinal data from more than 30 sites across the United States.
Under the guidance of Dr. Nabila El-Bassel at Columbia University, Ajita co-managed the Social Intervention Group's (SIG) Advancing Solutions in Policy, Implementation, Research and Engagement for Refugees (ASPIRE) project and conducted applied intervention research to improve the lives of women refugees in the Middle-East and East Asia. During the administration of former Secretary-General (SG) of the United Nations, Ban Ki-moon and former Adviser to the SG on 2030 Agenda for Sustainable Development and Climate Change, Dr. David Nabarro, Ajita worked to respond to global health crisis and climate change in Asia and Latin America at the United Nations Headquarters in New York. At SaferWorld UK she worked on social justice centered research projects to prevent violent conflicts in South Asia.
Ajita received her Master in Public Administration (MPA) from Columbia University School of International and Public Affairs (SIPA) and Master of Philosophy (MPhil) and Doctor of Philosophy (PhD) in economics and policy analysis from Columbia University Graduate School of Arts and Sciences (GSAS). Her doctoral dissertation examines multilevel factors associated with labor force participation, sexual and reproductive health, intimate partner and military violence, and early marriage experiences of Syrian, Afghan, Somalian, and other refugee women living in the Middle-East and East Asia. Ajita is a vegetarian and a strong believer in the value of economic, social, and environmental justice and human rights. She believes in being a thoughtful leader, a resourceful team player, and a problem solver.
Contact
Email
Address
3819 Chestnut Street
Philadelphia, PA 19104
About
Pronouns
she/her/hers
Department(s)
Research Centers & Special Projects | Fellows | Center for Guaranteed Income Research