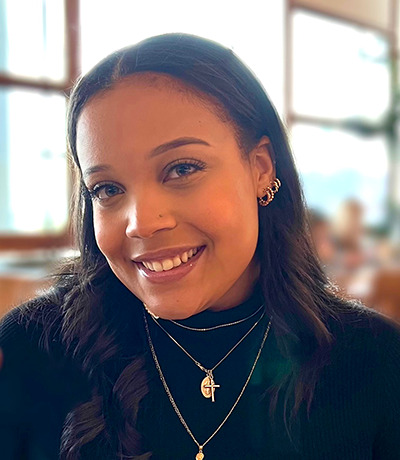 Ajanee Russell-Hopkins
Social Justice Scholar, MSW Program
Social Justice Leadership Interests
Women's reproductive rights
Socioeconomic equity
Anti-Racism
Ajanee Russell-Hopkins is a dual degree student pursuing a Master of Social Work at SP2 and a Master of Bioethics from the Perelman Medical School at the University of Pennsylvania. In 2023, Ajanee received her BS in Public Health with a concentration in Medical Ethics and Africana Studies from Rutgers University-New Brunswick. Ajanee also holds a Public Health Management Certificate and is a certified Clinical Study Coordinator passionate about helping maintain the ethical standard in clinical research.
Ajanee's interests are within the intersection of ethics in Healthcare and Social Work. She hopes to work with women and children experiencing health inequity as a product of their race and/or socioeconomic status through a Macro Social Work and Bioethics lens. Prior to SP2, Ajanee worked alongside organizations and initiatives in pursuit of educational and social equity for students of color. In her many roles, she has helped develop curriculum, served as a student liaison to the Board of Education, assisted in Project Management and Community Outreach, and helped break down language barriers for students learning English as a Second Language.
Beyond the realms of education and professionalism, Ajanee enjoys pottery and wheel throwing, arts and crafts, exploring the great outdoors, watching football, and traveling.
Contact
Email
About
Pronouns
she/her/hers
Entering Year
2023
Department(s)
Social Justice Scholars