News Details
Penn's First Executive Program in Social Innovation Design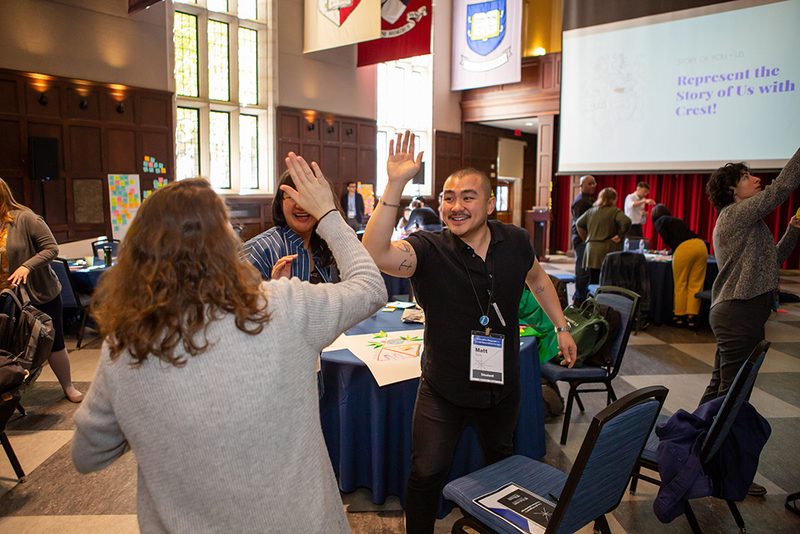 Authored by: Jared Brey
Photography by: Lou Caltabiano
Faculty & Research
12/04/19
It was just steps away from the hushed calm of the reading room at the Fisher Fine Arts Library, but there was nothing subdued about a gathering two floors above. Nearly 60 designers and other professionals were on campus for Penn's new Executive Program in Social Innovation Design (XSD), which was hosting the program's first in-person meeting. They pushed the tables and chairs to the side of the room, and at the direction of Mecquel, a Princeton-based dancer and yoga instructor, stood up straight, stretched their limbs, and drummed their palms against their legs.
It was a short exercise, but it helped set the tone for a full day of collaborative work among people from around the world who had just met. And like the rest of the XSD program, it was meant to build a sense of community.
"The convening was a really fantastic time to be honest and vulnerable with peers, knowing that we're working toward the same goal, and that we're not in competition with each other," says Matthew Sim, strategy director at the New York-based branding and design firm Sub Rosa.
The XSD program is a collaboration between the School of Social Policy & Practice (SP2) and the Stuart Weitzman School of Design. A largely online, noncredit, professional development certificate, the program is aimed at professionals looking for ways to create social change in their work. The five-month program is split into a series of three- and six-week online courses, with an in-person convening at Penn midway through and at the end of the program. Courses include Design Thinking for Social Innovation, Self & Society, Engagement for Impact, an independent study, and a choice of electives.
XSD is meant to appeal primarily to two types of people, says Sarah Rottenberg, the program's faculty director and executive director of the Integrated Product Design program at Penn: Designers who want to make a social impact and people working in social-impact roles who want to learn to be more creative. It was developed for students who are interested in building their credentials and learning new skills but are not ready for a full-time graduate program.
The program was launched this fall in an effort to build on a series of successful executive programs offered by SP2. Some of those programs are geared toward people who are in the advanced stages of a new project, says Ariel Schwartz, managing director of the Center for Social Impact Strategy (CSIS) at SP2. But faculty at the Center felt there was a need to serve people who wanted to make a difference but hadn't figured out how, Schwartz says.
"We hoped that [students] would be able to move from the feeling of 'I want to do something — I am seeing a problem in the world I don't know anything about, but I want to help,' to some sort of plan for systematic action that is intentional and respectful and responsible and collaborative and iterative," Schwartz says. "There's a process of making a connection between the things that we're experiencing internally and how the world is operating. We're really inviting folks to make that move from a problem orientation to an intervention orientation."
Schwartz and SP2 professor Peter Frumkin, who is faculty director at the Center for Social Impact Strategy, approached Weitzman Dean Fritz Steiner with the idea of collaborating on an executive program that would integrate design thinking with the social-impact focus of SP2's existing executive programs. Steiner in turn tapped Rottenberg and PennPraxis Managing Director Julie Donofrio to help put it together. The curriculum includes a series of three- to six-week online courses based on material that's already taught by Weitzman and SP2 faculty.
One of the courses, called Self and Society, was taught by Kaveh Sadeghian, creative director at the Center for Social Impact Strategy. Adapted from courses Sadeghian teaches in SP2, the online class was divided into three weeklong sections focused on helping students envision their own futures by pulling from positive psychology, design thinking, and philosophy. The course explores the roots of impostor syndrome, and the reasons why so many people find work unsatisfying.
Of his goals for XSD participants, Sadeghian says it's about more than mastering a methodology, "it becomes principles that you live by—or principles that inform the work you do," Sadeghian says.
Annika Vaughan, who works in communications for an international organization, says she was searching for a conference to attend when she saw an ad for XSD on Facebook. Vaughan began her career in journalism, and says she's interested in "the intersection of design thinking and social innovation — how you can use that to design social movements and change society." She attends a different professional conference every year for her work, but this year chose to enroll in XSD instead.
"I underestimated the amount of work it requires, but it's worth it," Vaughan says.
On the last day of the convening, Donofrio led an exercise meant to get students to think through who the stakeholders would be for the projects they selected, and how to approach them. She's also leading an online course called Engagement for Impact, an adaptation of the class she co-teaches with David Gould, a Weitzman school lecturer and deputy director of community engagement for the City of Philadelphia's Rebuild initiative.
Matthew Sim, the New York-based branding strategist, says part of the appeal was that the program had never been offered before, and that it was experimental. Sim began his career as an accountant, but says he has increasingly built design thinking into his work. He hoped the XSD program would help him find a community of "big thinkers" who were interested in social change.
Based on the enthusiasm of participants at the convening, Sim had found just such a community in XSD.
"It seems like we struck a chord," Rottenberg says. "I think there's a lot of demand for exploring new ways to go about doing your work with other people who are interested in changing the world, but need new tools to develop and design solutions."
People
Ariel Schwartz, MPA, PhD

Managing Director, Center for Social Impact Strategy

Contact

Email

Kaveh Sadeghian

Lecturer, NPL Program

Contact

Email