News Details
Penn SP2, Penn Vet Develop Dual Degree Program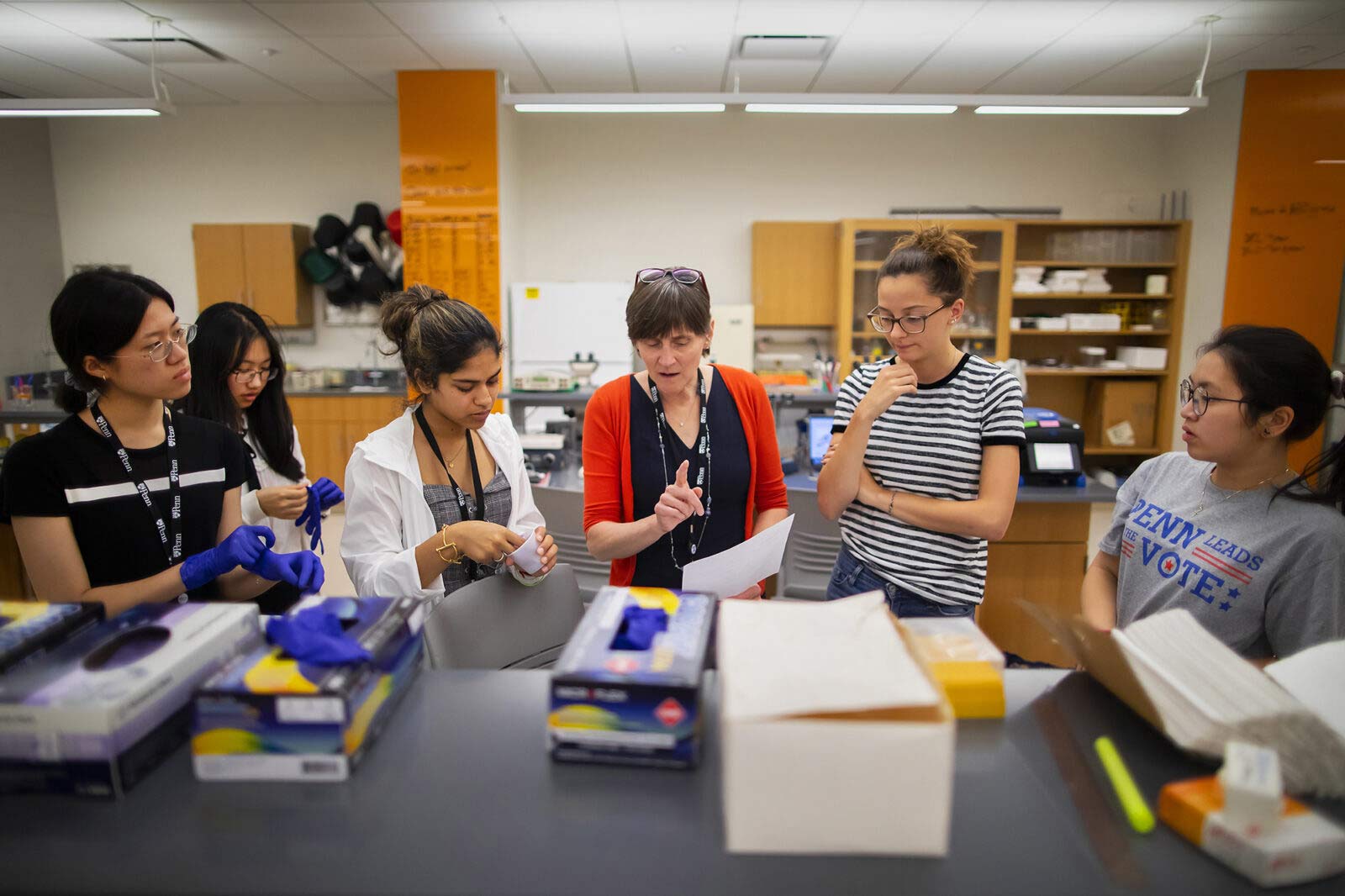 Photography by: Eric Sucar / University Communications
Interdisciplinary education is the bedrock of new academic programs forming at the University of Pennsylvania's School of Veterinary Medicine (Penn Vet). Last week, Penn Vet announced that it has created and received approval for two distinctive dual degree programs with the University of Pennsylvania's (Penn) School of Social Policy & Practice (SP2) and the School of Arts and Sciences. The new dual degrees, the Doctor of Veterinary Medicine (VMD) – Master of Social Work (MSW) and the VMD – Master of Environmental Studies (MES), will prepare future, multidisciplinary veterinarians to assume leadership roles within the environmental, social services, and public health sectors.
"Veterinarians have always played important roles in public health, human health, and welfare. Current events have only underscored the importance of our profession in interprofessional efforts to tackle these complex health challenges," said Jennifer Punt, VMD, PhD, Associate Dean of One Health and Professor of Immunology. "Our new dual degrees join the visionary VMD-PhD, VMD-MPH, and VMD-MBA programs, and they reflect the novel need for veterinarians to engage in interdisciplinary problem solving at the critical juncture of human health, environmental health, and animal health and welfare. Our first cohort of students in these programs are already transforming expectations for the future; we couldn't be more excited for them and with them."
Veterinarians Trained as Human Healthcare and Social Service Providers
The training of veterinarians in human healthcare and social services, which Penn Vet deems 'One Health in Practice', is a very new, nascent approach to achieve healthcare equity and access for vulnerable or underserved human populations. Veterinarians can be – or, in some cases are – the conduit to a wide range of human healthcare and social services. The VMD-MSW dual degree prepares students for the growing field of veterinary social work – an emerging subsector of veterinary medicine founded by University of Tennessee's Elizabeth Strand, PhD, LCSW, and Penn Vet's 2020 commencement speaker, that supports the needs of humans who take care of animals of all kinds.
"This dual degree is very exciting and reflects the innovation long held by the University of Pennsylvania in human-animal frontiers," said Strand. "In fact, Penn Vet hosted one of the first clinical social workers in a veterinary medical setting in the late 1970's, so the announcement of this dual degree is quite fitting. The ways this program will change the context of One Health in Practice is far reaching and ubiquitous."
Veterinarians are uniquely privileged healthcare practitioners, interacting closely with both animal patients and their human clients through the 'veterinary-client-patient relationship'. These interactions offer numerous rewards, but the medical and financial complexity of patient cases can engender situations that are emotionally challenging for caregivers of animals, as well as for the veterinarians that serve them. Training in social work enables veterinary medical professionals to better navigate human wellness triggers – such as emotional stress brought on by bereavement – and provide the needed support to clients or colleagues. Rural veterinarians and NGO veterinarians on the other hand, often working within underserved agricultural communities, can identify and facilitate healthcare access for farming clients, their families, or for migratory workers.
This unique, animal-human centric degree can be completed in less than six years, with a total of up to eight, cross-counted courses that fulfill requisites from both Penn Vet and SP2. VMD-MSW candidates will complete a field assignment at an animal-oriented or human healthcare institution whose scope includes social work.
"It has been no clearer than right now how essential the skills that both veterinarians and social workers provide during a crisis, and during the most vulnerable moments of individuals and animals," said SP2 Dean Sara S. Bachman, PhD. "Combining these two professions and areas of expertise will not only prepare future change agents to understand the complex, parallel relationships between humans and their pets, but will also save lives. I so look forward to witnessing the imitable influence this collaboration will have on its students and budding practitioners, as well as the comfort, safety, and relief they will go on to provide for so many."
"We are thrilled to participate in this interdisciplinary endeavor—one that, through rigorous training in classes and field education, will enhance understanding of human and animal interconnectedness and inform services and policies that support human and animal health in the current context and for years to come," said Malitta Enstrom, PhD, LCSW, SP2 Associate Professor and MSW Program Faculty Director.
Veterinarians and Their Future Role in Environmental Sciences, One Health
Wildlife habitat and biodiversity, domestic animals, food production, humans, and the environment, are all inextricably linked through 'One Health'. As evidenced by COVID-19, compromised environmental health is often a contributing factor to the spillover of viruses or other pathogens from animals to humans. Toxic minerals, chemicals, soil destruction, and climate change, erode the health of natural habitats for animal populations, and disproportionally impact vulnerable human populations.
The VMD-MES degree prepares veterinarians with a deeper understanding of the environmental context and related human dimension that drives animal population health. Graduates are well-qualified, for example, to pursue careers in regenerative and resilient agro-food production systems; the conservation of aquatic ecosystems; the management of free-ranging wildlife; and the development of environmental policy at the interface between urban and rural environments.
Designed to be completed in five years, the VMD-MES degree fulfills academic requirements from both Penn Vet and the School of Arts and Sciences. Students will select an independent capstone project related to veterinary medicine and the environment.
MES program director Yvette Bordeaux, PhD, notes the dual degree program is the natural next step in the evolution of the One Health perspective at Penn. "We are the last piece of that puzzle," said Bordeaux. "Penn Vet and the Perelman School of Medicine have been working together for a while. Now we are bringing in the environmental piece. I'm very excited about the program, and students are, too – there are two students who are ready to jump in right now."
Veterinarians' Essential Life-Sustaining Roles in Society during Crisis
"At the onset of the COVID-19 pandemic, veterinarians were aptly designated life-sustaining professionals given their role in prevention and treatment of life-threatening animal diseases, surveillance and mitigation of domestic or foreign animal diseases, and education of the public," said Andrew M. Hoffman, DVM, DVSc, Gilbert S. Kahn Dean of Veterinary Medicine. "This current health crisis has also sharply illuminated veterinarians' broader role in pandemic prevention and preparedness as well as disaster management. What we do, and how compassionately we do it, is relevant now more than ever before. Penn Vet's new dual degrees are preparing a generation of leaders amongst veterinarians that will prevent the next zoonotic pandemic, and bridge animal and human health in the next humanitarian crisis – and for the disruption that will inevitably emerge. There is no better place to prepare that generation than here at Penn where the close-knit geography of 12 schools, including five health schools, is leveraged for innovation, inclusion, and impact. We could not be more grateful to our academic partners at the School of Social Policy & Practice and at the School of Arts and Sciences, for making these two new interdisciplinary dual degrees happen."
Penn Vet is a pioneer in unique, dual degree programs that integrate veterinary medicine with other scientific and professional disciplines. In 1969, the School introduced its first dual degree, the VMD-PhD, a doctoral-level program for veterinary scientists. Twelve years later, in 1981, Penn Vet and the University's Wharton School introduced the VMD-MBA. Penn Vet also offers the flexible, One Health-oriented, VMD-Master of Public Health (MPH); a new online Master of Science (MSc) in Animal Welfare and Behavior; and the online Graduate Certificate in Animal Welfare and Behavior. In 2021, Penn Vet will be announcing additional new dual degrees with Penn's Graduate School of Education, the School of Nursing, and the Carey Law School.
People
Malitta Engstrom, PhD, LCSW

Associate Professor

Contact

office: 215.573.6454

fax: 215.573.2099

Email