News Details
Penn Center for High Impact Philanthropy Expands Toolkit for Donors Looking to Invest in Early Childhood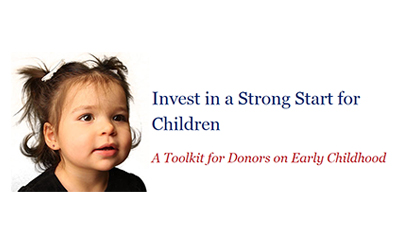 Authored by: Jessica Bautista
Faculty & Research
05/06/15
With the continued support of The Annie E. Casey Foundation, the Center for High Impact Philanthropy (CHIP) announced it has added new content to "Invest in a Strong Start for Children: A Toolkit for Donors on Early Childhood."
Several sections of the successful online toolkit have been updated, providing supplementary resources to donors interested in the early childhood space. The additions went live on Wednesday, May 6.
The toolkit, first released in March 2014, is designed to help funders interested in early childhood to achieve the greatest possible social impact through their investments or philanthropic activities.
Among the several additions made, the valuable resource has been updated to include two additional profiles of high impact opportunities: Springboard Collaborative and Child-Parent Centers. Additionally, the toolkit now features a piece on the high return on investment of quality early childhood programs and several funder briefs on different hot topics within the early childhood sector. These briefs include "Patching the Quilt: Early Childhood Policy & Finance for Donors," "Two-Generation Lens: Helping Children by Helping Families," and "Ensure a Healthy Start: Prevent and Reduce Childhood Exposure to Harmful Chemicals."
"There is growing consensus on the importance of smart investments in early childhood," said Katherina Rosqueta, founding executive director at CHIP. "So the question isn't 'whether' to invest but 'how.' For impact-focused funders, the toolkit is designed to show how."
The toolkit expansion has been in the works since the initial release last spring. According to CHIP Senior Analyst Danielle Wolfe, the toolkit has since been well-received by CHIP's extended network of funders and practitioners engaged in the early childhood space.
The content of the toolkit is all available online here.  The downloadable PDF of the entire toolkit will be available later this spring.
Based in Penn's School of Social Policy & Practice (SP2), CHIP is a multi-disciplinary non-profit organization established by SP2 and alumni of Penn's Wharton School in 2006. It provides independent analysis and decision-making tools to ensure that philanthropic funds have the greatest possible impact.