News Details
NPL Student Shares Advocacy Story at Annual ALS Dinner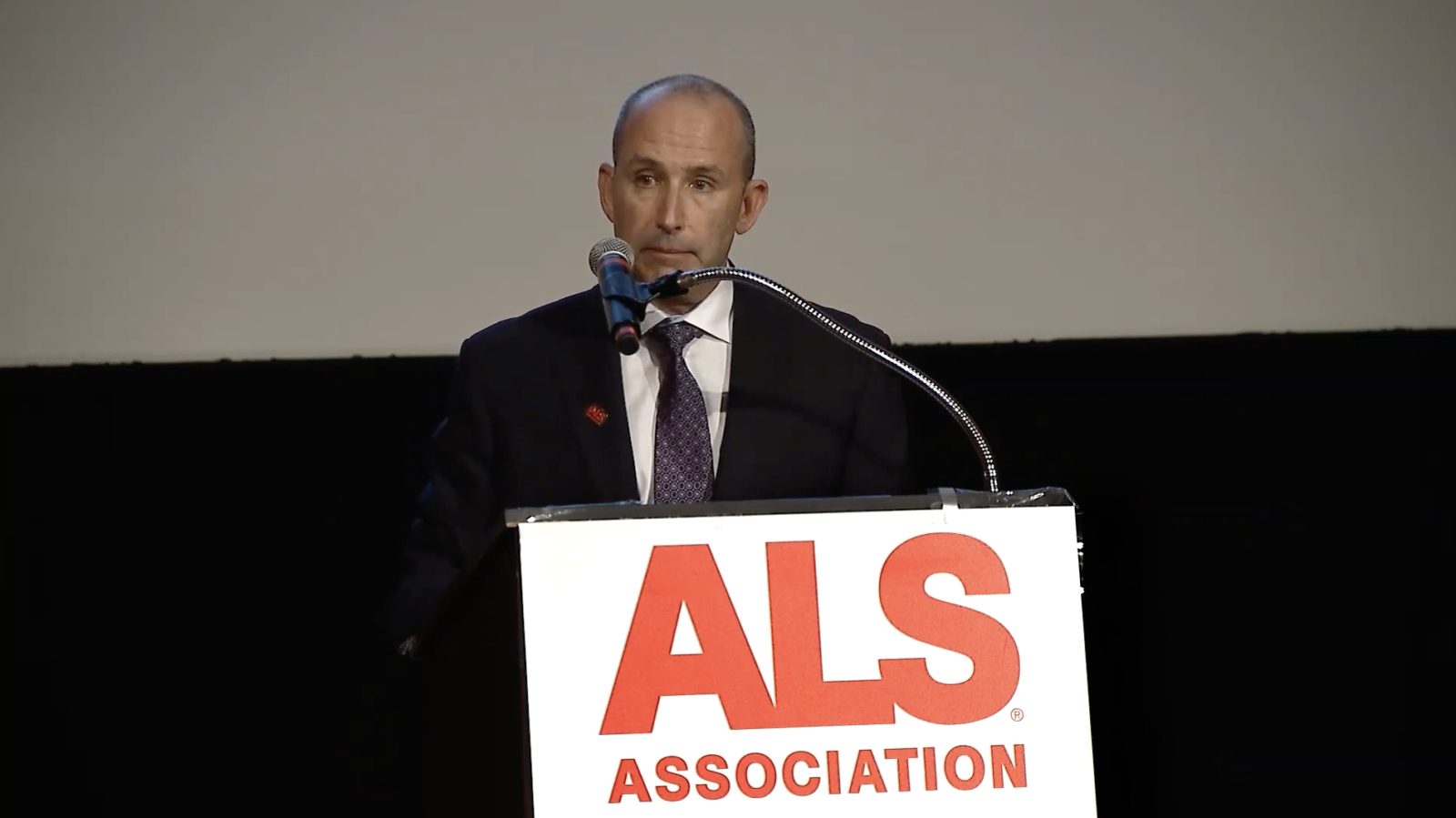 Authored by: Alina Ladyzhensky
Photography by: Provided
"I bear witness to the strength of people who can't move a muscle," said Jeff Oppenheimer, addressing a gathering of 450 guests at the 2019 ALS Dinner, held by the ALS Association Greater Philadelphia Chapter at the close of last year. Oppenheimer, a student in the Master of Science in Nonprofit Leadership (NPL) program at Penn's School of Social Policy & Practice (SP2), was an invited speaker at the event.
The evening's honorees, the Philadelphia Phillies, have partnered with the regional ALS chapter for the last 35 years, raising more than $19 million toward critical research and services benefitting patients and families who are battling ALS (amyotrophic lateral sclerosis), a progressive neurodegenerative disease. The Greater Philadelphia Chapter—which covers eastern and central Pennsylvania, central and southern New Jersey, and Delaware—works to improve the quality of life for individuals with ALS by supporting vital research and direct care services, in addition to advocating for patients and caregivers at the state and federal levels.
"I had been waiting 20 years to let the Phillies know how much I appreciate them," Oppenheimer said, reflecting on the evening.
The ALS Dinner was a chance for Oppenheimer, now a member of the association's Board of Directors, to publicly reflect on decades of ALS advocacy work, as well as his family's deeply personal connection to the cause. In 1995, Oppenheimer and his wife, Shelbie, moved to Philadelphia from Columbus, Ohio. The following year, Shelbie was diagnosed with ALS.
"At the time, the Greater Philadelphia ALS Association Chapter was, bar none, the best ALS Association in the country. There are many reasons for that, but the lead reason is a woman named Ellyn Phillips, who inherited the chapter when it was literally a shoebox with index cards. Now, we provide as elaborate of care services as anybody in the country," Oppenheimer explained. "It made an enormous difference for Shelbie and me. She couldn't have battled as long as she did without the ALS Association, and by transitive property, the ascension of the organization began in earnest with the Philadelphia Phillies. The fact that I was asked to speak, and that they were the honorees, was a tremendous opportunity for me."
Shelbie passed away in 2015, nearly two decades after her diagnosis. The average lifespan after diagnosis is 3-5 years, but Oppenheimer says Shelbie was fortunate to have a slower progressing form of the disease, the support of the ALS Association, and a steely determination to see her daughter grow up while advocating for a tragically transient patient community.
After Shelbie's passing, and with his daughter having gone off to college, Oppenheimer began to consider the next chapter of his life.
"For twenty years, I woke up every day with literally life-and-death purpose. Shelbie might be gone, but there are too many just like her. My life has been so unique that I felt like I could put my experience to work. I'm passionate about helping families—because it's more than just the patient, the whole family has ALS—through a very difficult experience, and ultimately getting to a cure," he said. "When I saw the program at Penn SP2 for Nonprofit Leadership, I realized that it was an absolutely perfect opportunity to gain the skills to make as much impact as I possibly can."
In the NPL program, Oppenheimer learned from seasoned nonprofit leadership professionals and was able to apply theory from the program's curriculum to his work with the ALS Association.
"I knew exactly what I wanted to do with the degree, so I was comfortable speaking with professors— most of whom are executives in nonprofits—about why I was in the program, and how it could relate directly to the field of ALS care and cure," said Oppenheimer, who is set to graduate in May 2020.
"I wrote a paper about self-sustaining patient services—the idea that, rather than spending the hard-earned and finite funds raised to support patient services, my 'what if?' is to engage commercial interests in the classic 'doing good by doing well' proposition," he continued. "Based on what I've learned in the classroom and my own life experiences, and now as a member of the Board of Directors, I'm working with our Care Services Committee to try to implement that."
Oppenheimer's completion of the NPL degree at SP2 is another manifestation of his ongoing dedication to providing support for those affected by ALS. This tireless commitment to advocacy on a national level was succinctly captured in his speech at the Annual ALS Dinner using, aptly, a baseball metaphor.
"We [Jeff and Shelbie] weren't going to just play defense. We wanted to be in the dugout. We wanted to break out the sticks. We wanted to put some runs on the board… Shelbie and I did have our big innings, and we even pushed it to extra frames."
With the memory of his wife and acumen gained from Penn SP2's Nonprofit Leadership program, Oppenheimer is committed to applying his passion and knowledge to caring for the patient/family community while working toward treatments for ALS, and ultimately, a cure.