News Details
NPL Student Named Inaugural Global Rhodes Scholar, Sets Sights on Development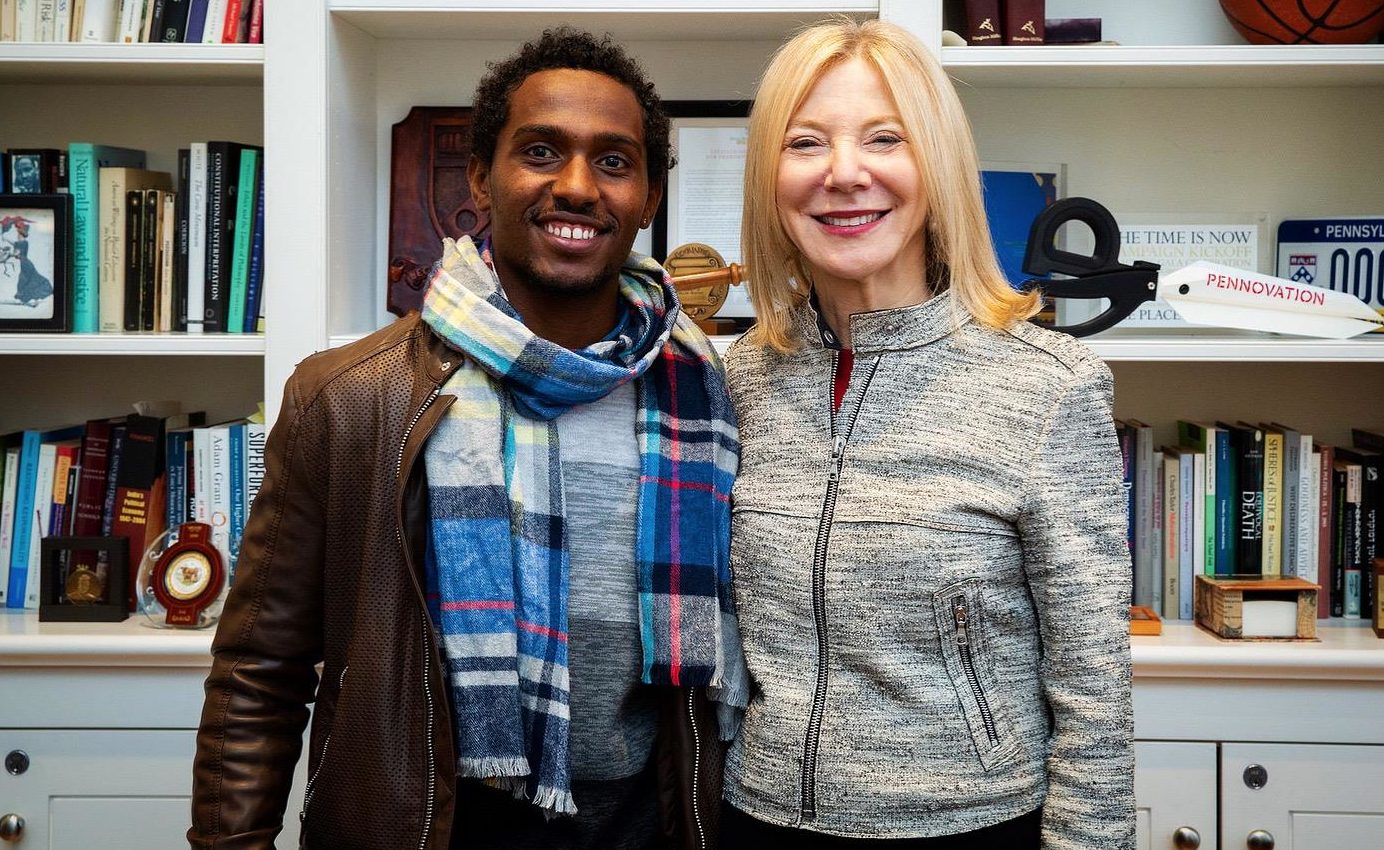 Authored by: Alina Ladyzhensky
Photography by: Scott Spitzer
Penn World Scholar. Perry World House Student Fellow. Paul Robeson and Anna Julia Cooper Scholar. Lipman Family Prize Fellow. Founder and president of the Society of African Internationals. And now, Penn School of Social Policy & Practice (SP2) student Adamseged Abebe can add Global Rhodes Scholarship recipient to his well-deserved list of accolades. Abebe, who goes by Adam, was one of two students chosen for this inaugural scholarship, selected from an impressive pool of global applicants.
The Rhodes Scholarship is a highly prestigious international award that supports exceptional students through funding their postgraduate studies at the University of Oxford. Established in 2018, the Global Rhodes Scholarship now allows nominations of eligible candidates from countries outside of the traditional list of 60 Rhodes constituencies.
According to the Rhodes Trust, "Rhodes Scholars are chosen not only for their outstanding scholarly achievements, but for their character, commitment to others and to the common good, and for their potential for leadership in whatever domains their careers may lead."
Indeed, while Abebe's list of academic honors is extraordinary, his journey to Penn and subsequent course of study, molded to fit his ambitions for the future, reveal the workings of an intrepid, visionary mind.
Forging a Singular Academic Path at Penn
Abebe, who hails from Ethiopia and attended high school in Ghana, explained that he was able to attend Penn as the result of a scholarship for international students. Despite having limited information about the university at the time of his application, Abebe wasted no time in forging his own academic path upon arrival.
Through a submatriculation program that allows him to simultaneously complete a Bachelor of Arts in Health & Societies from the School of Arts and Sciences alongside a Master of Science in Nonprofit Leadership (NPL) from the School of Social Policy & Practice (SP2), Abebe is jointly pursuing his interest in global health and non-profit leadership. This interdisciplinary approach has allowed him to conduct research on mitochondrial proteins, HIV/AIDS, mental health and population health in Malawi, and the impact of Chinese investment on Ethiopian infrastructure. He has also served as a teacher and mentor for children at a non-profit school in Ethiopia for three consecutive summers.
As Abebe explained, his unique path of study was thoughtfully planned, but he also re-attuned it along the way, as his career and research goals became clearer.
"Technical experience is one thing, but it's important to explore your ideas, and what you think might be interesting," he said. "I've taken classes in different sectors of development in terms of economic health, education, those kinds of things. Then I realized that I was interested in looking into opportunities around the public sector, or the nonprofit sector."
This decision to pursue his interest in the nonprofit sector inspired Abebe to become a student in the Nonprofit Leadership program at SP2.
"Instead of double majoring, having that practitioner view as a master's student was very helpful," Abebe continued. "I grew up in Ethiopia, seeing a lot of nonprofits and NGOs with really poor leadership and management, so the courses in leadership and the simulations at SP2 were very helpful in understanding this sector."
Putting the NPL into Action— & What's Next
For Abebe, who is set to graduate in spring 2019, his time in the NPL program has provided a number of important takeaways— one of which was expanding his understanding of the nonprofit sector, thereby lending more specificity to his career objectives.
"The NPL expands your view of the role of nonprofits, not just in the traditional way of having one static organization, but also the various means of how you can engage with the social work sector," Abebe said. "The other interesting part is not just the focus on nonprofit, but also on leadership."
"SP2 has classes in partnership with the Wharton school, for example, so there is a focus on leadership," he continued. "Leadership is not just innate—it can be taught, and it can be learned. There is a focus on different types of leadership simulations, where you really get to experiment with your character and personality traits."
Following his graduation from Penn, Abebe – in his tenure as a Global Rhodes Scholar— will pursue a Doctor of Philosophy degree in international development at Oxford. There, he will continue to follow his passion for channeling international development into social good, in addition to his aptitude as a leader.
"I argue that what you see in development is people working in silos. They're either in education or in the health sector or in poverty alleviation, or another sector. But there's that lack of understanding about coming together and building a framework that encompasses all of this," Abebe said. "From my personal background, education was a really big tool and a means for me to get here, and I want to explore what that means for others."
After such an academically notable and personally enlightening experience at Penn, Abebe looks forward to the next chapter of his journey – and deliberately taking time for reflection and growth.
"I'm passionate about seeing education reform in my country, Ethiopia, and many other developing countries, but also seeing what the gaps are between other tiers of education and development sectors versus how this plays out in practice in resource-restrained countries," he said. "I'm looking into the PhD primarily because I want to take the time to really think independently, and create own my path into understanding the course material. The good thing is, I already have this Master's experience, so I'll be able to have the time to really sit down and think."