News Details
NPL Student Helps Others to Gain Religious Understanding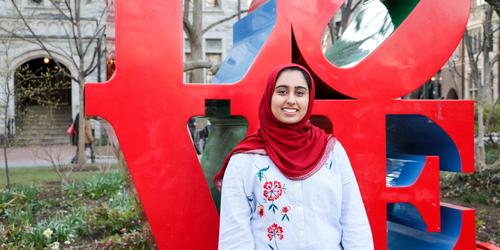 Authored by: Jill DiSanto
At the University of Pennsylvania, dual-program student Nayab Khan is creating a new level of understanding between people of different faiths.
A biology major in the School of Arts & Sciences, Khan is simultaneously pursuing a graduate degree in nonprofit leadership from the School of Social Policy & Practice (SP2).
She grew up in the borough of Queens in New York City, a culturally diverse, interfaith community. Her parents, immigrants from Pakistan, wanted the best available education for Khan and her three siblings. So, though her family was Muslim, she attended Catholic schools from pre-K through eighth grade. At home and on the weekends, Khan practiced Islam and went to Sunday school for Muslims at the local Mosque.
Her interfaith upbringing led Khan to question why the teachings between Islam and Catholicism differ and to embrace her religious studies. She says it also left her with an open-minded outlook on religion.
Read the full story on Penn News here.