News Details
NPL Student Chosen for Steering Committee of World Economic Forum's Global Shapers Community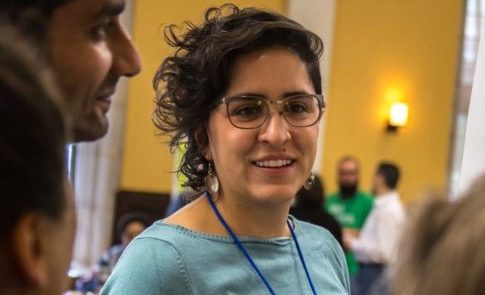 Authored by: Alina Ladyzhensky
Photography by: Provided
Tatiana Fraga Diez, a student in the Nonprofit Leadership (NPL) program at Penn's School of Social Policy & Practice (SP2), has been appointed to the Education and Employment Steering Committee of the Global Shapers Community, a network of young leaders supported by the World Economic Forum.
The Global Shapers Community spans more than 7,000 members in more than 360 regional hubs internationally. In each location, teams of Shapers organize around projects that directly address the needs of their respective communities, taking action on issues such as poverty, disaster response, climate change, area cleanup efforts, and fostering community inclusivity. Regional hubs also seek out opportunities to have global impact through collaborating with hubs in other locations and connecting with each other through joint initiatives and events.
Fraga Diez first became involved with the Global Shapers Community in 2018. She was selected as a Global Shaper to the local hub in Monterrey, Mexico, where she worked for a local nonprofit after earning her Bachelor of Arts in International Relations from El Colegio de México.
"I heard about this community of people locally who were also connected to other communities around the world. I had been volunteering for an international organization for a really long time, and I know how sharing experiences and expertise can be very beneficial for local projects," Fraga Diez said. "I wanted to be a part of that again, and to better understand other communities and their projects in order to learn new skills and put them into practice in my own work."
In her new position within the Education and Employment Steering Committee, Fraga Diez will be tasked with delineating the goals and agenda on these topics for the entire network of Global Shapers and all of their local hubs.
"A big interest of mine is how we can better perform as educators, workers, and leaders. This is a great opportunity for me to really put that into practice," Fraga Diez said. "Some of the 21st century skills that the World Economic Forum has been working on are skills that I have also been working on here in the NPL program."
As Fraga Diez explained, becoming involved with education and employment-related initiatives of the Global Shapers Community dovetails with the social impact acumen that she has gained—and continues to build upon— as a student in the NPL program.
"The network that you build within the Nonprofit Leadership program here is very valuable, and I'm very excited to go back and put into practice a lot of the things I've been learning. For example, I've been taking a course on public-private partnerships and learning how to better address the challenges that might not be solved only by one sector or one person, but by multiple people."
"In the Designing the Future class, I've been developing a lot of leadership skills and conflict resolution tools for group dynamics, as well as finding a way to plan for the future while being comfortable with the ambiguity of not knowing what's going to happen next," she continued. "We have been really connected to a lot of what has been happening nationally, and I think that's also a very good thing to foster for this new position."
Looking ahead, Fraga Diez hopes to continue working on enabling better ecosystems for innovation and helping nonprofits thrive, as well as—in the true spirit of the Global Shapers and SP2 communities alike— solving society's most pressing challenges with a collaborative approach.