News Details
NPL Alum Brings Volunteers, Patients Together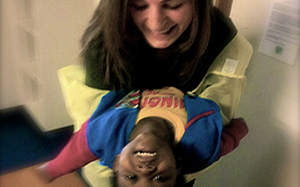 Authored by: Jessica Bautista
Student Life, Alumni
08/19/16
During her time as an undergrad and volunteer at the University of Florida Health Shands Children's Hospital, Erica Sokol, NPL '16, identified a need for more individualized attention and support in the pediatric oncology unit. Since then, Sokol has made it a personal goal to establish meaningful connections between student volunteers and children receiving treatment – or, as she calls them, "little heroes."
Sokol, a Certified Child Life Specialist, received her Bachelor of Science at the University of Florida (UF) in 2011. As she juggled her studies at UF, Sokol developed the Hospital Buddy Program Model, which allows student volunteers to engage young patients in activities, organize birthday parties, celebrate milestones, and provide opportunities for the children to have fun, even while in the hospital.
The Hospital Buddy Program now exists as a part of StudentsCare – a nonprofit organization established by Sokol in 2013 aimed at empowering college students and giving them the resources to pursue their passions and make an impact in their communities. The organization specifically targets pre-med and health science students with the goal of fostering empathy development in future healthcare professionals.
"But I really wanted to take StudentsCare to the next level," Sokol said. "And I knew I needed the know-how to do this right. That's when I came across the Nonprofit Leadership program at the School of Social Policy & Practice."
Sokol began the NPL program in 2014, and has since worked to expand and sustain the StudentsCare program as she earned her master's degree.
"I was able to launch eight pilot chapters in spring of 2015. We started in St. Louis University, Michigan State University, and the University of Miami," Sokol explained. "We've received interest from over 500+ students from across the country."
Sokol says that she has now been focusing on fundraising and applying for grants to grow the program and replicate it at more college campuses each year.
"In 2017, I am hoping to launch six new chapters," said Sokol, noting that she wants to make the opportunity available to as many college students as possible.
"My biggest drive has been the kids. I was able to experience those moments with them and get to know them as a volunteer myself," Sokol said. "To see their bravery and courage, and to meet their families, at literally the worst times in their lives… it is so transformative. It is so powerful."
Click here to see a video about the StudentsCare program and visit www.students-care.org to get involved.