News Details
New SP2 Seminar Opens Door to 'World of Research'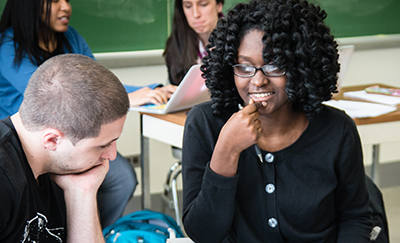 Authored by: Jessica Bautista
Faculty & Research, Student Life
11/30/16
Penn's School of Social Policy & Practice (SP2) students have a distinctive thirst for information, and fortunately, SP2 is a well of knowledge.
With SP2's eager learners having expressed a desire for even more research opportunities in the MSW program, the School has created a research seminar – led by SP2 Professor Ram Cnaan, PhD.
Cnaan, who is also the director of the Program for Religion and Social Policy Research and faculty director of the Goldring Reentry Initiative, said that "MSW students wanted to have more experience actually doing the research and wanted to learn how the process really takes place."
According to Cnaan, 14 students are currently enrolled in the new seminar. Together, Cnaan and the students picked two areas to focus their research efforts on – the honest experience former prisoners have had with parole and probation officers as well as who, within religious communities, is perceived as important or elite. One student has also elected in an independent research project, which will also be supervised by Cnaan.
"Dr. Cnaan's seminar has provided me with a unique and meaningful opportunity to engage with social work research, both inside and outside of the classroom. The hands-on experience mirrors the larger value system of the MSW program, by providing real world application and skill-building," said Kelsey Woida, a second-year MSW student at SP2. "This seminar has bolstered my interest in criminal justice work across this spectrum, and has further cultivated my ambitions to blur these lines. Collaborating with both clinical and macro students in a shared endeavor has also illuminated my own understanding of how research can be integrated in social work practice broadly speaking."
In the seminar, students are encouraged to build research questions, analyze associated literature, and collect data. The experience is unique and customizable for each individual.
"We want to give every student an opportunity to deal with the topic they like and see an idea through to the results to shed light on these interests," Cnaan said. "And the students have been very enthusiastic about it."
The topics will vary from year to year, according to student interests, but the skills and methodology knowhow each student gains will be an asset no matter what they may go on to study.
"If any student from the seminar is interested in entering a doctoral program, they can always say they've experienced the real world of research already. They'll be prepared for what's next and will have the tools they need," Cnaan said.
"With the best Penn tradition, I am following Benjamin Franklin's wisdom when he stated, 'Tell me and I forget. Teach me and I remember. Involve me and I learn,'" Cnaan said.