News Details
New Report Predicts Aging Homeless Population Will Nearly Triple by 2030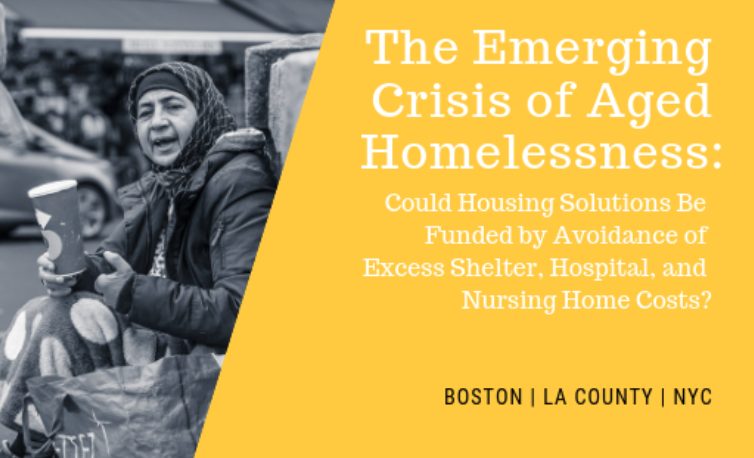 Authored by: Jessica Bautista
Faculty & Research
01/15/19
Experts Discuss Solutions to Offset Instability and Costs
The population of individuals who are homeless and elderly is expected to nearly triple over the next decade, according to a new study released by researchers at the University of Pennsylvania, University of California Los Angeles, New York University, and Boston University.
Experts say the projected upturn of the aging homeless population—concentrated among those born between 1955­ – 1966—will also lead to a surge of cost increases associated with health care and shelter needs.
The multi-site study includes Boston, New York City, and Los Angeles County, but is likely indicative of growth that is expected to take place across the country, according to homelessness expert Dennis Culhane, PhD, The Dana and Andrew Stone Professor of Social Policy at the University of Pennsylvania School of Social Policy & Practice (SP2).
More specifically, the national population of people 65 or older experiencing homelessness is estimated to grow from 40,000 to 106,000 by 2030. The predicted spike is based on 30 years of existing census data.
"Caring for this elderly group in homelessness is going to cost about $5 billion a year – that's just for their health care and shelter, not to house them," said Culhane, the principal investigator of the study.
The forecast is bleak, but not inevitable.
Culhane said they've identified evidence-based approaches that would alleviate both housing instability for the aging and the increase in costs.
A number of housing interventions—including permanent supportive housing and rapid re-housing—could offset issues of homelessness, declining health statuses, and excessive health care spending all at once, according to the report.
The study, broken into four phases, subdivided and analyzed groups based on their use of shelter and medical acuity to project future figures, as well as determine solutions that would best accommodate individuals.
"We can either just maintain people who are in poor health and in a state of homelessness, with crowded emergency rooms, hospitals and nursing homes, or we could use the money wisely to actually solve their homelessness problem and reduce the total costs," said Culhane.
The study was released on January 15, 2019 at forum and roundtable discussion in Washington, DC. The event, which included the University of Pennsylvania, National Alliance to End Homelessness, the U.S. Interagency Council on Homelessness, and federal policy experts convened to explore policy options and answers to address excess health care costs by improving the housing stability of this vulnerable population.
People
Dennis P. Culhane, PhD

Professor

Contact

office: 215.746.3245

fax: 215.573.2099

Email