News Details
National conferences highlight SP2 faculty and researchers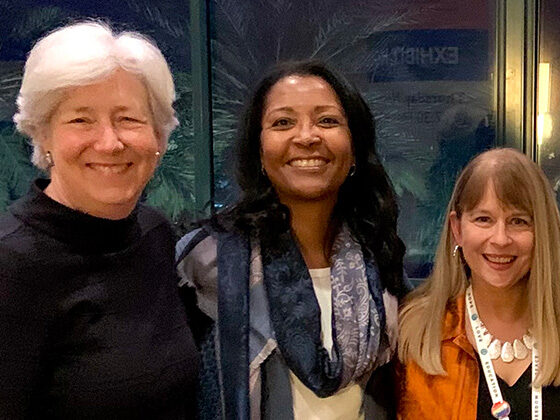 Authored by: Juliana Rosati
Photography by: Bart Miltenberger; Donkey Dover, Jr.; Kristen De Paor; MSSP program
Faculty & Research, Student Life
12/16/22
A national curricular guide, award-winning publications, and data-driven policy approaches were among the contributions of faculty and researchers from Penn's School of Social Policy & Practice (SP2) at national professional conferences in November.
Advancing social work's role in health
Social work educators from across the country recognized the leadership of SP2 Associate Professor Tamara Cadet in creating guidance at the intersection of health and social work to inform college and university social work curricula. Dr. Cadet, along with Dr. Barbara Jones of the University of Texas at Austin, cochaired a national task force steering committee for the Council on Social Work Education (CSWE), the sole accrediting agency for social work education in the United States, to create the new "Specialized Practice Curricular Guide for Health Social Work."
The guide takes up the broad definition of health advocated by Cadet, providing health-related guidance intended to be applicable to social work both within and beyond traditional health care settings. "I would argue that if we think about health not only as health care but also as well-being, then we're all health social workers — we're all concerned about the well-being of folks, and we just have particular areas that we're choosing to focus on," says Cadet.
That stance as well as a commitment to inclusive, anti-racist work are emphasized in the introduction to the guide, in which the authors write, "We need to teach that social work is health — housing is health; education is health; financial capability is health; community is health; climate is health. Use this curricular guide to help students see that their commitment to health must be — interprofessional, person and family-centered, holistic, culturally relevant, anti-racist, equity focused, and community-based."
Part of a series produced by CSWE, the guide was celebrated during reception at a CSWE's Annual Program Meeting in Anaheim, CA. To produce the guide, Cadet and Jones involved a number of scholars and leaders in health and social work, including SP2 Dean Sally Bachman and SP2 Associate Professor Allison Werner-Lin. In addition to CSWE, organizations supporting the project included the New York Community Trust and the National Association of Social Workers.
Producing research to guide nonprofits
Leaders in nonprofit and philanthropic research recognized the work of SP2 Professor Chao Guo and coauthors with two awards at the Annual Conference of the Association for Research on Nonprofit Organizations and Voluntary Action (ARNOVA) in Raleigh, NC, an event for which SP2 was a Diversity Scholars Program sponsor.
Guo and Dr. Gregory Saxton of the Schulich School of Business at York University in Toronto received the Outstanding Book Award in Nonprofit & Voluntary Action Research for "The Quest for Attention Nonprofit Advocacy in a Social Media Age," published in 2020 by Stanford University Press. The book examines the role of public attention in the success of nonprofits today. "A key takeaway from the book is to highlight 'attention' as a key intermediate goal and important resource for advocacy organizations," says Guo, who is faculty director of SP2's MS in Nonprofit Leadership program. "Yet attention is not the end game: in order to effectively promote their causes, these organizations must not only obtain and sustain public attention on social media, but also turn that attention into action and impact."
In addition to the book award, Guo was co-recipient with Dr. Beth Gazley of the Editors' Prize for Best Scholarly Paper in Nonprofit Management & Leadership, Volume 31, for the paper "What do we know about nonprofit collaboration? A systemic review of the literature." The article represents ten years of work by Guo and Gazley, a faculty member at Indiana University, to analyze past empirical studies of nonprofit collaboration published between 1972 and 2015. The undertaking allowed them to identify major themes. Guo says, "We hope our findings from this study offer scholars and practitioners more generalizable and theoretically rich descriptions of how collaborative activity both fails and thrives in the nonprofit sector."
Leading data-driven approaches to policy
Data integration that informs social policy was the focus of two presentations by Della Jenkins, Executive Director of SP2's Actionable Intelligence for Social Policy (AISP), who appeared before an audience of policymakers, practitioners, and scholars in public policy and management at the Fall Conference of the Association for Public Policy Analysis & Management (APPAM) in Washington, DC.
Over the course of more than a decade, AISP has built a network of 36 data sharing efforts in state and municipal sites across the country, including Philadelphia, to address problems such as child well-being, pre-kindergarten access, the opioid epidemic, and homelessness. At the APPAM conference, Jenkins and representatives from AISP sites in Georgia, Wisconsin, and Washington gave a roundtable discussion about partnerships between public agencies and universities that are facilitating the use of data from multiple agencies to shape policy.
Jenkins also took part in a discussion about improving programs for children and families through data, appearing alongside AISP's partners from the federally sponsored TANF Data Collaborative. The conversation featured two resources from AISP: the 2020 Toolkit for Centering Racial Equity Throughout Data Integration and the recently released Toolkit for State and Local Agencies on How to Access, Link, and Analyze Unemployment Insurance Wage Data.
Jenkins aims to bring AISP's expertise in data integration to an audience that can increase its application. "We hope sharing our work at conferences like APPAM's will help to get these resources in the hands of researchers, practitioners, and policy-makers and inspire them to build more cross-sector data capacity," she says.
SP2 students also participated in the APPAM conference. Rance Graham-Bailey of SP2's MS in Social Policy (MSSP) program presented his work on two projects prompted by class assignments. These included an evaluation of a supportive housing initiative for veterans in Minnesota and a poster analyzing Federal homelessness policies. In addition, two of SP2's Social Justice Scholars, Skye Horbrook and Sparsh Maheshwari, were among the conference attendees. Both report experiences that connected to their professional interests.
"I thoroughly enjoyed my time at APPAM," says Horbrook, a student in SP2's MSSP+Data Analytics program. In addition to conversations about food insecurity, elections, civic engagement, education, and the racial wealth gap, Horbrook attended a discussion of post-apartheid South Africa. "Hearing panelists from South Africa discuss the impact of Africa National Congress, employment equity, and policy intervention was invaluable," she says.
Maheshwari, a student in SP2's MS in Nonprofit Leadership program, found valuable opportunities at APPAM as well. "The sessions perfectly complemented my work with the government back in India, and I gained a better understanding of the issues around social justice and socioeconomic inequality," he says. "My first conference experience could not have been better."
About SP2
For more than 110 years, the University of Pennsylvania School of Social Policy & Practice (SP2) has been a powerful force for good in the world, working towards social justice and social change through research and practice. SP2 contributes to the advancement of more effective, efficient, and humane human services through education, research, and civic engagement. The School offers five top-ranked, highly respected degree programs along with a range of certificate programs and dual degrees. SP2's transdisciplinary research centers and initiatives — many collaborations with Penn's other professional schools — yield innovative ideas and better ways to shape policy and service delivery. The passionate pursuit of social innovation, impact, and justice is at the heart of the School's knowledge-building activities.
People
Tamara J. Cadet, PhD, LICSW, MPH

Associate Professor

Contact

office: 215.898.5501

fax: 215.573.2099

Email

Chao Guo, PhD

Professor of Nonprofit Management

Contact

office: 215.898.5532

fax: 215.573.2099

Email

Della Jenkins, MSSP

Executive Director, Actionable Intelligence for Social Policy

Contact

Email