News Details
MSW Alumna Reflects on Transformative Year as Penn Women's Center Director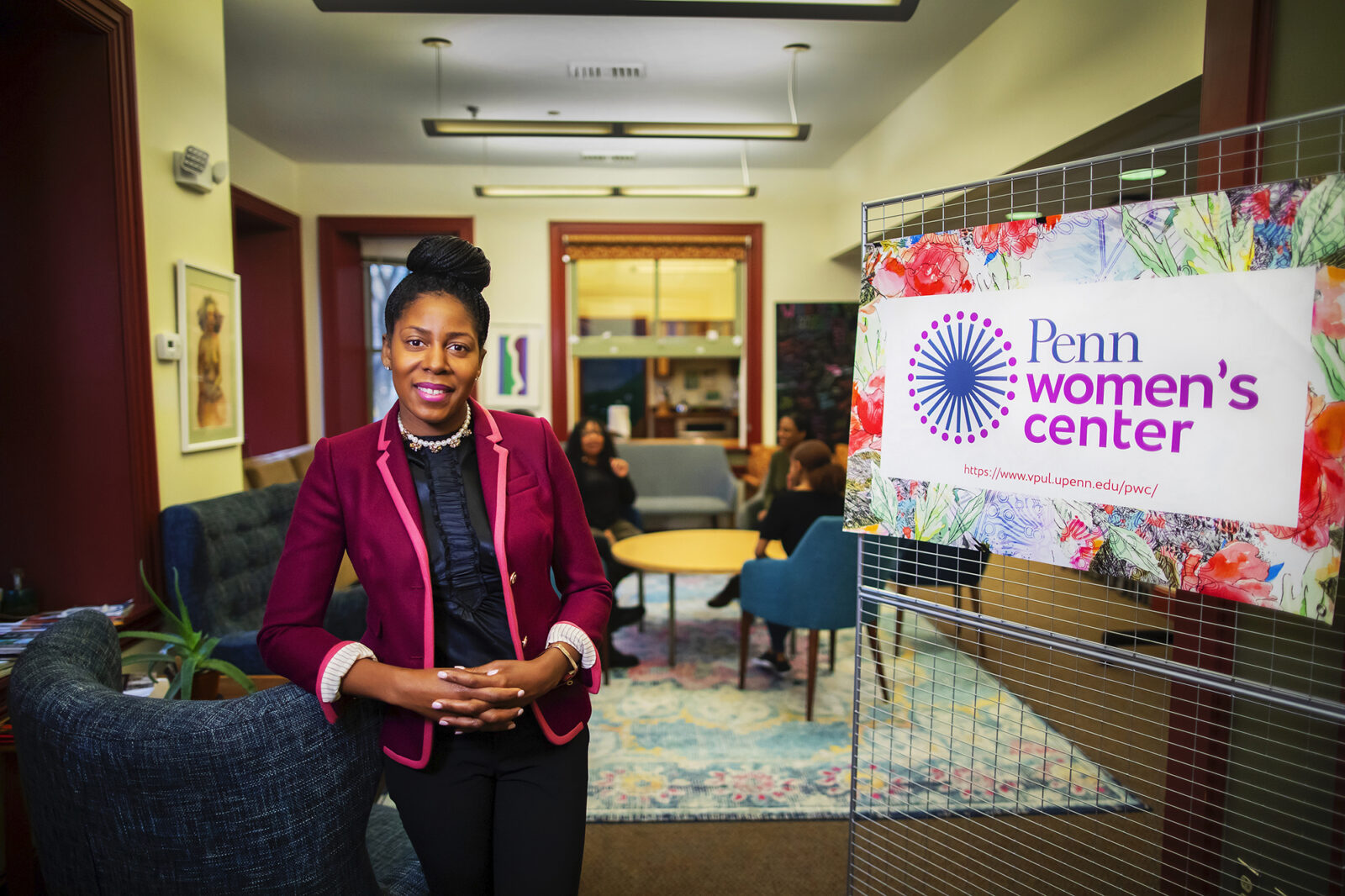 Authored by: Alina Ladyzhensky
Photography by: Eric Sucar, University Communications
In January 2019, Sherisse Laud-Hammond was named the new director of the Penn Women's Center, a position in which she is the first Black woman and woman of color to serve. A 2005 graduate of the Master of Social Work (MSW) program at Penn's School of Social Policy & Practice (SP2), Laud-Hammond's prior social work education and career, as well as her ongoing dedication to social justice and change, are unmistakably evident when she describes her goals and vision for PWC.
Repositioning the Center as a more inclusive, diverse, and representative space for the Penn community was high on Laud-Hammond's priority list—and in her time as director thus far, she has led highly successful rebranding and fundraising efforts to this end, in addition to overseeing a timely and well-received roster of virtual programming, all during a period of unprecedented challenges brought on by the COVID-19 pandemic.
Here, Laud-Hammond shares more about the highlights of her tenure at PWC so far; what initially inspired her to pursue an MSW degree from SP2; important lessons from throughout her education and career; the value of great colleagues, peers, and mentors; and why she believes that the MSW is "one of the most versatile degrees that can be attained."
What inspired you to pursue a Master of Social Work (MSW) degree from SP2?
After college in the early 2000's, I taught second grade in the School District of Philadelphia. Some of my students had behavioral problems and I realized that many of them weren't eating breakfast at home before school. We began eating breakfast together as a class, and the behavioral problems mostly disappeared.
That lesson made me think more about the high rates of Black children and adolescents being diagnosed with Attention Deficit Hyperactivity Disorder (ADHD). I saw so many students of color being seemingly labeled and misdiagnosed. I wanted to learn more about mental health and health disparities. I felt called to study the role of race and environmental factors, like poverty and food insecurity, in student behavior and achievement.
What drew you to SP2 in particular? 
After teaching, I worked at a mental health agency in Philadelphia. My manager actively discouraged my ambition to apply to graduate school. She said Penn would be too hard and too expensive. She told me I couldn't do it.
I was so upset – and determined – that I applied to SP2 and only SP2! I channeled her negativity and discouragement into motivation to fuel my goals. And I got in!
How has earning the MSW degree been influential in terms of your education and career trajectory?
I began my professional social work career at SP2, in fact, as the Associate Director of Admissions. That role allowed me to encourage and lead people into the social work profession.
I left SP2 to start a family, and years later I returned to work as a sales manager at a therapy staffing agency, where I was able to find jobs for social workers, psychologists, occupational therapists, and physical therapists. We also provided mental health services to students in school districts outside of Philadelphia, in Delaware, and in Tennessee. Then, I went to Temple to be the Director of Advising and Professional Development at the School of Social Work.
I didn't know it then, but the MSW is one of the most versatile degrees that can be attained. I use my SP2 degree in every aspect of my personal life and professional career.
Are there learnings from your time at SP2 that you find especially applicable in your current work?
At SP2, I learned how to advocate for vulnerable, oppressed, and disenfranchised people and communities. I learned strategies to dismantle systemic racism, sexism, ableism, homophobia— all of the -isms. My social work training taught me self-awareness and the meaning of radical self-care, which we all need these days.
I also learned from classmates like my friend Shameeka Mattis, who helped to create restorative justice frameworks in New York and is now a therapist. We keep in contact, and I'm able to put what she has taught me into practice in my role at Penn. Another SP2 friend, Rachel Kahn, practiced law and is now an international, board-certified lactation consultant. I rely on her expertise to advance lactation initiatives across campus. The friends that I made at SP2 remain extremely important in my life and work. 
What have been some highlights of your tenure as director of the Penn Women's Center, so far?
The biggest highlight is working with what I truly believe to be a dream team. I have never worked with a more dedicated, selfless, and committed staff. They make it very easy for me to be director at the Women's Center, and I'll shout them out—Elisa Foster, Sanjana Bijlani, and Maria Acosta. We finish each other's sentences, and that's definitely one of my highlights.
I've gained amazing mentors, too: Dr. Valerie Allen, an SP2 alum who teaches at SP2 and is the Director of the African American Resource Center; Vice Provost for Student Engagement Dr. Valarie Swain-Cade McCoullum; Associate Vice Provosts Rev. Will Gipson, Sharon Smith, and Tamara King; and our new Vice Provost for University Life, Dr. Mamta Motwani Accapadi. I'm so lucky to have great leadership and colleagues.
As for the Women's Center, we have been able to successfully rebrand with the help of VPUL Director of Design Services Marjan Gartland. We've always been welcoming of all genders and identities, but we needed a logo and visual brand to tell the story of our commitment to diversity and inclusivity.
Before the pandemic, we had increased the number of events and classes held at the Women's Center by 30 percent. We've been intentional about encouraging students, staff, and faculty to visit and use our space. During the pandemic, we've pivoted to Zoom programming, hosting community lunches and a virtual Take Back the Night had 300 people attend online. We've continued our Wellness Series with the Netter Center and the African American Resource Center, offering mindfulness meditation, financial wellness, and psychological wellness. Also, in response to killings of members of the Black community, we've been able to co-sponsor and co-facilitate Black healing and solidarity circles.
During a year of sad news, isolation, and trauma, we were delighted to receive the Pennsylvania Breastfeeding Coalition's Lactation Award, which we share with Penn Human Resources, HUP, and the Family Center.
A recent highlight: we're receiving a $250,000 reunion gift from the Class of 1995 – an alumni group led by women – to refresh and expand the Women's Center garden. We are so excited to envision outdoor standing desks, community seating, and pavers with inspirational quotes. This garden refresh will enhance our presence on Locust Walk, bringing the Women's Center outside and further connecting us to the extended Penn campus.
Can you share a bit about your goals and vision for the PWC, going forward?
The Penn Women's Center looks forward to sharing our mission of inclusivity. We remain a confidential space for community members navigating new Title IX reporting procedures. We want to increase knowledge about our lactation pump kit giveaway program, and are advocating for lactation spaces on and around campus, so people can feed their children when they come back to work.
We're also thinking about new ways to enhance our alumni outreach and engagement, and keep alumni coming back. We're always striving to strengthen our relationship with student organizations through advising and mentoring, but also to collaborate more with our university partners to enhance university life. Another goal is to see the refreshed design of our public space and the garden space, so that, again, we can literally meet students, staff, and faculty where they are.