News Details
MSSP+DA Student Named 2020-21 Perry World House Graduate Associate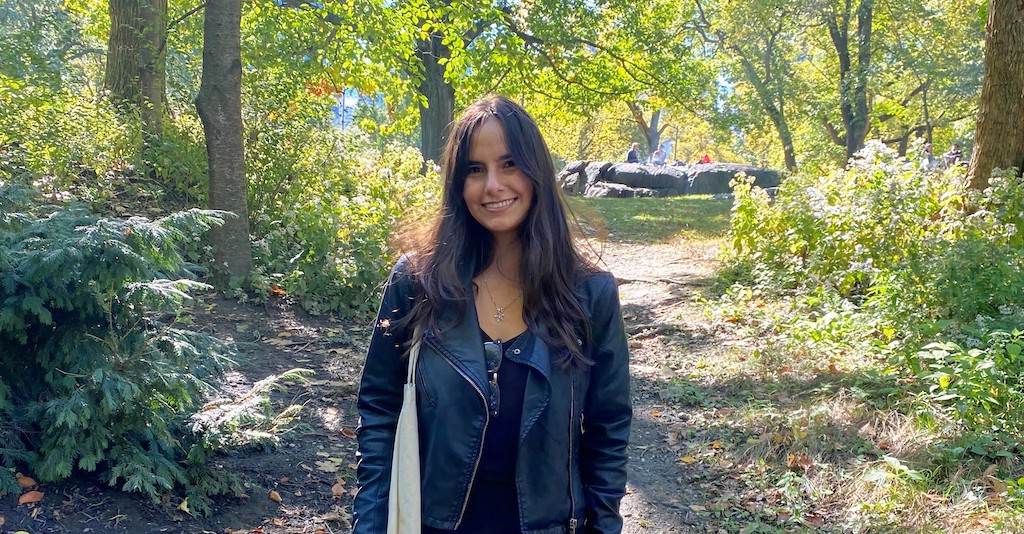 Authored by: Alina Ladyzhensky
Photography by: Provided
Valeria Zeballos Doubinko, MSSP '21, has been selected to join the 2020-21 cohort of Perry World House Graduate Associates. A center for international exchange and activity at Penn, the Perry World House is a hub for students and faculty to engage with international scholars and policymakers on pressing global issues. The Graduate Associates program enables graduate students from any school or department at Penn to increase their engagement in global affairs within a greater scholarly community, while also developing professional skills related to shaping policy.
A first-year student in Penn School of Social Policy & Practice (SP2)'s Master in Science of Social Policy + Data Analytics (MSSP+DA) certificate program, Zeballos Doubinko is also in the final year of completing a Bachelor of Science (BS) in Economics at Penn. Fittingly, her academic interests lie at the intersection of economics, development, and policymaking.
"I would say that the main drive behind all my academic pursuits has been geared towards finding solutions to poverty and inequality," she said. "I think that economic policy and data science are key tools to tackle these issues, so I have dedicated myself to studying them."
Zeballos Doubinko has previously worked at the Urban Affairs Coalition in Philadelphia, where she researched poverty, homelessness, and foreclosure. She also served as a project leader in the Think Tank and Civil Societies Program at Penn, where she led the creation of the 2020 Global Go To Think Tank Index and conducted research on think tank activity in Western Europe.
As she explained, working in the nonprofit and think tank realms enabled her to learn about how different players are approaching policy issues, and where her interests and skills could be especially valuable and applicable. In part, her experiences in these spaces led Zeballos Doubinko to purse the MSSP+DA degree at SP2.
"Working at a nonprofit, I saw that there was a great need for data management. I learned that it was a skill I really needed if I wanted to be helpful in the policy realm. The MSSP+DA program is one of the few that really focuses on this mixture, so that drew me immediately to it," she explained. "I was [also] drawn to the program's focus on social justice, equality, and inclusion. It really complements the work I have done in the past, and the work that I aspire to do in the future."
Zeballos Doubinko is looking forward to starting her role at Perry World House, which she views as an exciting opportunity to join a broader, likeminded community of scholars who are passionate about policy, as well as learning and enhancing skills such as working with the media, writing for a policy audience, and connecting academia with the outside world.
"A requirement of the program is to conduct research and to write a publishable work, which this year will be an op-ed. Everyone is working together to learn how to write an effective op-ed, so I'm excited to get deeper into that writing process," she said. "Perhaps the one thing that I'm looking forward to the most is getting to know the other Graduate Associates and learning from them. They're all really knowledgeable people, and I'm a little on the younger side of the other Associates—many of them are in their PhDs— so I'm really grateful to discuss world issues with people who have a lot more experience than me."
As Zeballos Doubinko also pointed out, the Graduate Associate program is an extension of the knowledge and skills that she is simultaneously developing through the MSSP+DA program curriculum. 
"While I'm learning about policymaking and data in my classes, I will be applying these skills at the Perry World House," she said. "One of the goals is to bridge academia and the real world, and I feel that in being a part of the Graduate Associate team, I'm bridging the MSSP and the real world."
"It also complements the MSSP+DA program because it exposes me to a lot of people with different types of expertise and passions. Everyone in the MSSP program is really passionate about equality and justice, and so are the people at Perry World House, but they bring different areas of knowledge," Zeballos Doubinko added. "There's a mixture of associates—some have chemistry backgrounds, some have nursing backgrounds, some are interested in the environment—so they have different angles to policy issues that complement this degree."