News Details
MSSP+DA Student Launches Remote Healthcare Kickstarter Project During COVID-19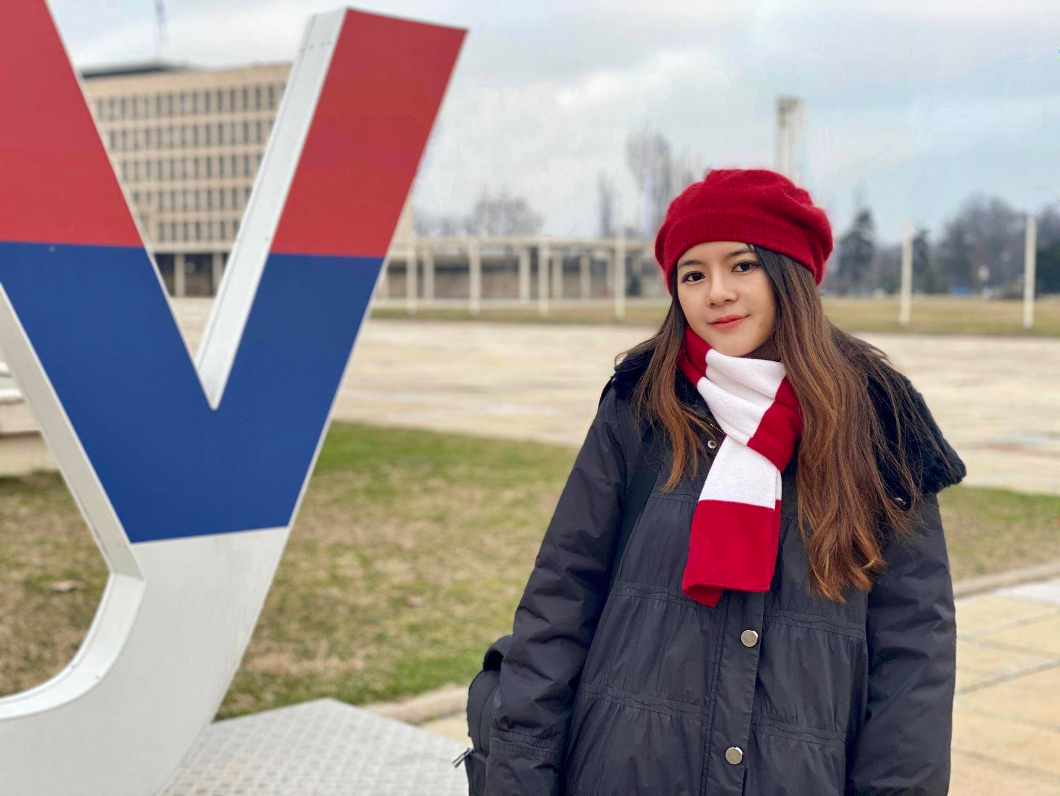 Authored by: Alina Ladyzhensky
Photography by: Provided
For Linya Liu, MSSP '21, the COVID-19 pandemic has hit very close to home. Liu, who goes by Leah, hails from Wuhan, China, where the virus outbreak first began—and where her family currently resides. A first-year student in the Master of Science in Social Policy + Data Analytics Certificate (MSSP+DA) program at Penn's School of Policy & Practice (SP2), Liu has oriented much of her research and work toward analyzing the ongoing pandemic's impact on our daily lives, including ways to better assist both patients and healthcare workers.
Before pursuing her graduate studies at SP2, Liu earned a Bachelor of Science in Managerial Economies from the Indiana University Kelley School of Business. When it came to choosing a graduate program, the STEM-designated MSSP+DA degree appealed to Liu's interest in the use of data analytics for policy analysis, research, and evaluation.
"It's very different, coming from a business school background to a policy program. I thought that this graduate study would be very helpful in terms of thinking at a macro level and applying data skills on top of the traditional framework to analyze problems," Liu said. "My parents work for the public interests, and that's why I've always been interested in policy and politics. I still remember, in childhood, sitting in front of the TV and watching the national news with my dad at dinner time."
Recently, Liu has applied the MSSP+DA curriculum's comprehensive training in data analytics to a number of timely projects. These included an ArcGIS (a mapping and analytics platform) mapping based on John Hopkins University's real-time coronavirus data, in which she forecast the number of U.S. infections based on multiple machine learning techniques, as well as a multilevel modeling analysis that examined preventable hospitalization rates in counties across the state of California.
As Liu notes, while healthcare workers continue to fight on the front lines of the epidemic and millions of people—particularly those who are immunocompromised, elderly, or otherwise at higher risk for severe illness— remain isolated at home, the need for medical professionals and patients to stay connected has increased tremendously.
"Fear and uncertainty are terrible. I'm from Wuhan, and it's where all of my family members are. When the virus first broke out there, I volunteered online helping people with mental stress relief and donating PPEs to hospitals in need through fundraising with friends at Duke University," Liu said. "When the virus became a pandemic, I wanted to do my best to support all the people who once lent a helping hand to my hometown."
To this end, Liu is currently working with a Kansas-based health IoT [Internet of Things] startup, Nexusera, which endeavors to respond to the surging need for remote care by connecting patients with their families and caretakers through a medication adherence management system. Specifically, the company is launching its first smart pill organizer, O'kase, through a Kickstarter campaign. Liu is involved as part of the campaign's leadership team.
"O'kase is a smart pill container that organizes, reminds, connects, and finally optimizes the daily dosing experience. It also gives family and caretakers the ability to manage and monitor the patient's medication adherence online," Liu explained. "I'm helping with both sides of the work, in terms of product management and also on the operations side."
The product was in development before the COVID-19 crisis began, but with the rising need for remote health-related services, Liu hopes that O'kase will help fill a void in the current market—particularly since it does not rely heavily on a smartphone in order to function and is more intuitive for users who are not technologically savvy.
"Although O'kase comes with both Bluetooth and cellular modules, for elderly people, they won't have to deal with the Bluetooth setup," Liu said. "Cellular connectivity is ready to go, just like the Kindle cellular version, so there is zero setup needed. It only needs to be charged once every two weeks— it's that simple!"
"I'm extremely grateful for my SP2 education that has led me to this work," she added. "And if anyone interested in the product is a healthcare worker, please email us via contact@nexusera.com. We will provide special offers for you, the healthcare heroes."