News Details
MSSP Students Address Opioid Epidemic, Win Penn Public Policy Challenge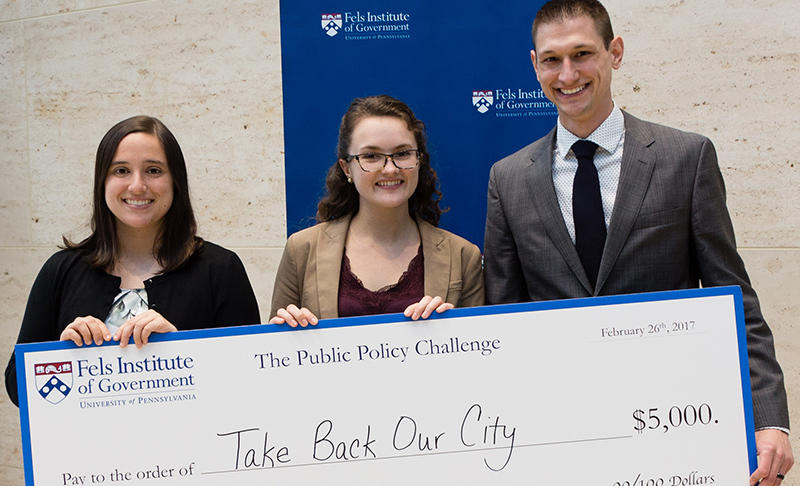 Authored by: Jessica Bautista
Four students from Penn's School of Social Policy & Practice (SP2) – team Take Back our City – nabbed first place in the Penn Public Policy Challenge Finals for their proposal to address the opioid epidemic in Philadelphia.
The team – all of whom are Master of Science and Social Policy (MSSP) program students – hopes to combat the epidemic and reduce the supply of opioids in the city by allowing individuals to safely and conveniently dispose of prescription pain medications.
"Take Back Our City believes that patients should be able to return their expired prescriptions right to where they got them in the first place, the pharmacy. We have a two-step plan of expanding prescription drop-boxes to Philadelphia pharmacies and establishing a mobile message reminder system when a controlled medication has expired to maximize the use of the boxes," said team member Matt Miclette (MSSP / MPH, '18).
According to Miclette, Take Back Our City is working with city leaders to implement the policy in Philadelphia as a prevention strategy.
All four members – Miclette, Sarah Parkinson, Anne Futterer, and Memphis Madden – will represent the University of Pennsylvania in the Fel's National Public Policy Challenge in March at the Constitution Center.
"These students are tackling an extremely pressing and critical social policy issue in the opioid epidemic in Philadelphia and are doing some remarkably innovative work here," said Dr. Jennifer Prah Ruger, director of the MSSP program. "The impact this proposal could have is tremendous and could result in saving the lives of hundreds."
The Penn Public Policy Challenge is a real-world competition where policy-minded students formulate ideas to improve the city of Philadelphia. Each competing team defines a specific problem in the city, identifies key stakeholders, and develops policy proposals and campaign plans to achieve significant positive change in their community.
"I think I speak for the entire MSSP cohort when I say we are incredibly proud of our classmates for winning in what we were told was an incredibly competitive year. We can't wait to see how they do at Nationals," said fellow SP2 student Monica Rondon (MSSP + DA, '17).
To learn more about Take Back Our City and their efforts to increase drug take-back locations, visit www.tbourcity.com.