News Details
MSSP Alum Awarded 2020 Bank of America Fellowship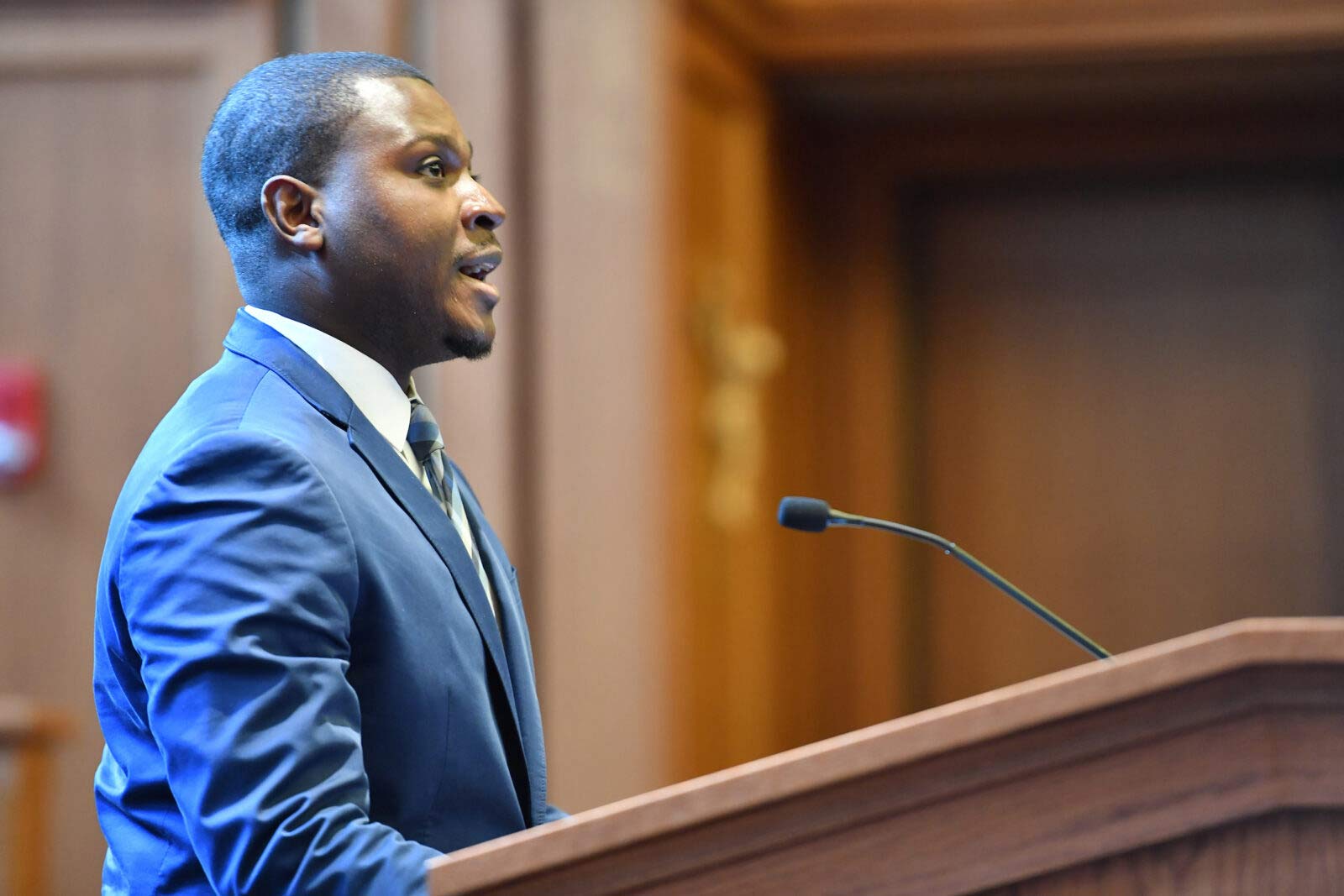 Authored by: Alina Ladyzhensky
Photography by: Matt Cashore
"What do you want to be when you grow up?" is a question many can recall hearing throughout childhood. For some, the answer has likely changed several times over the years. Others, like Walter Jean-Jacques, MSSP, '17, an alum of Penn's School of Social Policy & Practice (SP2), have carried their singular dream from an early age into adulthood, determined to seek out educational and professional opportunities that would turn it into a reality.
"When I was six years old, I did a Black History Month report on Thurgood Marshall, and that's when I first came across information about the NAACP Legal Defense Fund," Jean-Jacques recalled. "Being able to utilize litigation to fight racial injustices through the realms of education, voting rights, criminal justice reform, and economic justice is something that I have always wanted to do."
Now a third-year law student at Notre Dame Law School, Jean-Jacques is turning his long-held ambitions into noteworthy achievements. He was recently named a 2020 Bank of America Foundation Fellow, a highly competitive public interest fellowship that covers the cost of salary and benefits for selected graduates to work for two years at the city agency or nonprofit organization of their choice—essentially enabling Fellows to seek out and pursue their dream jobs. As a requirement of the fellowship, their work must also advance community sustainability and provide legal services to low-income or other underrepresented populations.
During his fellowship tenure, Jean-Jacques will be working at the NAACP Legal Defense and Educational Fund in Washington, D.C, founded by none other than Thurgood Marshall and widely recognized as one of the nation's most preeminent civil rights organizations and law firms. Previously, during his first year of law school, Jean-Jacques was awarded a prestigious National Lawyers Guild Haywood Burns Fellowship for Social and Economic Justice, which led to working at the NAACP LDF's headquarters in New York City.
As Jean-Jacques explained, his time in the Master of Science in Social Policy (MSSP) program at SP2 provided an important foundation and unique competitive position in pursuing these opportunities.
"Typically, the NAACP Legal Defense Fund doesn't hire first-year law students for their summer internship program. Not only was I hired during my first summer, but I was also one of five law students from throughout the country who won a National Lawyers Guild Haywood Burns fellowship. I really, really believe I won that early on in my law school career because of my SP2 degree," he said. "Now, to have won the post-graduate Bank of America fellowship at Notre Dame, I also believe the foundation that I was able to get from Penn and SP2 allowed me to be very competitive."
While completing his coursework for the MSSP program, Jean-Jacques won a Graduate Public Policy Fellowship that allowed him to simultaneously work in the Philadelphia City Council President's office and fulfill the program's internship requirement. This direct experience combined with his coursework provided Jean-Jacques with what he now views as an essential policy background.
"[The fellowship] went in-hand with the classes that I took. For instance, in my first semester, I took the Policy Analysis course taught by Professor Amy Castro-Baker, which was impactful in terms of the policy issues that I dealt with on a day-to-day-basis at City Council, as well as knowing how to interact with different councilmembers. The Data Analytics class with Professor Ezekiel Dixon-Roman allowed me to see how policy issues are dealt with via data analytics. Learning how to use SAS [Statistical Analysis System] to that degree and taking applied linear modeling was phenomenal."
"One thing that is unique, and that I love, about the MSSP program at SP2, is the very hands-on experience that we had, and the way our classes were taught," he continued. "In the Policy Analysis class taught by Professor Castro-Baker, I wrote about the Every Student Succeeds Act and how that policy should be revamped, and that's something that is very realistic and tangible."
During his fellowship at the NAACP LDF, Jean-Jacques will focus on issues such as fighting voter suppression, criminal justice reform, and economic justice issues focused on discriminatory practices used to exclude people of color.
"It's something that I have always wanted to do, in terms of impacting communities when it comes to racial injustice," he said. "SP2 was so foundational for me, especially in terms of what I wanted to do. I can say this: without my SP2 education, I would not have been in the running to work at the NAACP Legal Defense Fund."
"It's such a full-circle moment for me, because I remember learning about how to view a piece of legislation and how to utilize a policy brief from Amy Castro Baker, and how to create and manipulate data in the Applied Linear Modeling Class with Professor Dixon-Roman. These are issues that I learned about at SP2, and I'm able to combine that with my legal background here at Notre Dame. Knowing that not only do I have a strong legal background, but also a strong policy background, has allowed me to be well-equipped to tackle the issues that I'll be working on. "
People
Amy Beth Castro, PhD

Associate Professor

Contact

Ezekiel Dixon-Román, PhD

Associate Professor

Contact

office: 215.898.5512

fax: 215.573.2099

Email