News Details
When a Loved One's Memory Diminishes, These Caregivers are Here to Help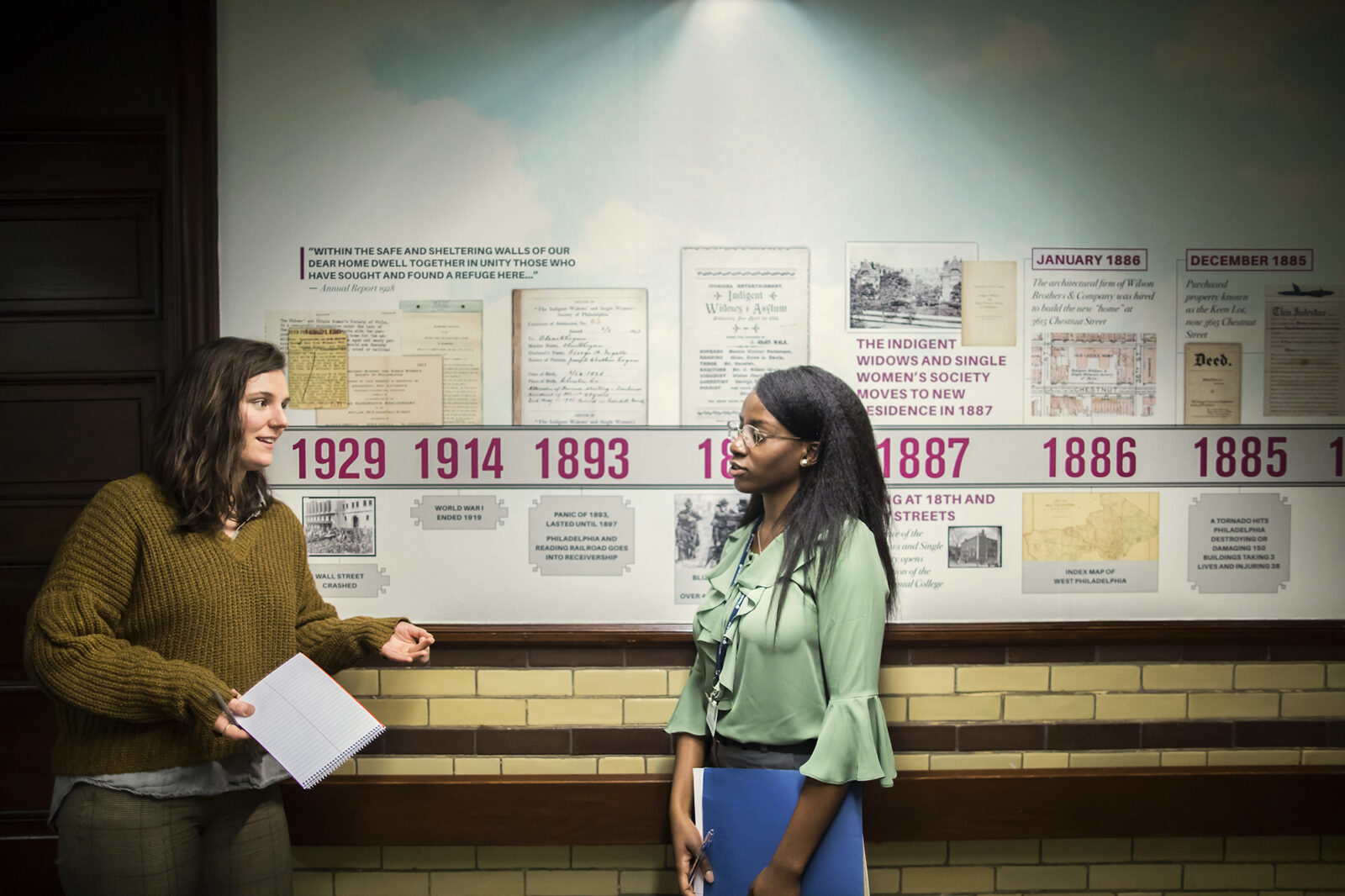 Authored by: Julie McWilliams, University Communications
Photography by: Eric Sucar
At the Penn Geriatric Medicine practice, Shauniqua Key met with a woman recently diagnosed with Alzheimer's disease. The patient was accompanied by a friend of 20-plus years, but she no longer recognized her friend.
"The patient was a former health care worker, so being diagnosed with Alzheimer's was especially difficult to cope with. She was very scared and disoriented, burst into tears, and asked who this person was," Key says. "It was very hard on the caregiver, who expressed the burden of emotional stress and strain. We offered her individual counseling."
Key is one of six graduate students from the School of Social Policy & Practice (SP2) interning this academic year at Penn Medicine. There, the SP2 students help clients and caregivers work through the sometimes overwhelming challenges that come with memory loss and, in some cases, other neurological or physical impairments.
When a loved one is diagnosed with dementia, family and friends are affected differently. Some use denial as a coping mechanism, others want to seek institutional care for the patient, while a number take the caregiving role upon themselves, sometimes to their detriment. For patients diagnosed at Penn, a team of neurologists, geriatricians, nurses, and social workers is at the ready to help them and their caregivers come to grips with the present and plan for the future.
The Penn Memory Center (PMC) and Penn Geriatric Medicine provide a training ground for the interns, who use the skills they've learned in class to provide social and emotional counseling to patients and their families, and connect them to vital support services in their communities.
"Our role is to help the families navigate their new normal," says SP2 intern Arielle Schreier, who works at PMC.
All of the interns are cross-trained to work with patients and their caregivers at PMC, Penn Geriatric Medicine, and Penn Neurology Practice, under the supervision of social worker Felicia Greenfield.
"We developed a protocol in which we initially meet with the families after receiving the diagnosis and again at their follow-up visits," says Greenfield, who joined the PMC staff in 2006 and has overseen the services of SP2 interns since 2010. "We check for understanding, provide information on what to expect, see what their social or emotional needs might be, and make referrals."
Greenfield explains that the social work interns can answer non-medical questions for the patients and their caregivers and offer structured "how-to" classes for caregivers and put them in touch with community programs that fit their needs. "The interns check in with the families every two weeks or so and also offer individual counseling to caregivers who might need help accepting and transitioning to changes," she says.
It's that accepting-and-transitioning piece of the puzzle that Schreier sees as giving caregivers the most difficulty coping. Schreier described meeting with the wife of a patient struggling with memory loss: "She was coming to realize the difference between accepting something and tolerating something. 'We have a new normal,' the woman says. 'We're working to accept this.'"
Counseling is vital to their job, Key attests. Individual sessions for families or friends caring with loved ones experiencing diminished memory, she explains, are in addition to the counseling sessions offered for both caregivers and direct patients. "If a patient is compromised, it requires a lot of hands in the pot," she says.
While the interns find some of the caregivers overwhelmed by their role, other interactions have been heartwarming. Intern Catherine Wilsnack, who supports clients in the Penn Medicine Neurology practice, recalls her work with a large extended family, whose matriarch was diagnosed with a moderate level of dementia that required 24/7 supervision. "She couldn't maintain her home any longer or her finances. She was losing weight because she could not cook anymore. When she left her stove on all night, that became a safety hazard, as well.
"The client has 12 children, 30-plus grandchildren, and a number of nieces and nephews and not all are on board with how to proceed," Wilsnack says. "Half want to put her in a supportive living environment, and half want to keep her at home."
They asked if they could all try to provide her supervision in a short-term trial. That's what they did and Wilsnack says so far, it's working.
"One grandson in particular makes a special effort to be present in her care, even though he's out of the country serving in the military and has his own family to care for," she says. "The way he emotionally reveres his grandma is unlike anything I've seen before."
Lauren Zelouf, based at PMC, believes the interns' main role is to provide that emotional support for patients and caregivers. "We assess for need—what might be helpful to them in their journey, depending on where they are in their diagnosis—help them find productive ways to respond to what they were told, not just take in the information."
To that end, Zelouf and Wilsnack co-facilitated a seven-week psycho-educational class designed to help the caregivers aid their loved ones by first helping themselves.
"The class is rooted in Cognitive Behavioral Therapy: We teach caregivers how to recognize cognitive distortions—unhelpful thoughts—and replace them with more helpful ones," Zelouf says. "If they're not bogged down with negative thoughts, if they can improve their own health and be nicer to themselves, they can be a better caregiver."
The class features lessons on communicating better with loved ones, on how to respond to their repetitive questioning or their wandering. There is an emphasis on how to improve a patient's behavior using environmental modifications. It's free for caregivers whose family members are PMC patients, and is open to the community.
Zelouf and Wilsnack prepared information packets for participants that focused on understanding their loved ones' diagnoses, long-term planning, and end-of-life care such as hospice, and provided lists of available resources.
"In closing, we had them go round the group and share memories of their loved ones, read the caregiver bill of rights, and reminded them to take care of themselves," Zelouf says. "The class was so critical to my learning."
Recognizing the benefits that families and providers gain from social work support at the PMC, Greenfield was asked to develop an internship in for the Department of Neurology for the stroke, cognitive and general divisions.
"The Neurology patients are younger, and their behaviors can be more difficult to manage," Greenfield says. "It's a different kind of challenge to support younger families and those affected with physical conditions caused by stroke."
Cynthia Clyburn of the Penn Medicine Neurology practice counsels a broad base of such patients in the cognitive neurology and stroke divisions. "We work with patients with other disorders such as dementia with lewy bodies, the condition that affected (actor) Robin Williams, or frontal temporal dementia," she says. "What we as social workers do is translate; some of this stuff feels almost foreign to people and it can be difficult to find reliable information about it.
"We offer the patients space after their diagnosis just to discuss it," Clyburn adds, "to talk about how life at home will be different. We are seeing younger families, in their 40s and 50s. It's a lot to process, a lot to plan for, something you never think will happen to you."
Over the past seven years, Greenfield has supervised 25 SP2 students in the two-semester internship program, but now shares training and orientation with Jeanette Gallagher. Gallagher primarily works with the interns at Penn Geriatric Medicine, where not all of the patients have memory loss, but instead physical ailments that compromise their quality of life and necessitate care.
"People seen at Penn Geriatric Medicine require a lot of primary care; their caregivers are dealing with severe arthritis, leg loss from diabetes, spinal stenosis, congestive heart failure or COPD, medical frailties, as well as cognitive issues," Gallagher says. "We combined geriatric and primary care into the PMC model. We find it helpful for the interns to get the full scope of services needed for older adults."
Christine Pappas, who is based at Penn Geriatric Medicine with Key, affirms Gallagher's assessment.
"The biggest difference is that cognitive impairment is not the No. 1 issue for all of the patients," Pappas says. "Our role as case managers is educating patients and caregivers about resources that are available to them, such as housing or in-home support, or finding modifications so that they can age in place. We encourage self-determination, helping to keep them where they are healthy and safe."
The PMC treats roughly 1,500 families per year and has been involved in the diagnosis, treatment, research, and supportive care of patients and their caregivers since the 1990s. The PMC clinicians recognize the social work interns' role on the care team. "Routine practice with social workers is the standard of care for a memory center," says Jason Karlawish, PMC co-director. "Without them, my physician colleagues and I would be like surgeons without anesthesiologists.
"The social workers provide essential care to patients and their family members, including education about the causes of cognitive impairment, what to expect in the future and how to manage common problems, like repetitious questions and feeling overwhelmed," he says. "These interventions are proven to improve quality of life and delay functional losses."
Pappas is thrilled with the opportunities this internship presents, explaining that in social work, there are two paths professionals can follow: a clinical track that involves direct patient practice and a macro-level track that involves policy and advocacy. "What I love about interning at Penn Geriatric Medicine," she says, "is that I can do both of those things." The social work students in these practices have opportunities to develop skills in clinical care as well as in program development, outreach, and education.
This placement is not the only one SP2 students can entertain. Anne Weiss, senior director of field education at SP2, says, "Each year, we place approximately 300 students at over 275 internship sites based on learning opportunities and student interests.
"Our hope is that students leave SP2 with the skills to be excellent practitioners, advocates for social change and leaders in their field."