Internships
Gain real-world policy experience
During the policy internship, students have the opportunity to gain real-world experience and apply classroom learning and research skills. Students in the MSSP and MSSP+DA programs complete 150 hours of a policy-related internship, typically done after coursework is complete. Internship activities may include policy analysis, data analysis, research, policymaking, advocacy, policy implementation, policy communications, and policy evaluation activities. Internships span all types of agencies and organizations, including nonprofits, research institutions, advocacy organizations, think tanks, state and local government, federal government, for-profit institutions, and private foundations. 
MSSP students typically complete summer internships; MSSP+DA students typically complete spring internships. Occasional variations may be made in consultation with the MSSP Associate Director.
Internships are structured based on individual student interests and past social policy experiences. Internships typically span 6-8 weeks, can take place in the United States or abroad, and require a minimum of 150 hours. All internships must be policy related.
Finding an internship
Prior to starting an internship, students receive detailed information on the internship search process and internship requirements. Program staff are available to meet with students to discuss possibilities and guide the process. There are several ways to find a right-fit internship:
Review the listing of past internship sites.
Identify possible internships through networking with friends, family, classmates, faculty, former employers, and personal contacts.
Research organizations of interest to see if internships are available.
Consult with Penn Career Services for resume/cover letter review, mock interviews, career advice, and more.
Internship opportunities received through the MSSP office are emailed to students and featured in the weekly MSSP newsletter. During the search, students are encouraged to cast their net broadly and apply to many organizations. This will yield the best possible opportunities.
Partial list of past internship sites
ACLU of Pennsylvania
Actionable Intelligence for Social Policy (AISP)
Center for American Progress' Women's Initiative
Center for High Impact Philanthropy (CHIP)
Children's Hospital of Philadelphia*
CHILD USA*
China House
City of Philadelphia Department of Human Services*
City of Philadelphia Office of Children & Families
Data Science for Social Good, Carnegie Mellon University
Economy League of Greater Philadelphia
Federal Reserve Bank of Philadelphia
Health Equity & Policy Lab
Mayor's Internship Program, Philadelphia Mayor's Office
Prevention Point Philadelphia
Satell Institute
Social Security Administration
Think Tanks and Civil Societies Program
Towards Unity for Health (TUFH)
United Nations Development Programme
The World Bank
*Denotes a partner organization
Partnered Internships
Penn MSSP-DHS Performance Management & Technology Fellowship
CHILD USA Social Science Fellowship Program
Penn MSSP-DHS Performance Management & Technology Fellowship
Penn MSSP-DHS Performance Management & Technology Fellowship
The MSSP program partners with the Philadelphia Department of Human Services (DHS) to offer the MSSP-DHS Performance Management & Technology Fellowship Program. This Fellowship provides one MSSP or MSSP+DA student with the opportunity to work at the DHS Division of Performance Management & Technology, developing research and evaluation pertaining to child welfare policy at their Data Analytics Unit. The DHS Division of Performance Management & Technology promotes safety, permanency, and well-being for children and youth at risk of abuse, neglect and delinquency. It develops and maintains integrated information systems and data analytics that can inform practitioners and policy decisions and conducts research to evaluate the effectiveness of programs. MSSP-DHS Fellows apply their policy, research and evaluation, and data analytics training to improve services that impact children's lives.MSSP-DHS Fellows complete at least 150 hours in the Spring or Summer semester in consultation with their advisor. The schedule is determined by the Fellow and DHS staff with a preference for at least a 12-hour/week commitment. This fellowship fulfills both the MSSP and MSSP+DA internship requirement. For more information, please contact Lauren Colby.
CHILD USA Social Science Fellowship Program
CHILD USA Social Science Fellowship Program
The School of Social Policy & Practice partners with CHILD USA to offer the CHILD USA Social Science Fellowship Program. This opportunity allows students to work hands on with a nonprofit think tank dedicated to ending child abuse and neglect. CHILD USA is the leading national think tank in this area, led by Penn Professor Marci Hamilton, whose legal career in changing the Statutes of Limitation for child sex abuse led her to create a nonprofit to tackle child abuse and neglect more broadly. CHILD USA uses the best legal and social science analysis and research to make recommendations on policies to better protect children. During this internship, Social Science Fellows analyze data and conduct research on topics including but not limited to abuse in sports, statutes of limitation, conversion therapy, educational neglect, and child safety during COVID-19. For more information, please contact Lauren Colby.
Events
10/02
Master's Online Information Session
These information sessions are an excellent opportunity for you to learn more about our Master of Social Work, Master of Science in Social Policy, and Master of Science in Nonprofit […]
Events
10/02
Utilizing Library Resources for Student Success
The SP2 librarian Sam Kirk will walk through a variety of topics, depending on what feels relevant to attendees. Potential topics will include the following: An overview of core library […]
News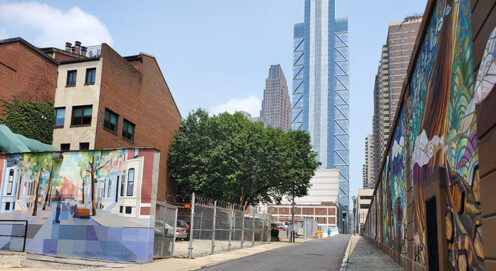 24K Philadelphia addresses to receive survey from Philadelphia Economic Equity Project
As part of the Center for Public Service & Policy led by former Mayor of Philadelphia Michael A. Nutter at SP2, a survey from the Philadelphia Economic Equity Project (PEEP) will arrive in approximately 24,000 randomly selected city mailboxes.
---