News Details
Future of Social Change Tour Finale and Alumni Weekend 2015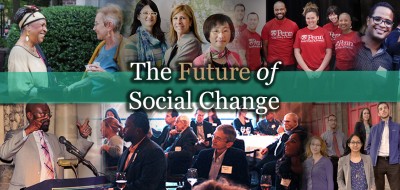 Faculty & Research, Student Life, Alumni
04/13/15
It's been a rousing ride for Penn's School of Social Policy & Practice (SP2) Dean John L. Jackson, Jr. and his team of SP2 ambassadors since the Future of Social Change Tour launched just last September, but all good things must come to an end.
"We set out to bring prospective students, alumni, and faculty together to really talk about the future of our School and what we're capable of; to discuss how we can impact the university and make a difference in the world through social work and policy," Jackson said. "I want people to know how important SP2 is to Penn. We're all over the world now – Africa, Cuba, Asia – and people will keep hearing about us. Our students are doing fascinating things and it's my job to make sure people know about it."
A renowned cultural anthropologist, filmmaker and teacher, Jackson embarked on the ambitious multi-city tour just three months into his deanship at SP2 and has served as the main speaker at each event.
Since then, more than 600 individuals (and counting) have become a part of the tour. These individuals have joined the discussion about everything from School admissions and field placement in the community to current events and confronting social concerns.
At the recent San Francisco tour stop, more than 50 people turned out, including alumni from eight out of 12 Penn schools.
The enthusiasm and engagement have been remarkable, according to the many who have attended, and have bolstered the School's momentum as Jackson continues to bring SP2's vision and mission into fruition.
"For us, the finish line is simply to make the world better," Jackson said.
With just two stops left, the tour is nearing an end, but not without a proper finale.
From May 15 – 17, SP2 will be celebrating both Alumni Weekend 2015 and the official culmination of the tour with an outdoor reception, family picnic and jazz brunch.
Members of the SP2 community, including current students, alumni and their families, are invited to celebrate the culmination of the tour as well as congratulate this year's graduating class.
For more information on SP2's Alumni Weekend 2015, visit the registration page or contact Jaquetta Lamar at 215-898-5502.