News Details
First graduate of SP2's Social Justice Scholars Program lands role on Capitol Hill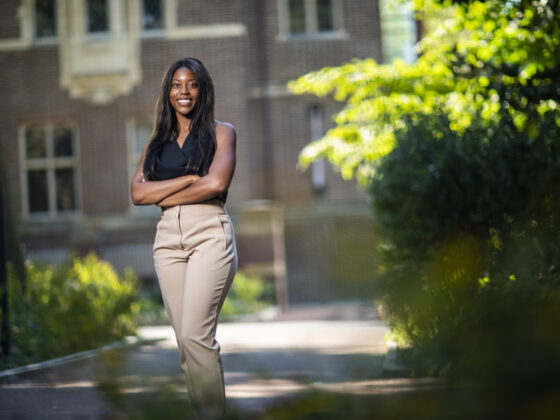 Authored by: Carson Easterly
Photography by: Eric Sucar
"What's important to me is being in a space where I can help people and I'm constantly in a state of giving back," says Gianni Morsell, NPL'22. The first graduate of the Social Justice Scholars Program at Penn's School of Social Policy & Practice (SP2), Morsell now works with policymakers in the U.S. House of Representatives to effect social change.
She headed to Capitol Hill in January as a recipient of the Congressional Black Caucus Foundation's John R. Lewis National Racial Equity Initiative Social Justice Fellowship, which aims to equip early career policy professionals to become the next generation of leaders in public service.
For the first few months of the fellowship, Morsell served as a legislative aide for Representative Alma Adams. The fellowship was slated to last a year, but after just four months, Morsell was offered a full-time position as a legislative assistant for the congresswoman. In her new role, she helps introduce bills and prepares the congresswoman for hearings, often focusing on education and labor topics, as well as supporting the Historically Black Colleges and Universities Caucus. Congresswoman Adams is a member of the Congressional Black Caucus, an organization within the U.S. House of Representatives that advocates for African Americans and other marginalized communities.
"Every day I'm learning something new," says Morsell, who worked on introducing a bill aimed to strengthen the education workforce and address school staffing shortages during her first week on the job. "The most amazing thing about my job is just talking to my congresswoman about her priorities and trying to see how we can push those priorities through."
Morsell cites her experience at SP2, particularly in the Social Justice Scholars and Nonprofit Leadership programs, as instrumental in her journey to Capitol Hill.
Her interest in social impact work and the power of nonprofits began when she was an undergraduate student at Morgan State University, a historically Black institution in Baltimore, Maryland, where she co-founded the university's Food Resource Center. "What drew me to SP2, specifically, was the fact that I was going to be learning more about the nonprofit space formally, but then also taking that information and applying it to real-life examples through the practicum," she adds. "The commitment to social justice issues was also something that really attracted me to the program."
At SP2, Morsell was part of the inaugural cohort of Social Justice Scholars — a competitive full-tuition scholarship program with the aim of enhancing the School's ongoing commitment to the recruitment and retention of students with a particular interest in and demonstrated capacity for social justice leadership in their field.
The group built a close connection as they explored the Philadelphia area together before the program's start and bonded over their shared drive for creating meaningful social change. "I just loved the fact that they were people who worked in social justice, nonprofit spaces, and places where they wanted to help people. We were constantly inspiring each other," she says.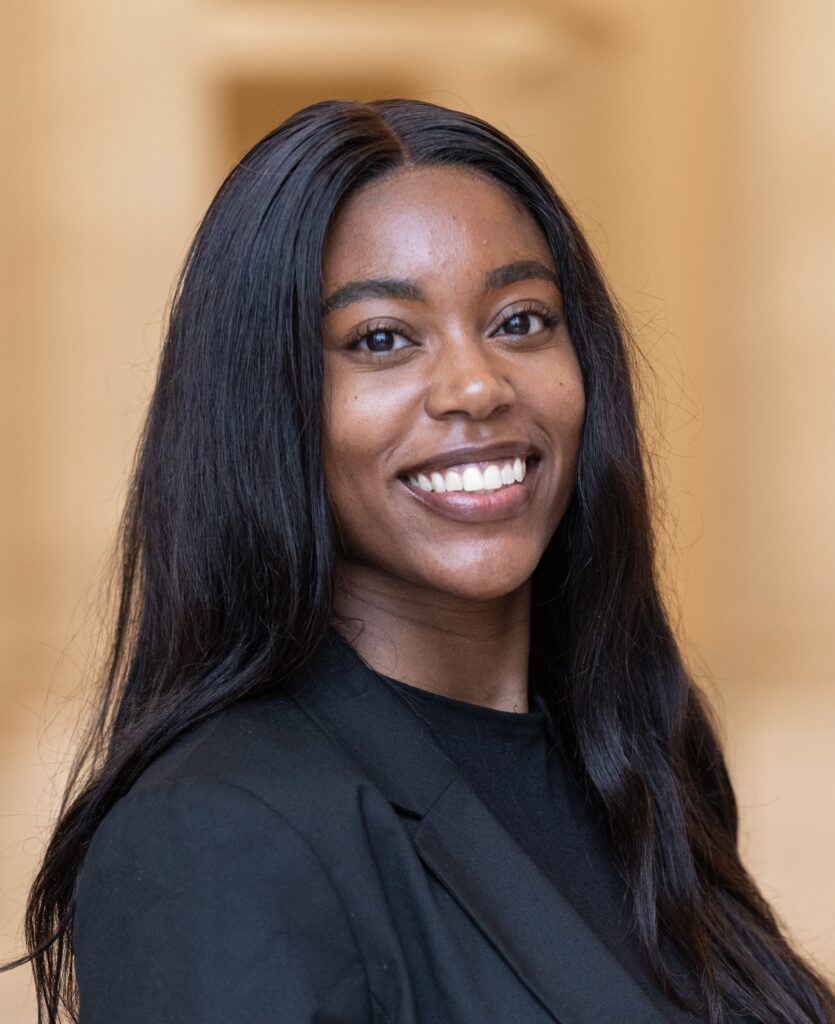 Other highlights of her time at SP2 include rigorous academics, exposure to diverse perspectives, supportive mentors, and unparalleled opportunities to expand her professional network.
She points to Professor Femida Handy, PhD, whose ethics course challenged her thinking, Professor Chao Guo, PhD, who provided lessons in strategic management she'll use long into her professional career, and SP2 Dean Sara S. Bachman, whom Morsell names as a mentor throughout her time at Penn — "She's been a really good source of help and guidance. I appreciate her for constantly encouraging all of us in our journey."
For Morsell, support provided by the School to attend conferences was especially impactful — her attendance at SXSW EDU in Austin, TX, spurred a chain reaction of opportunities, ultimately leading to her current position. At the conference, she was able to build connections, network, and gain insight into the issues affecting education.
One connection led to a job offer at an organization focused on student loan relief and youth voter turnout. Morsell believes her work in this role helped her land the fellowship and led her to the opportunity to work with Congresswoman Adams, a champion of student loan debt forgiveness. "There's a huge connection between what I was doing there and what I am doing now," she explains.
When looking to the future, Morsell hopes she'll stay in the education, nonprofit, and policy spaces, but the priority for her is making a positive impact on others. Recently, she's been energized by connecting with constituent groups and discussing how to best support them. Moments like these "help me to know I'm on the right track," she concludes.
People
Chao Guo, PhD

Professor of Nonprofit Management

Contact

office: 215.898.5532

fax: 215.573.2099

Email

Femida Handy, PhD

Professor

Contact

office: 215.573.2660

fax: 215.573.2099

Email

Sara S. Bachman, PhD

Dean

Contact

office: 215.898.5512

fax: 215.573.2099

Email