News Details
First-Ever Program in Oncology Social Work Prepares New Generation of Cancer Care Leaders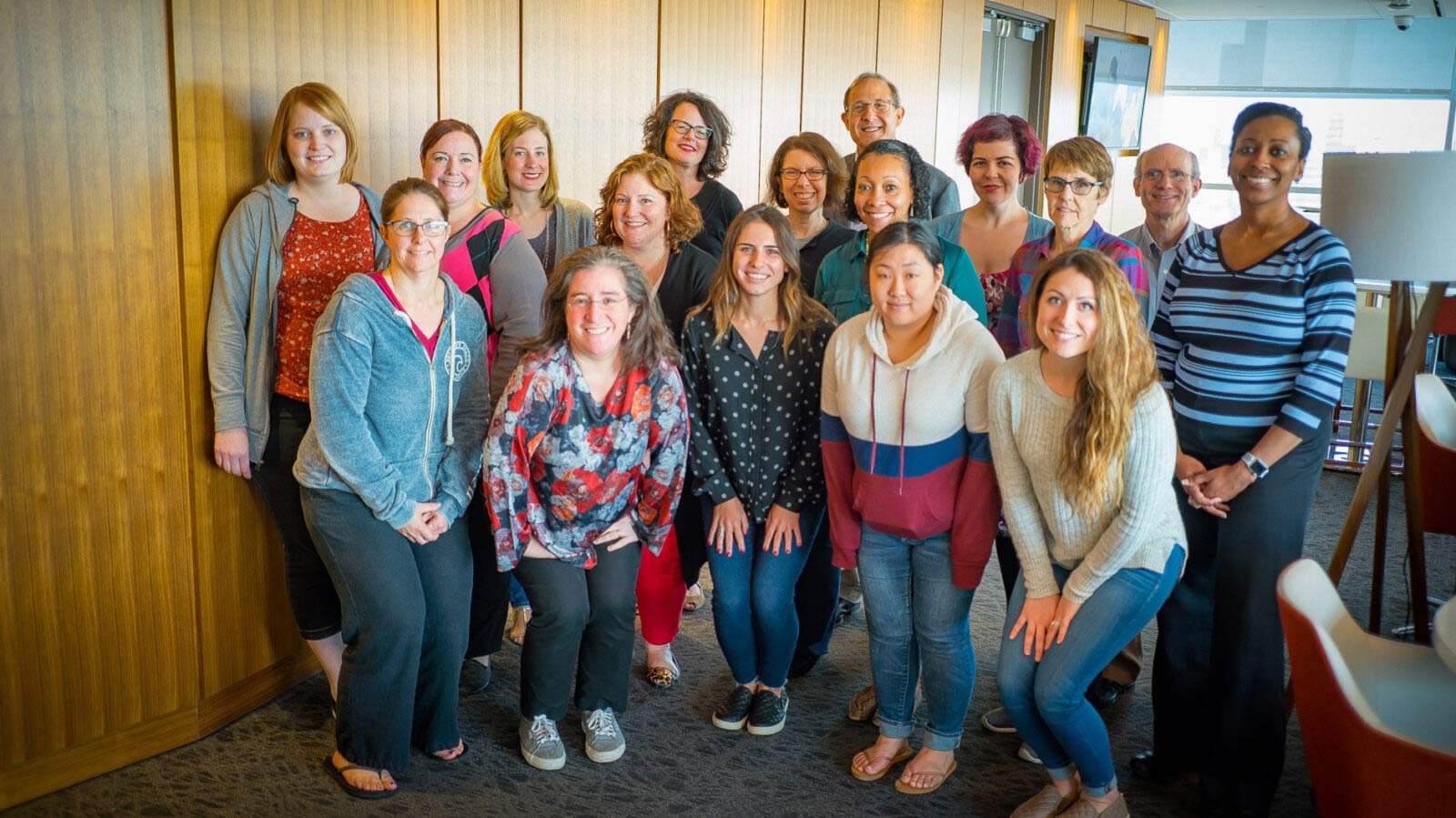 Authored by: Alina Ladyzhensky
Photography by: Provided
Faculty & Research, Student Life
10/11/18
When an individual is diagnosed with cancer, their course of medical care– scheduling tests and doctor's appointments, managing treatments and their side-effects – undoubtedly becomes a primary focus. Beyond one's physical well-being, a cancer diagnosis can also upset virtually every other aspect of a person's life. Patients face emotional, psychosocial, and financial distress in addition to the side effects of the disease and its treatment– not to mention the ripple effect that cancer has on their loved ones and broader communities.
While their doctors and nurses focus on providing medical care, cancer patients often require additional guidance, advocacy, and support in coping with their diagnoses and the myriad, often complex issues that consequently arise. This is precisely where oncology social workers come in.
"All across different systems levels, social workers are involved– from even before diagnoses happen, as people are waiting for diagnoses or trying to prevent diagnoses, through all different levels of cancer care," explained Allison Werner-Lin, PhD, a practicing oncology social worker and Assistant Professor at Penn's School of Social Policy & Practice (SP2). "Social workers are doing crisis intervention."
According to Werner-Lin, the role of social workers within communities impacted by cancer is both critical and wide-ranging. "We work in cancer centers, in palliative care, and in community health clinics. We do bedside visits, home visits, and help people make treatment decisions or decisions about terminating treatment. We run support groups for parents, aging caregivers, children, and adolescents who won't talk to anybody about what's going on at home, who won't have people over because they don't want anyone to know that they're different."
"We go into schools and talk about what re-entry is like for a child who is coming off treatment, or a beloved teacher who has just died after a late-stage diagnosis. We go into churches and talk about screening and prevention programs with populations that are hard to reach," she continued. "We go into policy settings and talk to government officials and aids about why we need better access to preventative care and research funding."
Despite this compelling need for oncological social workers on both individual and community-wide levels, a post-masters social work training specifically focused on oncology did not exist until very recently. In fall 2018, Werner-Lin launched the Penn Advanced Certificate in Oncology Social Work, for which she serves as Program Director. The 12-month program, which includes monthly sessions taught at the Perelman School of Medicine, is the first of its kind in the world. The Advanced Certificate in Oncology Social Work is offered as part of the new OpenSP2 learning division, which provides learners with continuing education opportunities and transferable skills to advance their careers, or to apply in their current places of work.
Werner-Lin's social work practice focuses on parentally bereaved children and teens, and her internationally-recognized research addresses the intersection of genomic discovery and family life. This has given her a particularly profound view of how everything from family genetic history to making decisions about engagement with preventative technology is part of the constellation of issues that families affected by cancer must face.
"The current landscape is completely different in terms of decision-making than even 20 years ago. A lot of technologies are rolled out before we really understand what some of the psychosocial concerns are," Werner-Lin said. "We are just starting to understand what it means  for kids to grow up in a family with a known genetic mutation, or for someone to consider prophylactic mastectomy without a cancer diagnosis —what does that mean for a family? Some of these issues are novel in the social work world, and we need our teams on board."
Werner-Lin's SP2 colleague, Christina Bach, MBE, MSW, LCSW, OSW-C, serves as Program Associate Director of the Penn Advanced Certificate in Oncology Social Work. A nationally-known oncology social work leader, Bach believes that the decision to offer a social work certificate program in oncology care couldn't be more well-timed.
"Need is increasing exponentially in terms of psychosocial issues, an aging population, financial distress, lack of access to care, understanding social determinants of health and disparities in disease burden and survival," said Bach. "We need to prepare folks for these challenges going forward, to meet them head-on, and train others to do this, too. Oncology nurses and oncologists have been doing this type of specialized training for years, and now it's time for us to step up our professional practice."
According to Bach and Werner-Lin, the practice of social work is becoming more robust, and post-masters education in social work is becoming increasingly popular. Simultaneously, the decisions that individuals and parents must make are becoming more complicated. While a number of existing social work programs address practice in end-of-life and palliative care settings, there were none specific to practice in oncology.
Werner-Lin lead design of the Penn Advanced Certificate in Oncology Social Work program to teach practicing social workers how to address, and keep up with, the emotional needs, treatment, financial issues, family dynamics, and other matters surrounding cancer care. The program is geared toward social workers who have completed a master's program and are now looking to advance their careers, specialize in oncology, or move into oncology from other health settings.
"Social work is involved in every way, from the beginning diagnosis through lifelong or long-term survivorship, and working with end-of-life decision-making and bereavement," said Werner-Lin. "We've designed a program that really covers the gamut, so social workers can be involved with families all across the cancer trajectory."
A Mechanism for Outstanding Learning, Teaching, and Networking
The program's Advisory Board, which helped Werner-Lin develop the curriculum, and where Bach first distinguished herself as a dedicated ally in delivering high-quality programming, consists of leading oncology social work practitioners and allied health and mental health professionals from around the country, many of whom have also become instructors in the program. Werner-Lin was mindful of being both contemporary and broad in the curriculum's coverage of various topics related to oncology care. Through the program, learners will be exposed to top researchers in the areas of survivorship; program development and leadership, genetic testing and cancer prevention, sex and sexuality; pediatric and adolescent/young adult cancer; and methodological innovations in cancer research, in addition to a variety of master clinicians who have worked extensively in cancer clinics and centers.
Werner-Lin envisions the program as a venue and mechanism for "really outstanding learning, teaching, and networking," bringing experts in the field together to develop the next generation of expert oncology social work practitioners and research scholars, and building a robust network of alumni as the cohorts grow over time. She views the network-building aspect of the program as particularly important.
"Some participants who are in smaller cancer care settings do not have a way to network, they don't have the resources, they don't have the colleagues, they don't have the supervision, and they certainly don't have the opportunity to work alongside a team, which can validate or normalize some of the distress that comes from working with people with cancer, at the end of life, and suffering through treatments on a regular basis," she explained. "These learners will be building a local and national network of colleagues with their instructors, but also in the room together. The hope is that we grow expert oncology social workers from the program while feeding into the leadership of national organizations, into doctoral study, or diffused out into the broader world of social work practice."
Bach further highlighted the career advancement opportunities that the Penn Advanced Certificate in Oncology Social Work offers to learners, noting that the program ends with a capstone or demonstration project that students can take back to their place of work to elevate their practice, grow programmatic offerings, and help their own career development and growth. Moreover, in the second month of the program, students learn about program development, as well as administration supervising and teaching. Bach and Werner-Lin are hopeful that individuals from the cohort will go on to become field instructors for MSW students at SP2 or for social work programs in their own geographic regions, thereby giving back to the community of learners.
While the program has only recently gotten underway, Werner-Lin is already heartened by the first cohort of learners, noting that participants run the gamut from recent graduates to those who have been in the field for many years and are looking to make their positions more robust. Some learners hail from well-funded teaching and research hospitals, while others come from small community hospital settings, or the national network of cancer wellness centers. According to Werner-Lin, all 12 participants in the program's first cohort have shown enormous enthusiasm and dedication to continuing education and lifelong learning.
That dedication and enthusiasm will certainly be needed in the difficult— but immensely impactful and rewarding— field of oncology social work. There is no shortage of ways in which this first cohort, and those who follow them, will be able to make a difference for individuals whose lives have been affected by cancer.
"Our role is limitless. It's way beyond arranging transportation and getting people to their appointments, but actually, 'How do I live with this, and after this disease, or tolerate knowing that it might come back and end my life?'" said Bach. "There is so much we can do, and I feel that we've barely scratched the surface of the impact we can make."
People
Allison Werner-Lin, PhD, LCSW

Associate Professor

Contact

Email

Christina Bach, MSW, MBE

Lecturer, MSW Program

Contact

Email