News Details
Faculty tribute: SP2 Professor Irene Wong retiring in 2023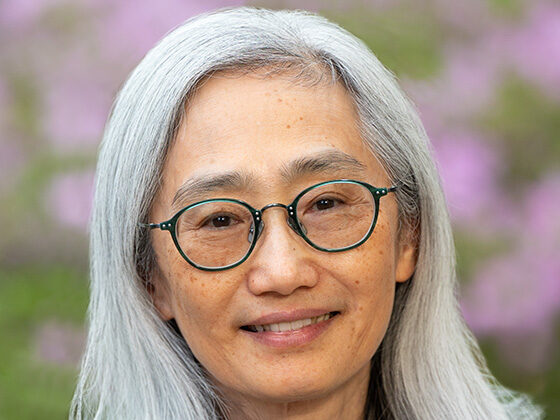 Authored by: Juliana Rosati
Faculty & Research
04/26/23
Although she will retire as a standing faculty member this spring after 28 years at Penn, Professor Irene Wong of the School of Social Policy & Practice (SP2) is determined to continue her "ikigai," a Japanese concept meaning the passion that brings a sense of purpose to one's life. For Dr. Wong, that passion is for interdisciplinary, cross-cultural research to reduce the stigma of mental illness in Chinese society and beyond.
"Addressing stigma of any kind is very important in terms of the health of a community," says Wong, who began her career as a social work practitioner in community organizing, educator, and researcher forty years ago. Since 2013, she has focused her research on a mixed methods research agenda, working with a team of ethnic Chinese researchers to reduce mental health stigma in rural China.
Among other projects, the team implemented a training program in Xinjin County, Sichuan Province, in 2019, aiming to shift the attitudes of community health workers towards families affected by serious mental illness. The program was based upon the team's research in the community, which documented stigma and discrimination experienced by people living with schizophrenia and by their family members.
Wong is passionate about continuing this work and investigating how to address the impact of stigma more broadly. "Stigma doesn't need to be from mental health — it can be due to gender, sexual identity, disability, or chronic health conditions such as HIV/AIDS. Stigma is when people think you are lesser because of a difference, and it is endured by the individual miserably."
Such marginalization can be counteracted by inclusion and community, concepts Wong has long explored as principal investigator and co-investigator of numerous research projects spanning community development, housing and homelessness, and mental health services since she came to Penn in 1995.
Wong's path to Penn's faculty is one that she describes as "very atypical" given her background. "My mother had a middle-school education, and my father had a grade-school education. I had no way to think about higher education," says Wong, who was born to an ethnic Chinese family in Hong Kong during British colonial rule.
Her outlook broadened when she gained admission to The University of Hong Kong. "That changed my life forever," says Wong, who credits her mother's open-mindedness with helping her to embark on higher education. After completing her undergraduate degree with a double major in social work and psychology, she received support from the Hong Kong government to pursue her master's in social administration at the University of York in the United Kingdom.
When she later became a lecturer and fieldwork instructor at Hong Kong Baptist College, she began to think about PhD study in social welfare. Guaranteed funding offered by the University of Wisconsin-Madison School of Social Work made it possible for her to pursue her dream.
Wong completed her PhD the same year she joined SP2, then known as Penn School of Social Work, as an assistant professor. Her teaching came to include history and philosophy of social welfare and social work, contemporary social policy, social work research methods, quantitative analysis, understanding social change, and the mental health of U.S. veterans.
Wong is particularly proud of contributing to SP2's footprint in social work education through her work with students in the MSW, DSW, and PhD programs who have gone on to become faculty and program leaders. She has served on the dissertation committees of fifteen doctoral students and mentored and advised dozens more.
Her roles at Penn have included a secondary appointment as associate professor in Penn's Department of Psychiatry from 2006 to 2021 and a position as a senior fellow in The Center for Public Health Initiatives, which she began in 2018. At SP2, she was faculty director of international programs from 2010 to 2016 and interim associate dean for global studies in 2018-2019. During 2022-2023, she served as interim director of SP2's PhD in Social Welfare Program.
With nearly 60 publications to her credit, Wong has published widely in interdisciplinary and mental health journals including Social Science & Medicine, Social Service Review, Social Psychiatry and Psychiatric Epidemiology, Schizophrenia Research, Psychiatric Services, Health and Place, American Journal of Orthopsychiatry, The Lancet Regional Health-Western Pacific, International Journal of Social Psychiatry, and Administration and Policy in Mental Health and Mental Health Services Research.
Her work in rural China has been supported by the Penn China Research and Engagement Fund, Penn University Research Foundation, Penn Center for Undergraduate Research and Fellowships, National Institute of Mental Health, Public Policy Research Funding Scheme, Hong Kong, and University Grants Committee, Hong Kong.
Her contributions to the field also include serving as a member of the Hong Kong Social Workers Registration Board Assessment Panel since 2008 and as a collaborator of Chengdu Mental Health Project in China since 2016.
As she prepares to enter emeritus status at Penn, Wong has already been nominated to the role of council at-large member of Penn Association of Senior & Emeritus Faculty and developed a long list of research questions. "I feel that in collaboration with my colleagues, we can find a way to understand more about mental health, physical health, and marginalization," she says.
Looking ahead, she plans to pursue the same philosophy that first brought her to the United States as an international student with only 25 pounds of luggage: "If you persevere and follow what you can do, you find another mountain and you overcome that. And then you've got another mountain to climb," she says.
About SP2
For more than 110 years, the University of Pennsylvania School of Social Policy & Practice (SP2) has been a powerful force for good in the world, working towards social justice and social change through research and practice. SP2 contributes to the advancement of more effective, efficient, and humane human services through education, research, and civic engagement. The School offers five top-ranked, highly respected degree programs along with a range of certificate programs and dual degrees. SP2's transdisciplinary research centers and initiatives — many collaborations with Penn's other professional schools — yield innovative ideas and better ways to shape policy and service delivery. The passionate pursuit of social innovation, impact, and justice is at the heart of the School's knowledge-building activities.
People
Irene Wong, PhD

Professor

Contact

office: 215.898.5505

fax: 215.573.2099

Email