News Details
"Everything Is Intersectional": NPL Student Helps Drive Historic LGBTQ Inclusion Initiatives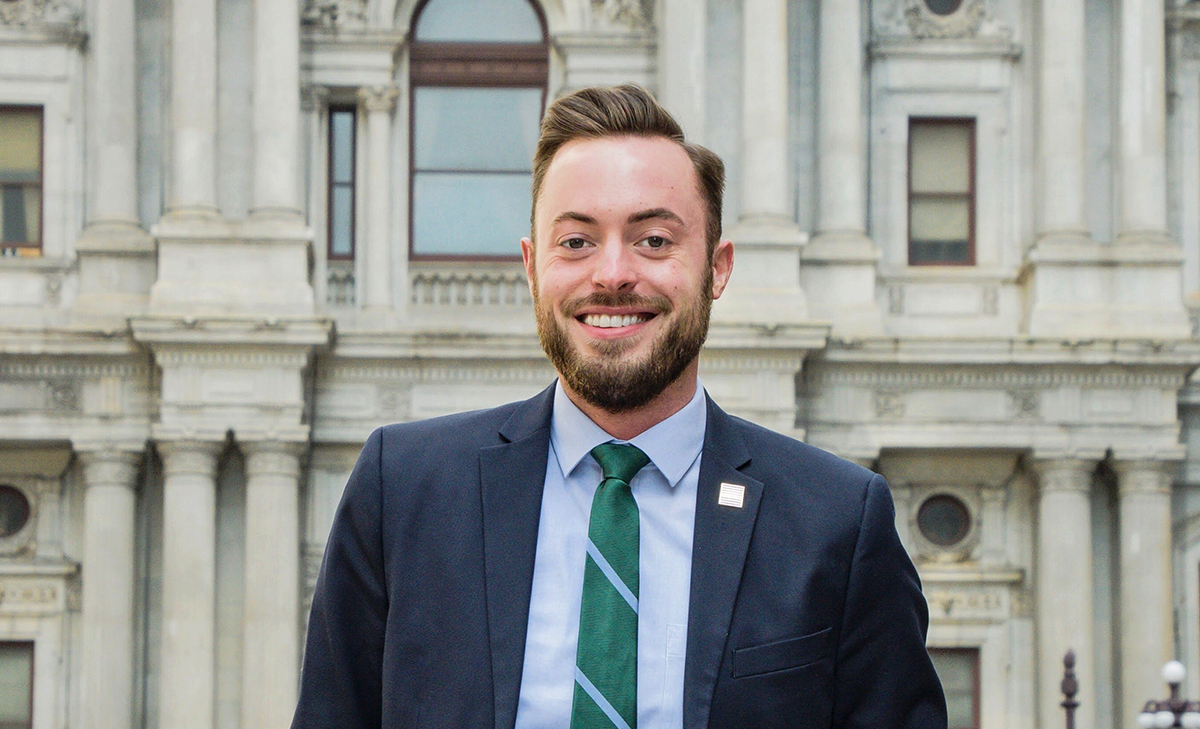 Authored by: Alina Ladyzhensky
Photography by: John Michael Szczepaniak
With nicknames like The Cradle of Liberty and City of Brotherly Love, Philadelphia has a well-earned reputation as a city that upholds freedom and equality. For Erik Larson, a student in the Master of Science in Nonprofit Leadership (NPL) program at Penn's School of Social Policy & Practice (SP2), Philadelphia has also proven to be the perfect place to cultivate and enact his commitment to social impact work.
Prior to his enrollment in the NPL program, Larson knew that he wanted to focus on addressing issues that affect the city's diverse LGBTQ communities.
"I believe that everything is intersectional, and that people don't lead single-issue lives. Coming into the program, I was very open with my interest in working with these communities within our city," he said. "I wanted to work with LGBTQ folks and the many intersections of issues that affect their lives, in a nuanced way."
Prior to his time at SP2, Larson earned a Bachelor of Fine Arts in design for the theater at Penn State University, followed by a Master of Fine Arts in costume design at Carnegie Mellon University. He went on work for local nonprofit institutions, including the Bucks County Playhouse and Philadelphia Film Society.
"I brought my design lens and fine arts background with me when I came [to SP2]," Larson said. "I try to find bridges between my 'old life' and what we do here in social impact wherever I can. I'm very interested in what role good design can play in addressing social issues."
As for what spurred his decision to apply to the NPL program, Larson said, "I've always been interested in initiatives that support LGBTQ communities and I've had experience in volunteer work at nonprofits here in the city. It was something I really enjoyed and wanted to continue doing, but I felt that I didn't have a sophisticated grasp on the complex issues that go into managing such organizations."
With that realization, Larson searched online for programs that would meet his need for a rigorous education around nonprofit and social impact work. That's when he came across the NPL program at SP2.
"I cold-emailed Adam [Roth-Saks, MSEd, Administrative Director of the NPL Program] one day and asked if I could meet with him. I was so glad that he agreed; that gave me the opportunity to learn about what knowledge I could gain from a program like this," Larson said. "Our initial conversation really broadened my understanding of the sector. I hadn't realized that it was so expansive, and how many different buckets there are within the nonprofit field."
Larson's nonprofit experience and knowledge have come a long way from that first exploratory meeting. As he explained, the NPL program's high level of flexibility provided the opportunity to tailor his education to match his specific needs and goals.
"In a sector as broad as this, everyone brings different experiences and backgrounds to the table. The NPL program allows us to fill in our own gaps. For example, I recognized a need to build on my understanding of finances and budgeting for nonprofit organizations when I came here," he said with a laugh. "I've tried to fulfill that in my own experience with the program, and now I have a stronger working knowledge. But if someone came from an economics or accounting background, they wouldn't necessarily have to meet that need in the same way. I really appreciate the level of ownership that students have over their own education here."
NPL in Action: Addressing Inequity in the City
Now, Larson is putting his knowledge of the nonprofit sector into valuable use through his practicum placement as a Policy Fellow in the Mayor's Office of LGBT Affairs in Philadelphia. Founded in 2008 by mayoral executive order, the Office of LGBT Affairs was permanently added to the city's charter in 2015. The office advocates for the needs of Philadelphia's LGBTQ community in all areas of city government, helps to enact policies around diversity and equality, and works closely on inclusion initiatives within the nonprofit and private sectors.
Larson's proudest accomplishment of the past year is working directly with the office's Executive Director, Amber Hikes (MSW, '08) on the Community Leadership Pipeline initiative, an effort to help diversify the membership of nonprofit boards throughout the city. The Office of LGBT Affairs interviewed and prepared applicants for inclusion in an intensive six-month recruitment and training program. Through the program, candidates learn various components of nonprofit board service—including fundraising, marketing and communications, event-planning, and fiduciary responsibilities.
Following their training, the candidates will begin their roles as new board members at LGBTQ organizations throughout Philadelphia. The program is provided free of charge, and following successful completion, candidates are provided a stipend. Participating Boards also agreed to waive any financial "give or get" expectations for their first year of service— historically, another barrier to access for many people.
"Many nonprofit boards are disproportionately of a certain age, a certain economic status, and certain racial or ethnic background," Larson said. "We were fortunate to receive phenomenal candidates from all over the city, across many intersections of age, race, gender identity or expression, and ability status."
"To our knowledge, this is the first time anything like this has been done. It's a really exciting program, and it has a direct correlation to conversations that I'm having in classes and the issues I'm learning about in the NPL program," he continued. "I also attend the leadership training sessions, so I'm fortunate enough to sit in the room with nonprofit leaders as they explain what board service is really like. I'm learning alongside folks from across the community who are eventually going to have these board seats. It's a terrific symbiosis."
This experience also fed into Larson's intended trajectory for the future. After graduation, he intends to stay in Philadelphia, where he sees a real need for continued social impact work– not only in support of the LGBTQ community, but with members of communities from all across the city.
"There is a lot of inequity in the world, and I'm developing a toolkit for working through these complex problems, coupled with innovative solutions for how to address them, based on skills I've learned here at SP2 and in my practicum placement," Larson said. "Philadelphia is a city of many communities and I want to help it grow positively for everybody, but especially folks who have traditionally lived on the margins or have not been considered a priority by those in systems of power for the longest time. I would love the opportunity to further develop my roots here and work full-time on initiatives like these. It has been a privilege to have had my experience in this program here at Penn, and I'm looking forward to putting my skills into action."