News Details
Event with Ben Jealous looks beyond America's racial fault line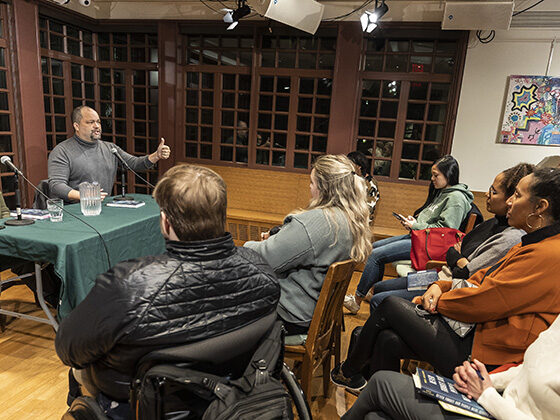 Authored by: Kristina García, Penn Today
Photography by: Krista Patton
Faculty & Research, Student Life
02/06/23
As a child, Ben Jealous got into what his grandmother hoped would be his first — and last — fight. "My first response to having to deal with a racist in the little town that I grew up in was to jump him when he was on roller skates," he said.
"Oh, baby, just feel sorry for them," his grandmother responded. "For some people, just having to be themselves is punishment itself." This response, Jealous said, started a line of inquiry about "the other side of that hate equation." It made him curious and, ultimately, empathetic.
Jealous, a professor of practice at the University of Pennsylvania, recounted the story at "Beyond America's Racial Fault Line," a Feb. 1 event at Kelly Writers House in conversation with Camille Z. Charles, the Walter H. and Leonore C. Annenberg Professor in the Social Sciences. The event was co-sponsored by the School of Social Policy & Practice, Kelly Writers House, and the Center for Africana Studies. Jealous, discussed race, politics, and his new book, "Never Forget We Were Always Free: A Parable of American Healing."
Sara S. Bachman, dean of the School of Social Policy & Practice, introduced Jealous. Like his book, "Ben embodies hope," she said. "He helps us to see the path forward."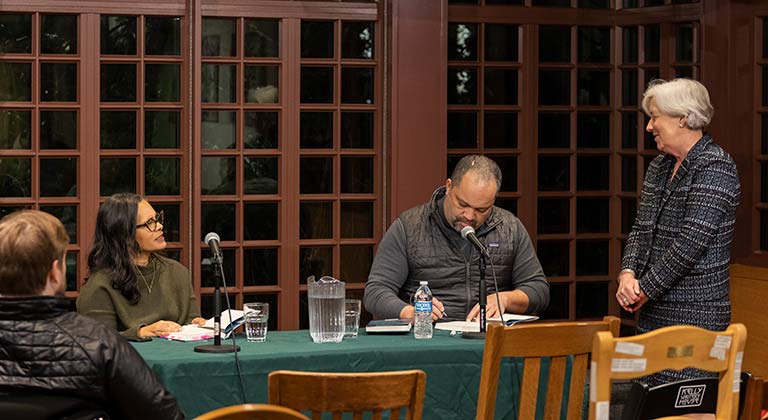 Ben Jealous is professor of practice at the School of Social Policy & Practice, Annenberg School for Communication, and School of Arts & Sciences, as well as distinguished visiting fellow at Penn Carey Law and executive director of the Sierra Club.
People
Sara S. Bachman, PhD

Dean

Contact

office: 215.898.5512

fax: 215.573.2099

Email