News Details
Equity-focused learning community receives new joint funding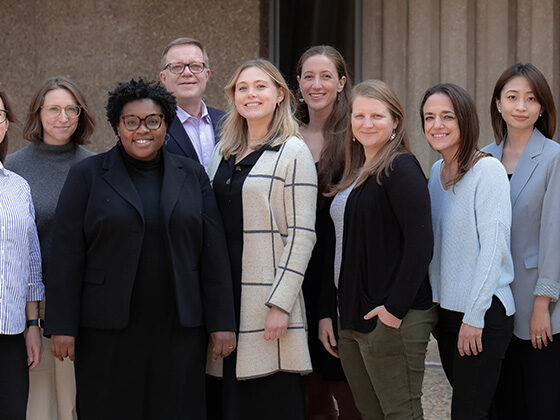 Authored by: AISP
Faculty & Research
09/30/22
Two new grants from the Walton Family Foundation and the Ford Foundation will support the Equity in Practice Learning Community (EiPLC) initiative of Actionable Intelligence for Social Policy (AISP), an organization housed at Penn and co-directed by Professor Dennis Culhane, Dana and Andrew Stone Chair in Social Policy, of Penn's School of Social Policy and Practice (SP2).
Launched in 2021 with funding from the Annie E. Casey Foundation and Robert Wood Johnson Foundation, the EiPLC aims to center racial equity in public-sector data integration efforts as a part of AISP's mission to help state and local governments collaborate and responsibly use data to improve lives.
This spring, AISP selected two mentor sites and four mentee sites to participate in the first cohort of the Learning Community. The additional support from Walton and Ford will allow AISP to select four additional mentee sites to join a second cohort in 2023.
"We are so excited to have the opportunity to work with more communities to build, test and refine new models for incorporating residents' perspectives into key decisions about the development and use of data for equity," said AISP Executive Director Della Jenkins. "To have four foundations come together to support this five year, five-million-dollar initiative is incredible."
Cross-sector site teams, composed of representatives from public health, human services, early childhood, and the non-profit sector, will receive training from AISP, support from equity fellows and peers, and direct grants to fund community participation. Already, Cohort 1 sites are making plans for practice changes across the data lifecycle, with a focus on health equity (defined broadly).
For Cohort 2, AISP will be recruiting data integration efforts with an interest in advancing educational equity. As Joanna Cannon of the Walton Family Foundation explains, "Improved access to educational data and cross-sector collaboration can help provide better supports for more students. Working with AISP, agencies will have the opportunity to strengthen data sharing partnerships and co-create research agendas with community members that will ultimately advance equity and student success."
Michelle Shevin of the Ford Foundation emphasizes the urgency of this work. "As data and technology increasingly shape our world it is essential that we advance new models of infrastructure that share power and knowledge with the communities that need systems change most. We're proud to join with other funders to support AISP in their efforts."
To stay up to date on EiPLC progress and be first to hear when the Cohort 2 Request for Applications is released, sign up for AISP's monthly newsletter here.
About AISP
AISP is housed at the University of Pennsylvania and co-directed by professors Dennis Culhane of the School of Social Policy and Practice and John Fantuzzo of the Graduate School of Education. The organization was born out of Culhane and Fantuzzo's shared experience working with the City of Philadelphia in the early 2000s to leverage cross-sector data to improve child outcomes. This innovative work led them to inventory and connect with other similar data efforts across the country, and eventually inspired them to create a national network to advance best practices in data sharing. For more than 12 years, AISP's work has been generously supported by federal grants from the Administration for Children and Families (ACF), the Department of Housing and Urban Development (HUD), and the Corporation for National and Community Service (CNCS), and by private foundations, including the John D. and Catherine T. MacArthur Foundation, the Laura and John Arnold Foundation, the Annie E. Casey Foundation, and the Gates Foundation.
About SP2
For more than 110 years, the University of Pennsylvania School of Social Policy & Practice (SP2) has been a powerful force for good in the world, working towards social justice and social change through research and practice. SP2 contributes to the advancement of more effective, efficient, and humane human services through education, research, and civic engagement. The School offers five top-ranked, highly respected degree programs along with a range of certificate programs and dual degrees. SP2's transdisciplinary research centers and initiatives — many collaborations with Penn's other professional schools — yield innovative ideas and better ways to shape policy and service delivery. The passionate pursuit of social innovation, impact, and justice is at the heart of the School's knowledge-building activities.
People
Dennis P. Culhane, PhD

Professor

Contact

office: 215.746.3245

fax: 215.573.2099

Email