News Details
Eight SP2 students named winners in Green Space Data Challenge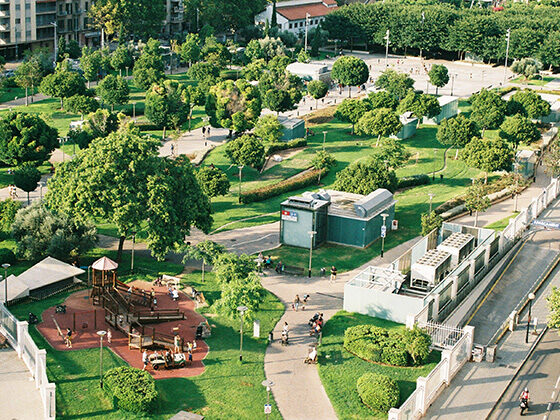 Authored by: Juliana Rosati
Photography by: Nerea Martí Sesarino on Unsplash
For projects that transform data about green spaces into actionable community indicators, eight students in the Master of Science in Social Policy (MSSP) Program at Penn's School of Social Policy & Practice (SP2) have been named among the winners of the Green Space Data Challenge. The competition is hosted by the Place-Based Indicators Project at the Massive Data Institute of Georgetown University's McCourt School of Public Policy.
Offered as "an opportunity for students and early career professionals to turn green space data into indicators that could help local leaders understand and improve their communities," the challenge gave participants the month of February to analyze provided data sets. Working in teams, the students developed insights and recommendations about the impact of green spaces such as public parks on community well-being.
The announcement of winners includes SP2 students on three teams in two categories. In the Community Safety category, SP2's Yuxin Liang and a teammate from another university won second place ($2,000). In Community Health, SP2's Jia Xu, Tianyu Shi, Yingtong Zhong, and another teammate from Penn won first place ($5,000). In the same category, SP2's Zairui Yang, Ying Shu, Yao Jiang, and Jiaxi Lin were one of two teams awarded prizes for second place ($2,000).
Winners will share their work in a webinar on April 17, 2023 at 3:00 p.m. ET hosted by the Association of Public Data Users, a national network for responsible and rigorous collection and analysis of federal statistical data.
"We were able to identify areas where green spaces have a significant positive influence on the surrounding community, as well as areas where green space accessibility and quality need improvement," says Yingtong Zhong, one of the first-place winners in Community Health.
Zhong and teammates identified those places by using data to create an indicator they named the Environmental-Social Green Space (ESGS) index. "We used advanced algorithms and multiple data sources to construct the ESGS index, and we also used rigorous validation methods to ensure its accuracy and reliability," says team member Jia Xu.
The second-place winners in Community Health explored the relationship between urban green space and local residents' mental and physical health. "Our research findings revealed that, beyond the basic positive correlation between green space and health, urban greenness can also mitigate health disparities among communities with different demographic characteristics or socioeconomic status," says team member Jiaxi Lin.
Team member Yao Jiang adds, "Our result advocates for health equity and social justice by proposing policies that can improve access to greenspace in neighborhoods with higher concentrations of people of color, seniors, children, and low-income families."
The experience of applying data skills towards social change was meaningful for SP2 winners.
"This project has been an exciting opportunity . . . to apply our training in data analysis and regression to explore the health equity issue that interests us," says Zairui Yang, a member of the second-place team in Community Health.
Teammate Ying Shu adds, "Through this project, I hope to contribute to the broader conversation about how we can create more equitable and sustainable communities for all."
About SP2
For more than 110 years, the University of Pennsylvania School of Social Policy & Practice (SP2) has been a powerful force for good in the world, working towards social justice and social change through research and practice. SP2 contributes to the advancement of more effective, efficient, and humane human services through education, research, and civic engagement. The School offers five top-ranked, highly respected degree programs along with a range of certificate programs and dual degrees. SP2's transdisciplinary research centers and initiatives — many collaborations with Penn's other professional schools — yield innovative ideas and better ways to shape policy and service delivery. The passionate pursuit of social innovation, impact, and justice is at the heart of the School's knowledge-building activities.