News Details
The DSW Revamped: New Virtual Space, Same World-Class Education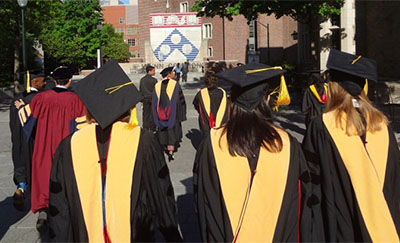 Authored by: Jessica Bautista
They're successful, award-winning program directors, clinicians, researchers, faculty and social work practitioners. They are changing the future of social work practice and teaching, and they're making names for themselves. Who are "they?" Graduates of Penn's unparalleled Doctorate in Clinical Social Work program.
Penn's renowned DSW program is now online, making it accessible to more aspiring social work leaders than ever.
Offered through the School of Social Policy & Practice, the DSW was the first social work practice doctorate and continues to blaze trails, offering a blend of real-time, online instruction and periodic on-campus immersions.
With the hybrid online format, working professionals with demanding schedules are able to receive the same world-class learning experience while advancing their careers from the convenience of their homes.
DSW classes take place two evenings a week for two hours and are taught using advanced video technology that allows everyone to be seen and heard, simulating a real classroom experience. The curriculum is designed to bridge theory, practice and research, and prepare students for teaching.
Students actively engage in learning about and critiquing the latest developments, discoveries and best practices in evidence-based social work practice and teaching. Classes are taught by Penn faculty, visiting faculty and clinician experts from across the country.
According to DSW Faculty Director, Dr. Lina Hartocollis, the decision to shift the program to a hybrid of on-and-off-campus learning came from a growing interest from prospective students from all over the country with conflicting employment and living circumstances, including active duty military and their family members.
"This hybrid online format increases the access for so many, making it possible for people who are far away, people who are full-time professionals," Hartocollis said. "We are very confident in the technology, the format and the ongoing evaluation, and the new DSW is as good as the residency program, if not better."
But make no mistake, while the new DSW offers all of the benefits of remote cutting-edge courses, participating graduate students need not sacrifice the on-campus experience.
Students begin the program with a five-day campus immersion experience on Penn's campus at the start of the fall semester. During this time, students attend their first classes, participate in a variety of engaging Penn activities, get to know one another, and gear-up for the DSW program. An additional required campus immersion meets on Penn's campus in the summer following the first year of the program.
Students who are able to travel to campus more often can and are encouraged to take advantage of the library and other campus resources and activities, as well as meet with faculty.
"With the new structure, DSW students actually find the on-campus experience more vibrant than some found it in the previous cohort model," said Dr. Kate Ledwith, a DSW graduate and SP2 lecturer. "It's a really exciting format. The rigor of the program and expectations for scholarly participation haven't changed, except now, we're be able to attract more students from around the world."
Click here to learn more about the DSW program and our DSW alum.