News Details
DSW Alum Publishes First Book on Social Work, Sociometry, and Psychodrama Intersection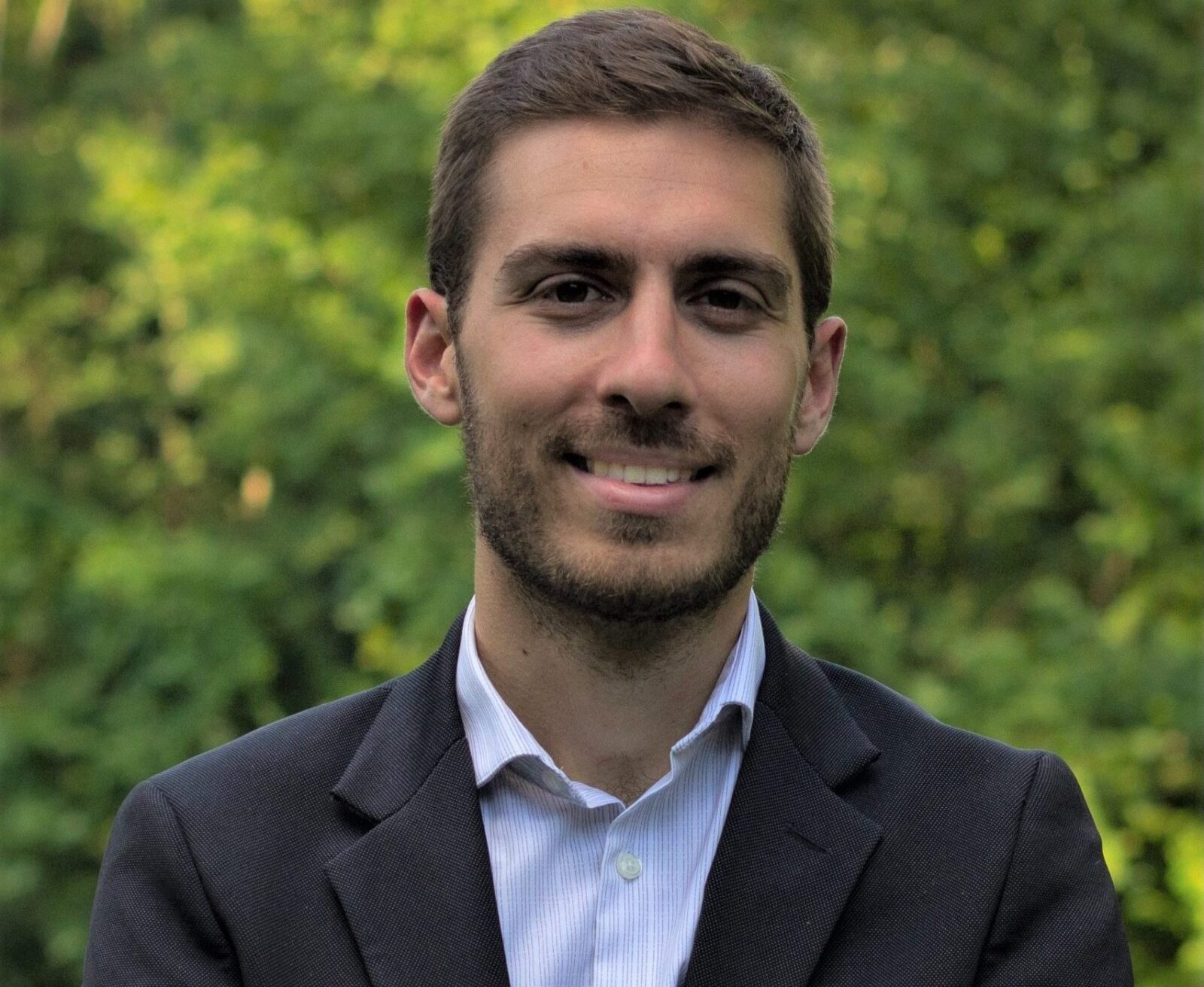 Authored by: Alina Ladyzhensky
Photography by: Provided
As Scott Giacomucci explains, psychodrama—a form of group psychotherapy rooted in aspects of theater, psychology, sociology, and mysticism— has, in recent decades, fallen out of popularity in the United States. An alum of the Doctorate in Clinical Social Work (DSW) program at Penn's School of Social Policy & Practice (SP2), Giacomucci has made it his mission to change the current perception and awareness of psychodrama through rigorous research, education, and—most recently—the publication of a new book, Social Work, Sociometry, and Psychodrama: Experiential Approaches for Group Therapists, Community Leaders, and Social Workers (Springer, 2021).
After earning an undergraduate degree in psychology and a master's degree in social work, Giacomucci dove into intensive training in psychodrama, sociometry, and group psychotherapy. He became involved in volunteer work within the prison system and completed an internship at the Juvenile Law Center, working with juveniles sentenced to life without parole on murder charges and advocating for changing sentencing statutes within Pennsylvania and at the federal level. During his time as undergraduate, Giacomucci also began working at Mirmont Treatment Center, an addiction inpatient treatment facility, eventually leading groups and interning as a counselor. Later, he was hired as a counselor and helped to develop trauma programming for young adults and trauma survivors, train staff in trauma therapy, and create a robust program of services including experiential trauma therapy, group work, EMDR therapy, and psychodrama.
These experiences, coupled with his growing interest in making others within the social work and trauma therapy fields more aware of the therapeutic benefits of psychodrama, spurred Giacomucci to explore doctoral programs.
"Psychodrama is one of the oldest therapies—April 1, 2021 is actually its 100th birthday. It fell from popularity partially because folks weren't doing research on it, and it lost footing within academia. It began to be used by professionals and community members without proper training, so it developed a reputation for re-traumatizing folks," he said. "During my training in psychodrama, I learned that someone needed to do research on this and help integrate it into academia within the U.S., and that was a large part of my motivation for choosing to do a Doctorate."
"In 2016, the co-founder of psychodrama died—her name was Zerka Moreno, and she was the trainer of both of my trainers. While she was on her deathbed, I had the chance to meet her and had a really powerful and meaningful connection with her. Many people were afraid that the model was going to die with her in the U.S., and I made a commitment to her to help carry the model to the next generation," he explained. "The way that I see that is through integrating it into academia and doing the research, and by doing so, introducing younger people to it."
As a practitioner who sought to become more involved in academia, the DSW program at SP2 attracted Giacomucci on a number of levels.
"The DSW was more appealing to me than a PhD in that the focus was on practice and clinical work, rather than just teaching, research, or academia— really being able to be a scholar and a practitioner at the same time," he said. "I liked that it was two to three years instead of five years. I was also attracted to the program because of the format being primarily online. I could continue working full-time and sign on to classes in the evening. Once a year, we would go to campus for five days or so. That was really appealing and made it possible with my busy schedule."
"The other piece in the program was the faculty," he continued. "Because it's a largely online program or taught in intensives on campus, they're able to get faculty from all over the country and all over the world, as well as students from all over the country and the world, which brought a diversity of perspective, experience, and practice that I really appreciated."
During his dissertation process at SP2, as Giacomucci sought to integrate and intersect his professional roles as a clinical social worker and a psychodramatist, he found that very few scholars had published work related to this juncture. Giacomucci focused on this gap in the literature in his dissertation, and later used his dissertation as the jumping-off point for his book.
"It's the first book on that intersection, and also the first book of a new international book series on psychodrama published by Springer Nature. I have a dual role in that I'm also co-editor of the series," Giacomucci said.
"My education at Penn really opened doors within academia for me, in that I started writing and publishing journal articles about psychodrama and social work, then started being offered editor roles with academic journals, as well as this book series."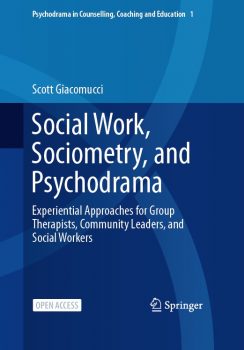 As part of his dissertation, Giacomucci created a course which integrates the fields of psychodrama and social work, which he now teaches as an adjunct instructor at the Bryn Mawr Graduate School of Social Work and Social Research. In addition to his research and teaching, Giacomucci is the director, founder, and director of training/continuing education at the Phoenix Center for Experiential Trauma Therapy, which he started as a private practice five years ago. Additionally, Giacomucci serves as director of experiential trauma services at Mirmont Treatment Center, overseeing a trauma-focused psychodrama program for individuals with substance use disorders. As part of his role in facilitating groups and supervision, he began a line of research on the program itself and recently published a research study pointing to the effectiveness of trauma-focused psychodrama in treating PTSD.
Giacomucci is also involved with the American Society of Group Psychotherapy and Psychodrama, where he serves on their executive council, co-chairs the research and professional liaison committees, co-founded a sociatry and social justice committee, helps recruit new young members, and was recently chosen as the new co-editor-in-chief of the Journal of Psychodrama, Sociometry, and Group Psychotherapy.
With each of his professional and academic affiliations, Giacomucci endeavors to share the method of psychodrama with a broader population and new generations. His new book, which is available both in print and as an Open Access e-book, is the culmination of such efforts.
"I intentionally wrote it in a way that would be attractive for scholars and historians, but also practitioners and students," he said. "There's something in the book for just about anyone who works with other human beings, whether you are a manager or supervisor in the social services field or a different field, an educator, someone who offers trainings, a therapist, an activist, or a group worker. Sociometry and psychodrama are very process-oriented, so within those subfields, there are action-based processes that can be modified for use in any setting, with any topic and any population, which makes them really useful."
Giacomucci's enthusiasm appears to be catching on within the SP2 community, as well; for the past few years, the DSW program has invited him to lead a workshop for incoming students. The workshop is designed to teach some of the content that now appears in his book, as well as an experiential group session for the incoming cohort to establish cohesion and discuss shared fears about starting a doctorate program, along with hopes and goals for the future.
"We did a psychodrama process with the dissertation itself, where they put the dissertation into an empty chair and explored the internalized messages that they have about it. We had a dialogue with the dissertation as if it were an entity or a human being and explored what we want to say to it or hear from it. I might be biased because I was leading it," he said with a laugh, "but I think the students found it to be helpful, fun, and meaningful."