News Details
Discussing Stigma of Mental Illness in China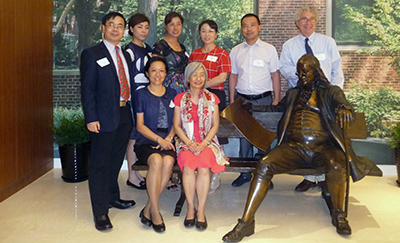 Authored by: Jessica Bautista
Photography by: Photo provided
Faculty & Research
12/12/16
This semester, School of Social Policy & Practice (SP2) Associate Professor Yin-Ling Irene Wong, PhD, organized a workshop at the Penn Wharton China Center in Beijing on how to reduce mental health stigma.
The conversation focused on the unique circumstances of mental health stigma in China, as well as how to improve the quality of life for those living with mental illness.
"We had a very good turn out with more than 20 participants, including government officials, mental health professionals, students, and faculty from three of the top four universities in China," Wong said.  Speakers of the workshop included the Vice-Chairperson of China Disabled Persons' Federation and faculty of Penn Department of Psychiatry.
The workshop took place as part of a three-year project sponsored by the Penn China Research Engagement Fund. The ultimate goal of the project is to implement a health messaging intervention to reduce mental health stigma. Collaborators include village doctors and community psychiatrists who work day-to-day with the most vulnerable population in rural China.
"The workshop was a very successful and productive exchange," said Wong, who has more than thirty years of experience as a social work practitioner, educator, and researcher in community development and mental health services. For years, Wong has remained committed to changing the general public's perception of mental illness, a medical condition that affects 173 million people in China alone.
SP2's pursuit of social impact and innovation has no borders and prides itself on its global inquiry, academic partnerships, international research endeavors and curricular content. Students at SP2 are encouraged to examine complex social problems through a global lens. An interdisciplinary perspective allows them to learn the importance of considering and respecting cultural norms, political structures, and local and foreign policies. Learn more about the School's global engagement here.