News Details
Desmond Patton appointed Penn Integrates Knowledge University Professor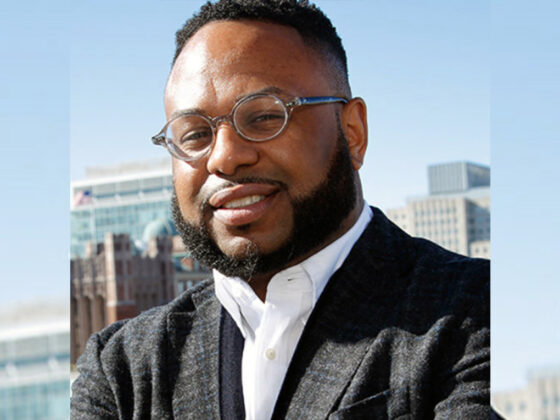 Authored by: Ron Ozio
Faculty & Research
06/07/22
Desmond Upton Patton has been named the University of Pennsylvania's 31st Penn Integrates Knowledge University Professor, effective July 1. The announcement was made today by Interim President Wendell Pritchett and Interim Provost Beth Winkelstein.
Patton, a pioneer in the interdisciplinary fusion of social work, communications, and data science, will be the Brian and Randi Schwartz University Professor, with joint appointments in the School of Social Policy & Practice and the Annenberg School for Communication along with a secondary appointment in the department of Psychiatry in the Perelman School of Medicine.
"Desmond Patton's innovative work embodies the goals of our Penn Integrates Knowledge program, which seeks to share knowledge and understanding across disciplines," says Pritchett. "Dr. Patton's research on the relationships among youth, gang violence, and social media and the expression of grief, identity, and well-being through online communication places him at the forefront of his field. Through his groundbreaking combination of substantive social work knowledge with the predictive and evaluative power of machine learning, his work crosses disciplinary boundaries and advances our understanding of the role of technology in society. We are thrilled to have him join our distinguished faculty as a Penn Integrates Knowledge Professor."
Patton is currently professor of social work and sociology, as well as senior associate dean for curriculum innovation and academic affairs, at the School of Social Work at Columbia University, where he has taught since 2015, following three years at the University of Michigan. His research employs both qualitative and computational data to better understand the relationships among young people, gang violence, and social media, including how violence and grief are expressed on social media, how social media facilitate youth and gang violence, and how gang-involved youth conceptualize threats on social media. He has expanded this research by working with communities, youth, social workers, and computer scientists to develop innovative algorithms for analyzing social media posts, which have been widely adopted by tech companies and others.
He serves as associate director for diversity, equity, and inclusion at the Data Science Institute of Columbia University and as founding director of SAFElab, a research initiative that brings together methods from social work and computational data science to better understand and intervene in violence involving youth of color. He is the author of "Facing Gakirah: Lessons on Violence, Loss and Humanity from the Digital Streets of Chicago" (University of California Press, forthcoming), and his work has been cited across a wide range of media, including The New York Times, The Washington Post, NPR, and Nature, in addition to numerous articles in scholarly books and journals. He was named a 2019 Presidential Leadership Scholar, received the 2018 Deborah K. Padgett Early Career Achievement Award from the Society for Social Work and Research, and has held fellowships at the Carr Center for Human Rights Policy and Berkman Klein Center for Internet and Society at Harvard University. He received a PhD from the Crown Family School of Social Work, Policy, and Practice at the University of Chicago; an MSW from the School of Social Work at the University of Michigan; and a BA with honors in anthropology and political science from the University of North Carolina at Greensboro.
"Desmond Patton's pathbreaking work," says Winkelstein, "exemplifies our faculty's strong commitment to finding new solutions for the world's most intractable challenges. His research shows how the most powerful new approaches can emerge from bringing together the methods of different disciplines. This work is changing the lives of young people and their communities around the country, as it is also redefining approaches to social media, algorithm development, and data science."
The Penn Integrates Knowledge program was launched by former Penn President Amy Gutmann in 2005 as a University-wide initiative to recruit exceptional faculty members whose research and teaching exemplify the integration of knowledge across disciplines and who are appointed in at least two schools at Penn.
The Brian and Randi Schwartz University Professorship is a gift of Brian Schwartz, a 1989 graduate of the Wharton School, and his wife, Randi Schwartz. Brian Schwartz is vice chair of the Board of Advisors of the School of Social Policy & Practice. He is co-president of H.I.G. Capital, a global alternative investment firm.
People
Desmond Upton Patton, PhD, MSW

Brian and Randi Schwartz University Professor

Contact

Email