News Details
New Students Volunteer in West Philadelphia as Part of Penn Community Teamworks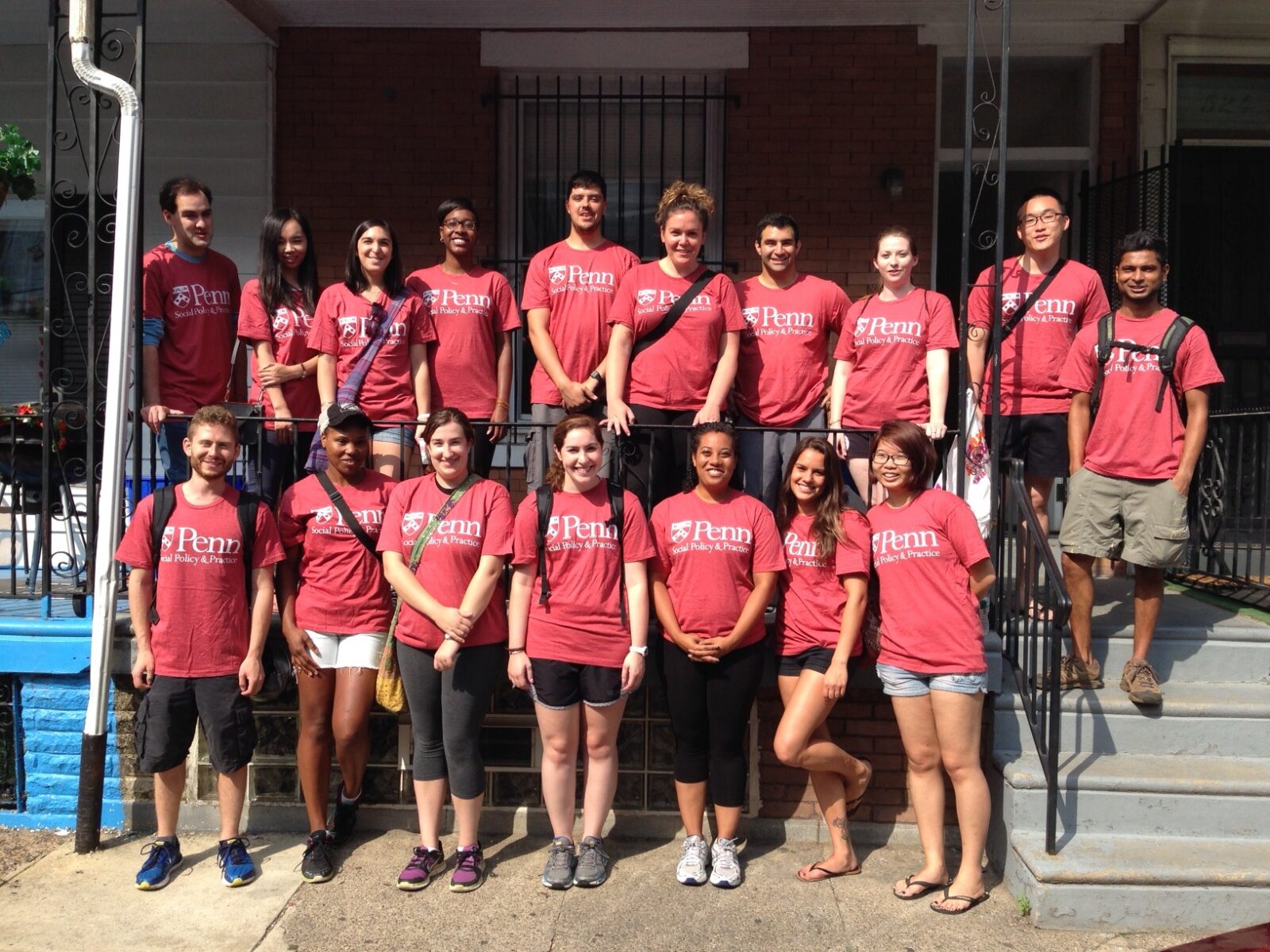 Authored by: Jill DiSanto
Photography by: Erica Zaveloff
Sixteen incoming graduate students and one alumna of the University of Pennsylvania spent the day making a house a home in West Philadelphia.
On Aug. 20, as a part of the School of Social Policy & Practice's Community Teamworks program, the student volunteers painted the interior of a house near 56th Street and Haverford Avenue in West Philadelphia.
Organizer and alumna Erica Zaveloff, who serves as the Community Teamworks coordinator at the School, says she thought it would be a unique icebreaker that would also help out the University's neighbors.
"I organized the event as a part of the School of Social Policy & Practice's New Student Orientation, thinking it would be a great way for new graduate students to meet each other, learn about Community Teamworks and learn a little more about some of the issues in West Philadelphia, as well as the organizations working to address them," Zaveloff says.
One of those organizations, ACHIEVEability, is a new partner with Community Teamworks. With the goal of permanently breaking the generational cycle of poverty for low-income, single parent and homeless families, ACHIEVEability's Family Self-Sufficiency Programprovides subsidized housing for qualified families. In order to live there, the parent must be working and must take at least five higher-education classes each year.
"ACHIEVEability's strengths-based, empowerment approach to serving families is directly in line with social work values," Zaveloff says. "The work highlights some of the larger systemic issues and policies that perpetuate poverty, unemployment or underemployment and homelessness."
They manage more than 150 properties in West Philadelphia, one of which the Community Teamworks volunteers spent the day painting. The family will move in within the next few weeks.
"The students overwhelmingly enjoyed the experience. They spoke about having a deeper understanding of the importance of not just housing but clean and affordable housing, especially when it comes to breaking the cycle of poverty," Zaveloff says. "It's difficult to find a job without a permanent address, but it's near impossible to afford a safe, stable place to live without the income provided by a job. Together, we gained a deeper understanding of that cyclical web."
Penn's Community Teamworks plans to schedule other events with ACHIEVEability, including a similar home renovation project in early December to coincide with Giving Tuesday and a West Philadelphia block beautification project in the spring.
"We hope to make the CTW and ACHIEVEability partnership one that is long-term and consistent, with two or three projects each year," Zaveloff says.
CTW brings together the School of Social Policy & Practice's alumni, faculty, students and staff for days of service and volunteer projects in and around the Philadelphia region. It offers hands-on service opportunities, supporting the idea of local engagement as outlined inPresident Amy Gutmann's Penn Compact 2020. It also assists in community building, a part of the School's future strategic plan for identifying and measuring impact.
Originally posted here: http://www.upenn.edu/pennnews/news/new-students-volunteer-west-philadelphia-part-penn-community-teamworks