News Details
CSWE Fellows Addressing Mental Health Disparities Among BIPOC Communities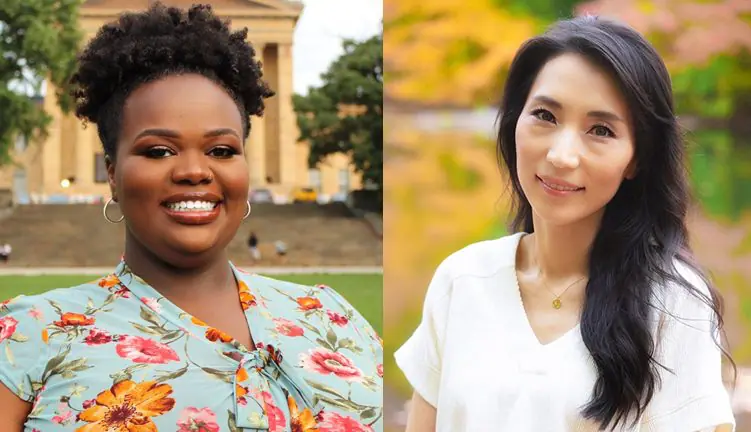 Authored by: Jessica Bautista
Photography by: Provided
Three graduate students from Penn's School of Social Policy & Practice (SP2) were selected and have been serving as Fellows for the Council on Social Work Education's (CSWE) 2020 – 2021 Minority Fellowship Program (MFP), each seeking to address the breadth of behavioral health needs in BIPOC communities.
Arie Hayre-Somuah was selected for the Master's Cohort of fellows, and Jessica Cho Kim, a new fellow, and Victoria Aguilar, a returning fellow, were selected for the MFP Doctoral cohort.
Historically, CSWE MFP opportunities support the mission of the Substance Abuse and Mental Health Services Administration to reduce the effects of substance abuse and mental illness on America's communities by increasing racial/ethnic minority individuals who are trained to work with underrepresented and underserved persons with or at risk for mental health and/or substance abuse disorders.
Kim, expected to graduate in 2023, is looking forward to a network of both doctoral peers and mentors who share a life-long commitment to tackling minority mental health disparities.
"Having their support and learning about their research will be an invaluable source of growth for me," she said. "The fellowship has the potential to extend to three years, which is fantastic."
After 15 years of practice experience as a therapist, Kim's desire to pursue her PhD at SP2 came from a desire to ­translate her expertise as a licensed clinical social worker into research and teaching – to shape knowledge-making as well as the next generation of social workers. During her time at SP2, Kim has been dedicating herself to understanding the benefits and limitations of various methodologies to answer the nuanced questions impacting Asian communities that need to be answered.
"I'm passionate about improving Asian American mental health and well-being using culturally reflexive research methods. Reframing existing research narratives to de-center Eurocentric vantage points so that Asian American youth and families can be better served by our mental health institutions is something I'm committed to," she said.
"Asian Americans are marginalized in countless, unseen ways because of model minority stereotypes unconsciously upheld by society. Yet, the data show higher rates of severe mental health conditions among specific subgroups that are juxtaposed with the lowest rates of mental health service use, across all racial groups. I see this pattern play out in my own community and in my own family."
Like Kim, Hayre-Somuah has her fellowship sights set on further developing skills, tools, and knowledge to be able to competently practice social work in a way that is meaningful and impactful to groups that need it most, as well as building meaningful relationships with other social work practitioners to collectively "realize the dream of a socially just society."
So far, Hayre-Somuah remarked, the fellowship has been a rewarding one and has offered a number of opportunities to participate in conferences, trainings, earn CEUs, and connect with a supportive mentor—a former CSWE MFP fellow.
Psychotherapy is Hayre-Somuah's main area of interest in social work. Hayre-Somuah says matriculating at SP2 was the right choice because of its geographical location in West Philadelphia, a predominantly Black segment of the city, rich in African American history and culture.
"Moreover, I was interested in attending SP2 because of the opportunity to learn from social justice champions like Dr. Walter Palmer, a lawyer, oral historian, and civil rights activist with roots in West Philadelphia's historic Black Bottom. I was so confident in SP2 being the right fit for me, that It was the only program I applied to. When I was accepted it was just further confirmation that I made the right choice!"
Upon completing her MSW this May, Hayre-Somuah seeks to obtain LSW licensure and transition into a career as a clinical social worker in an outpatient, hospital, or residential setting.
The hope, Hayre-Somuah says, is to start a private practice and consulting service where she can integrate her public health and clinical social work experience and knowledge to engage African American/Black populations in mental health treatment to help address the mental health disparities that exist.
"I love that social work takes into account the whole person and the systems in one's life and how that affects a person's lived experiences and mental health. I also very much appreciate social work's emphasis on social justice—a framework through which social workers are expected to practice from—something that distinguishes social work from other clinical mental health training programs," she said.
"African American/Black individuals in the U.S. are among the least likely to engage in psychotherapy, despite being disproportionately affected by stressors, barriers, and systemic issues that can negatively impact one's mental health. It is important to me to help reduce these mental health disparities and engage more of these individuals in the behavioral health world, by being a familiar face to a group that is historically mistrusting of medical professionals."
People
Jessica C. Kim, LCSW

Student, PhD in Social Welfare

Contact

Email