News Details
Changing the World We Live in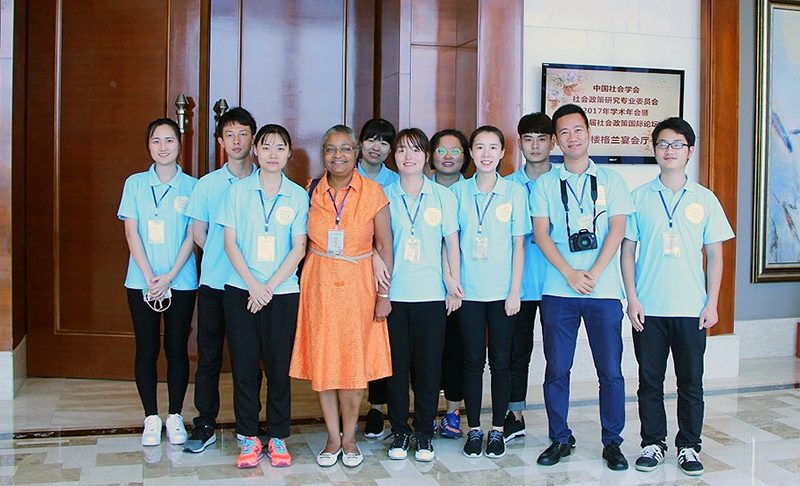 Authored by: Jessica Bautista
Photography by: Provided
Faculty & Research
10/18/17
Fostering global engagement is more important than ever. With that in mind, renowned faculty experts and graduate students at Penn's School of Social Policy & Practice (SP2) continue to explore innovative ways to address complex social issues and transform policy at home and abroad.
Recently, SP2 Dean John L. Jackson, Jr., and Joretha Bourjolly, Associate Dean for Academic Affairs, traveled to Nanchang, China to partake in the 13th Annual International Symposium & 2017 Annual Conference of Social Policy. The two were invited to exchange research findings and discuss policy innovation in China and around the world.
At the conference, Jackson, Richard Perry University Professor, presented on increasing scholarly impact in the policy area and what that looks like. Bourjolly, also director of SP2's MSW program, discussed the case for building culturally competent workforces in health care settings and the beneficial outcomes for patients.
"As we began the 2017-18 academic year, I returned from a trip to seven cities in China where I met with alumni from SP2 and other Penn Schools, organized several screenings of a documentary film I helped to produce on the history of state violence against Rastafari in Jamaica, and attended conferences in Beijing and Nanchang on some of the multifaceted links between social policies and the everyday wellbeing of people in places like China, Japan, the United, States, West Africa, the Caribbean, and South America," Jackson said.
"It was an inspiring way to kick-off the academic year, and it only increased my excitement about our launching of Action SP2, a new initiative that aims to provide students with access to organizers, advocates, activists, scholars and policymakers from all over the city, the nation, and the world who embody the various forms that social action and impact can take."
Jackson and Bourjolly's time in China is one of the countless ways SP2 seeks to increase the School's global focus. Throughout the year, SP2 welcomes students, faculty, staff, alumni, and distinguished visitors from around the world. SP2 offers courses taught by its faculty in several places around the globe including India, Israel, the Netherlands, Cuba, Puerto Rico, and Finland.  As well, globally-focused student organizations provide support for our international student population and opportunities for intercultural engagement. Over the years, the School has also created a wide range of international opportunities, including coursework abroad, global electives, and independent studies.