News Details
CAMRA Fellows Program Fuses Multimodal Media Making to Social Issues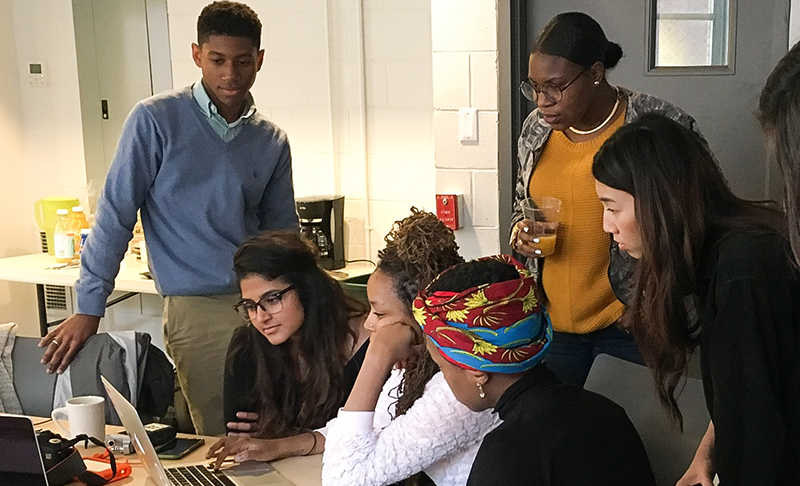 Authored by: Jessica Bautista
Faculty & Research, Student Life
03/13/17
Weeks of film training, multimodal research and documenting social justice issues are finally coming to fruition for CAMRA and its Fellows Program participants at this year's Screening Scholarship Media Festival (SSMF). Launched in 2012, CAMRA is an interdisciplinary group of researchers and educators committed to participatory, experimental media making.
The Fellows program is CAMRA's flagship undergraduate mentoring program, assisting burgeoning multimodal researchers to gain the theoretical and technical skills necessary to create their own projects. Initially conceived by CAMRA alumna Mariam Durrani, the CAMRA Fellows Program has become a vital component in achieving CAMRA's overall goals to support media-based research and trainings while focusing on multimodal research and examining how technology is changing the processes of teaching and learning.
Now in its fourth cohort, the Fellows Program initially kicked off in December and, for the first time, was officially housed in the University of Pennsylvania School of Social Policy & Practice (SP2). This was also the first year the program was opened up to undergraduates from schools outside of the University of Pennsylvania, specifically geared toward students traditionally underrepresented in higher education.
"All of the Fellows have tackled relevant social justice issues in their short films, ranging from how communities of color are using farming as a tool of resistance, to overcoming adversity after aging out of the foster care system. These topics directly correlate to the rich research and practice that comes out of SP2, which offers the Fellows' a unique opportunity. Each of the Fellows' ideas are very personal to them," said Melissa Skolnick, this year's director of the Fellows Program as well as SP2 research fellow. According to Skolnick, the Fellows Program was able to expand, obtain additional film equipment and provide stipends to the fellows and their mentors with the help of a generous grant of $143,000 from the Mellon Foundation.
Since this year's program kicked off, fellows have had the opportunity to collaborate with PhillyCAM, receive intensive filmmaking and editing training, partake in local community activities, and engage in critical discussions about the social issues they have chosen to document.
"As a graduate of SP2's MSW program, I am very excited for the possibility of how multimedia can be used within the social work and policy spheres. I believe that documentary films can serve as a tool to shed light on many of the social injustices that communities face on a daily basis, by humanizing stories that are often overlooked and simplified," Skolnick said.
"The Fellows program pairs undergraduates with graduate student mentors from schools across Penn, including SP2. This is important in order for students to partake in a mentoring relationship, to be exposed to research on a graduate level, and to see the possibilities in using multimodal forms of research. These goals become especially imperative for students who have been historically underrepresented in the academy, which the [newly-expanded fellows] program aims to address."
This year's Screening Scholarship Media Festival, now in its fifth year, is scheduled to take place on March 17 and 18, 2017 and will focus on the theme of "The Psyche and the Boundaries of The Political." The fellows will be in residency during the festival, and will share rough cuts of their works with their mentors and invited filmmakers. The festival is expected to bring together community members, media-makers, educators, and university scholars. Following the festival and after receiving feedback on their projects from filmmakers and scholars during an exclusive luncheon at SSMF, the fellows will screen their final films at the Slought Foundation on April 7 at 4:30pm.
For more information on SSMF, visit: http://www.camrapenn.org/ssmf
For more information on the Fellows, visit: http://www.camrapenn.org/camra-fellows
---
---
This year's prestigious fellows include:
Isaiah Caleb Barlow, Hampton University
Mentor: Nora Gross
Amy Chen, University of Pennsylvania
Mentor: Sandra Ristovska
Nadisha Downs, University of Delaware
Mentor: Arlene Fernandez
Farrah Rahaman, Drexel University
Mentor: Leah Barlow
Claudia Romano, Swarthmore University
Mentor: Leah Ferentinos
Tshay Williams, University of Pennsylvania
Mentor: Janay Watts and Arjun Shankar
Yuqi Zhang, University of Pennsylvania
Mentor: Andrew Hudson