News Details
Calvin Bland Fellows Collaborate on Research Aimed at Improving Lives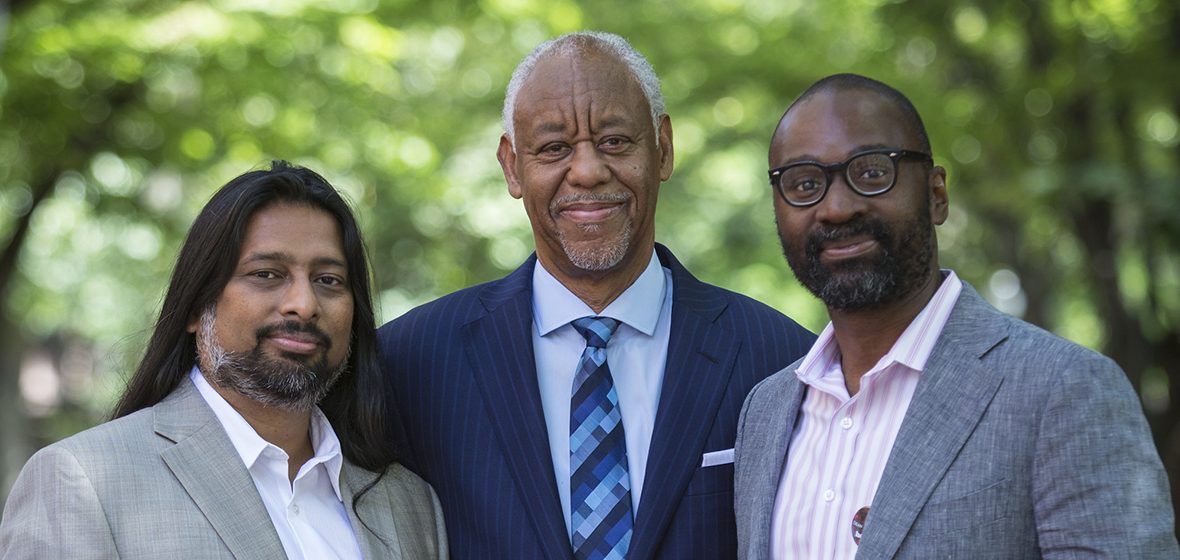 Photography by: Stuart Goldenberg
Faculty & Research, Gifts & Giving
09/14/17
The University of Pennsylvania's Penn Futures Project (PFP) has named three Calvin Bland Faculty Fellows to collaborate on research for boys and young men of color. Supported by a $2 million endowment from the Robert Wood Johnson Foundation, the Fellows were selected from the faculty at University of Pennsylvania's Schools of Nursing (Penn Nursing), Graduate School of Education (GSE) and Social Policy & Practice (SP2).
The Fellowships are specifically designed to empower faculty to conduct research through an interdisciplinary approach aimed at improving the lives of at-risk young men and boys of color and their families. The Bland Fellows will collectively develop a plan for collaborative work that not only advances individual scholarly work, but also has a broader impact on young men of color in Philadelphia. The awards will be used for research and research-related expenses, including convening conferences, lectures, seminars and other events to disseminate the research of the fellows, and helping fellows to publish work in scholarly and popular venues.
SP2 Associate Professor Toorjo Ghose, PhD, is among the named fellows. Ghose is founder of the Center for Carceral Communities. His work focuses on structural interventions in the areas of incarceration, substance use, homelessness and HIV, both at the domestic and international levels. The Center for Carceral Communities focuses on reducing recidivism, improving mental health, and facilitating community re-engagement as it collaborates with West Philadelphia organizations to help previously incarcerated people successfully reintegrate themselves into their communities. The center provides free, evidence-based psychosocial services that also address education, housing, advocacy and primary care challenges.
The fellowships are named for Penn alumnus Calvin Bland, proud product of Philadelphia public schools, former President of St. Christopher's Hospital for Children, Robert Wood Foundation chief of staff, health-care executive,  research professor at Rutgers University and member of the SP2 Board of Overseers, whose scholarship and career have explored how to foster health equity across communities, with an emphasis on at-risk young men and boys of color.
"Vulnerable young men of color have limited opportunities to lead productive and rewarding lives. I perceive this issue as the greatest problem confronting communities of color," said Calvin Bland. "The Penn Futures Project, aimed at the health and well-being of youth and their families and beyond, addresses this concern. I predict the work of these inaugural fellows will foster truly innovative and integrated approaches that will greatly benefit many young men and their families in West Philadelphia for years to come."
Read the full announcement and learn more about all of the fellows here…