News Details
A Banner Year for the MSSP Program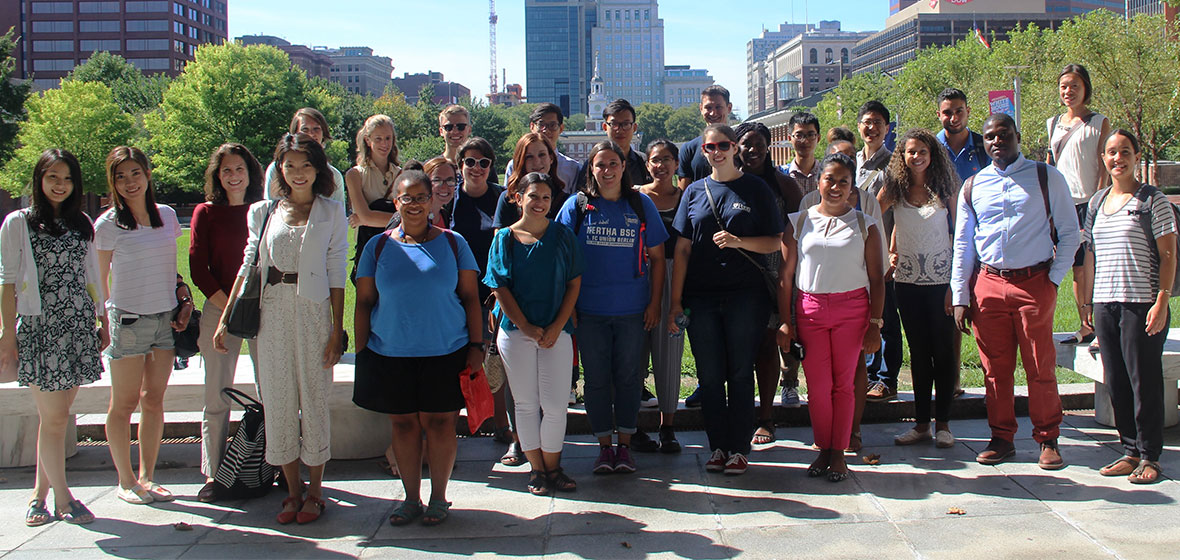 Authored by: Jessica Bautista
Faculty & Research
07/06/17
Within an overarching strategic vision of academic excellence, the Master of Science in Social Policy (MSSP) program has had a banner year, propelling the program to new heights during an era of significant change.
In Fall 2016, MSSP began celebrating its 10th anniversary with events and activities linked to its mission to increase equality, promote equity, and forge policy change.
Of the many accomplishments over the past year, from 2016 to 2017, the MSSP program recruited a record-breaking student body, attracting a diverse and talented cohort of students, and grew the submatriculation and dual degree programs to historic levels. This year was the most successful fundraising year in the program's history and it marked the inauguration of the Kurland-Marchick MSSP Program Scholarship and the SP2 MSSP Scholarship in Honor of the MSSP 10th Anniversary.
As well, the program sponsored and hosted a number of transformative and interdisciplinary events, collaborating with partners across the University of Pennsylvania and around the world. Events were aimed at cultivating community as well as greater understanding of mental health, poverty, international criminal law, global health, public policy analysis, and foreign affairs.
The program also launched a Women in Social Policy (WISP) initiative as well as the MSSP Alumni Association (MSSPAA), among other new programs geared towards engagement and social policy advancement at the local, national and global levels. MSSP further developed a base of alumni, friends and donor support this year, hosting an Alumni Panel and solidifying the alumni network through inclusion and outreach.
"The strength of MSSP is palpable as is evident in the activities and accomplishments of this 2016-2017 year. On behalf of the MSSP program, we thank all involved for your role in making the program a success," said Jennifer Prah Ruger, PhD, adding that her time as the MSSP faculty director has been a rewarding experience.
The program's impact has increased through communication of program strengths to wide-ranging audiences to build connections to policy work and decision-makers through curriculum, internships, lectures and scholarship. In Fall 2016, the program created a new vehicle for communication, the MSSP Weekly, an inclusive channel for the MSSP community and friends.  The program also heard from its students on a number of significant issues this year.
"Our program is committed to, and our community thrives, when we engage in open and transparent discussion of our differences in views and our concerns," Ruger said.
To ensure excellence in the MSSP curriculum and teaching, the program engaged in dialogue among stakeholders.  MSSP recruited new standing and adjunct faculty members to enhance the reputation and diversity of the MSSP program. MSSP core and elective classes were added or redesigned to ensure cutting-edge education and to prepare graduates to effectuate change.
MSSP students received numerous awards and honors. Four MSSP students won the 2017 Penn Public Policy Challenge competition with the project "Take Back Our City," a policy initiative that addresses the opioid epidemic in Philadelphia. The Public Policy Challenge is a real-world interdisciplinary competition where teams of students from across Penn work to develop innovative ideas to improve the city of Philadelphia. Two MSSP students from the United Kingdom received Thouron Awards, among the most prestigious and generous academic scholarships in the world.
On July 1, 2017, Associate Professor Amy Hillier, PhD, became MSSP's new faculty director. Hillier also holds a primary faculty appointment at SP2. She will maintain a secondary appointment at Penn's School of Design, her previous institutional home at Penn. Much of her research involves and applies geographic information systems (GIS) and spatial analysis methods to housing and health topics.
"I warmly welcome and am very enthusiastic about the arrival of Dr. Hillier to MSSP, I look forward to the next chapter for this very special program," Ruger said.